$1.7 Billion Raised
The University of Iowa concluded the eighth year of its historic For Iowa. Forever More. fundraising campaign with tremendous momentum. This transformative $1.7 billion campaign is the largest ever in the history of the university and the state, and it will continue through December 2016.
For Iowa. Forever More. is enhancing the student experience while focusing on three overarching goals: educating students to thrive in a complex, global society; ensuring a healthier and more sustainable world through discoveries in medicine, allied health fields, and environmental science; and enriching commerce, culture, and communities for Iowans through creative entrepreneurship in business, the arts and humanities, social sciences, and civic literacy and engagement.
On June 30, 2016 (the end of fiscal year 2016), the campaign total was $1,783,094,199, an amount that was 105 percent toward the $1.7 billion goal. In all, more than 200,000 donors had contributed to the campaign by the end of the fiscal year.
Progress by campaign priority area, as of June 30, 2016, is presented below.
Progress toward key campaign priorities
$284,239,984
Students
(e.g. endowed scholarships, hands-on research experiences)
$167,988,947
Faculty
(e.g. endowed faculty chairs and professorships, faculty development opportunities)
$501,231,203
Programs
(e.g. research, environmental health and sustainability, public health outreach, diversity enrichment)
$170,799,408
Facilities
(e.g. children's hospital, arts campus buildings, enhanced facilities for Hawkeye athletics)
$355,119,042
Core Support
(e.g. Iowa Impact Fund, collegiate unrestricted funds)
$303,715,615
UI Grants and Gifts
(e.g. charitable grants and gifts made directly to the UI for research and other campaign priorities)
Grand Total
$1,783,094,199
Endowment
Endowment funds are created by gifts from generous donors and are invested in perpetuity, with the payout providing a steady and predictable source of revenue for the future of the University of Iowa. Endowments support a range of priorities throughout the university, including scholarships, faculty positions, and research, among many others.
Investment of the foundation's endowment is managed by the University of Iowa Foundation, with oversight by the UI Foundation Board of Directors Investment Committee. The committee is responsible for guiding the foundation's investment program, seeking maximum total return consistent with the preservation of principal, diversification, and avoidance of excessive risk.
At the end of fiscal year 2016 (June 30, 2016), the UI Foundation and university endowments exceeded a combined total of $1.269 billion.
Endowment Update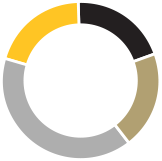 Real Assets - 20%
Fixed Income - 20%
Diversifying Strategies - 20%
Global Equity - 40%
Endowment Target Asset Allocation*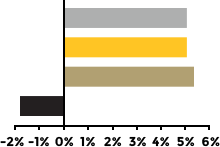 1 Year - (1.8%)
3 Years - 5.5%
5 Years - 5.2%
10 Years - 5.2%
UI Foundation Endowment Return
*The Target Asset Allocation is approved by the UI Foundation Board of Directors as recommended by the Investment Committee. These assets are managed on a total return basis through a diversified portfolio with a long-term perspective. Investments made in the endowment fund are selected to maintain annual spending, provide for expenses, and ensure long-term growth of the principal.
---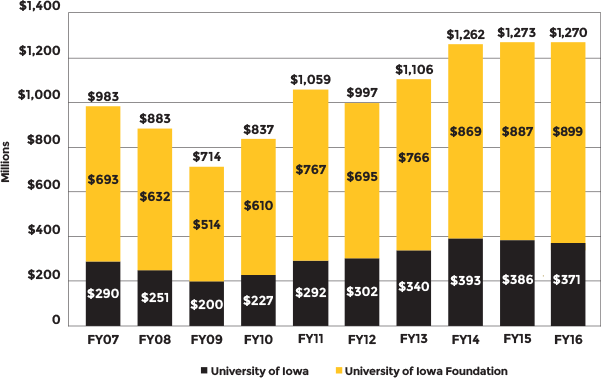 Rankings by the Council for Aid to Education Report 2015
Top
6
%
For Total Productivity
Top
7
%
Endowment Market Value