The award recognizes a Hawkeye family—spanning at least three generations of University of Iowa graduates—that has substantially benefited from and continues to advocate for the UI, as well as contributes toward bettering the state of Iowa and its communities.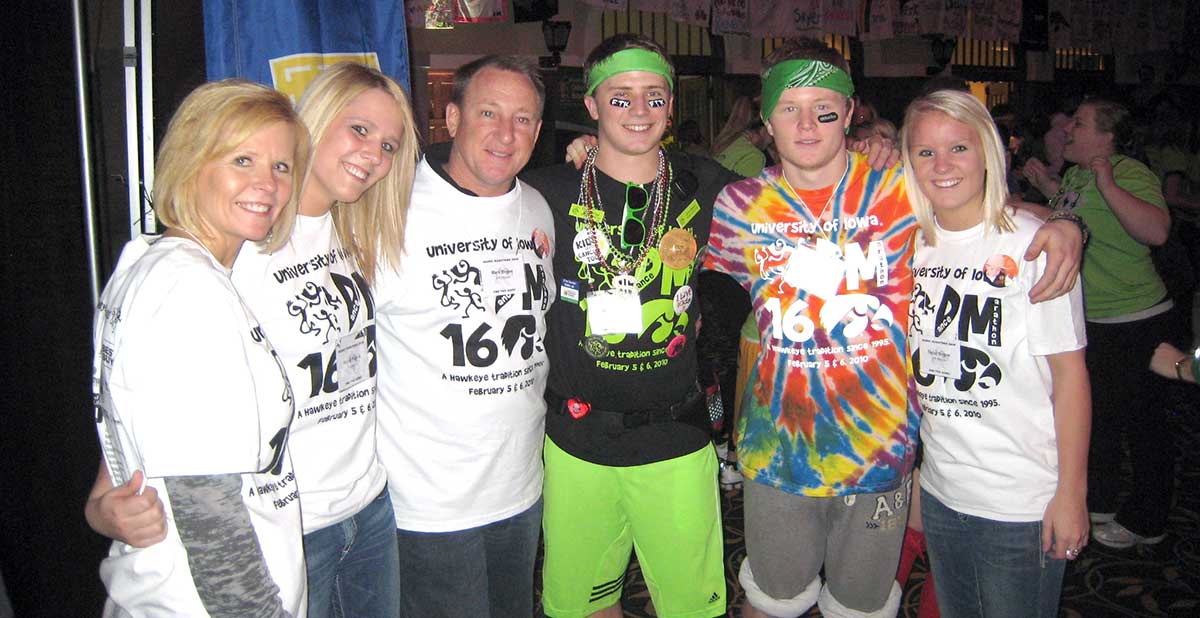 Left to Right: Jaclyn Bogue (83BBA), Nicole Patera, Mark Bogue (82BSCE), Jared Bogue (10BSE), Alex Bogue (12BSE) and Taylor Bogue (15BS)
The 2021 recipients of the University of Iowa Family Spirit Award are the Mark (82BSCE) and Jacki (83BBA) Bogue Family of Ida Grove, Iowa. For three generations, the Bogue Family has benefited from, contributed to, and advocated for the University of Iowa, and 16 of its 17 family members have at least one degree from Iowa.
Says Mark and Jacki Bogue: "The University of Iowa has enhanced the lives of our family. Our family members are very fortunate to have benefited from generations of knowledgeable and devoted University of Iowa professors who inspired their students to think creatively, adapt quickly, and embrace emerging ideas and technologies to support the health and wellbeing of others. On behalf of the past and present proud Hawkeyes of our family, we are humbled and honored to receive the University of Iowa Family Spirit Award."
The Bogue Family will be formally recognized as the 2021 recipients this fall.
Questions? Please contact Kate Sojka at kate.sojka@foriowa.org or 319-467-3884.