The award recognizes a Hawkeye family—spanning at least three generations of University of Iowa graduates—that has substantially benefited from and continues to advocate for the UI, as well as contributes toward bettering the state of Iowa and its communities.
The winning family will receive the ultimate University of Iowa experience during Family Weekend, September 16–17, 2022, including 20 tickets to the football game.
We are no longer accepting nominations for the University of Iowa Family Spirit Award at this time.
Previously accepted nominations are viable for three years from when they're received. We will resume accepting new nominations for the 2023 award starting Monday, Feb. 27, 2023, through Friday, April 28, 2023.
If you have any questions, contact Kate Sojka at kate.sojka@foriowa.org or 319-467-3884.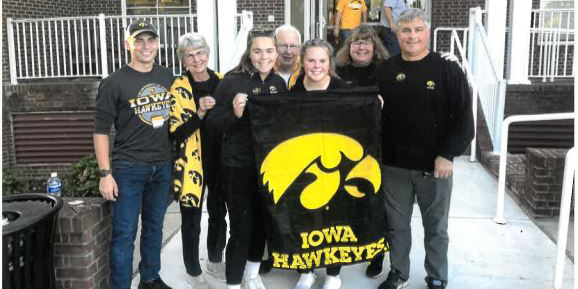 Several members of the George S. Ashton family of Davenport, Iowa, show their Hawkeye pride.
The George Sterling Ashton family of Davenport, Iowa, is the recipient of the 2022 University of Iowa Family Spirit Award. For four generations, the Ashton family has benefited from, contributed to, and advocated for the University of Iowa, and 30 of its family members have at least one degree from Iowa.
Says Jim Ashton: "The university has given our family very much. We have tried to give a little back—and when we've been able, it seemed appropriate to help others get the same education and experiences."
The Ashton House in Iowa City, the UI Ashton Cross Country Course, and three Iowa engineering professorships are named after the family.
The Ashton family will be formally recognized on Sept. 17 during the UI's Family Weekend.