UI Student Life Emergency Fund assists UI students who face financial crises.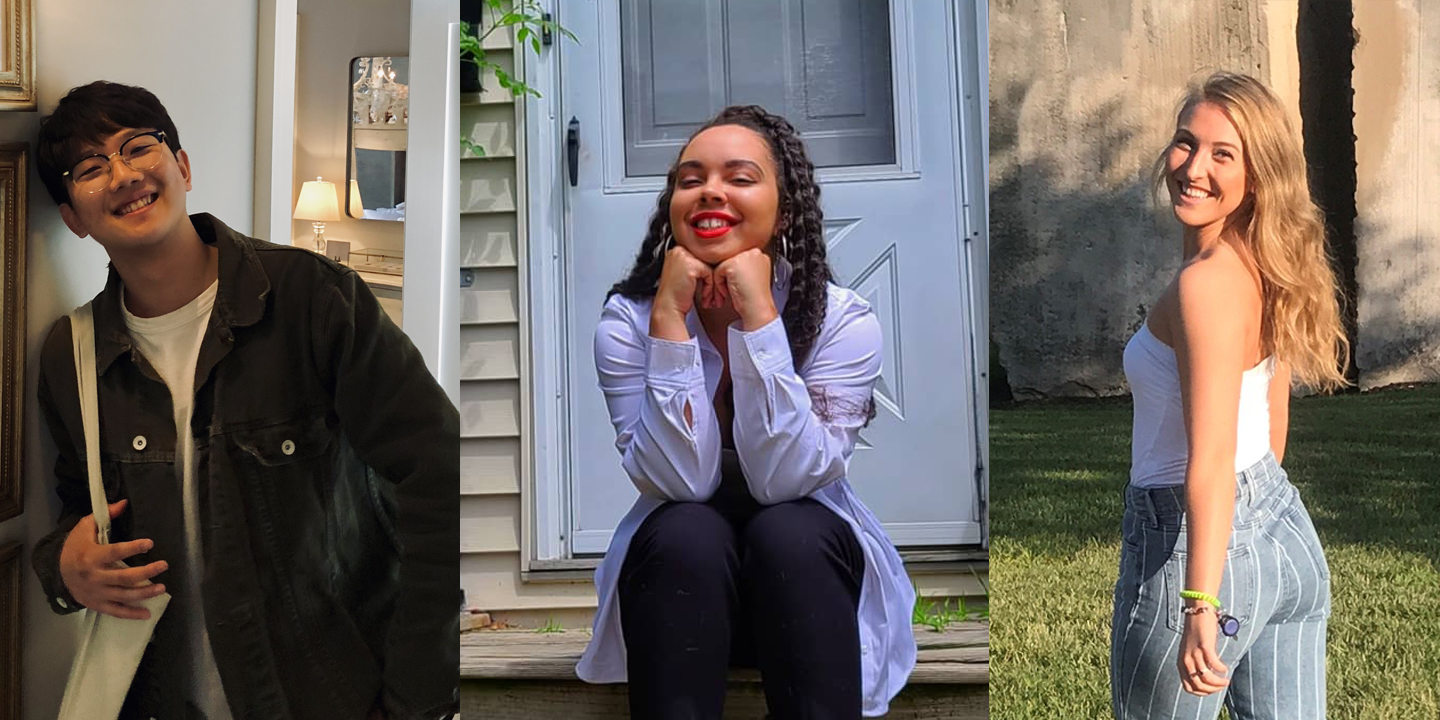 From left to right: Junho Hah, Nichole Shaw, and Brooke McKeon
Brooke McKeon lives paycheck to paycheck to afford food, rent, and monthly hospital bills. She uses a computer from the University of Iowa Hardin Library for the Health Sciences for work that's difficult to complete on her old laptop. When McKeon lost two jobs and access to many campus resources this spring from the pandemic shutdown, the UI incoming senior feared she'd be evicted, see her credit score plummet, and fail her classes. Thanks to contributions from Iowa alumni and friends, McKeon received assistance from the UI Student Life Emergency Fund when she needed it most.
Since March, the fund has supported more than 1,200 UI students who encountered an unforeseen financial emergency or catastrophic event that negatively affected their academic success. As COVID-19 has upended the lives of many UI students over the past few months, the UI Office of the Dean of Students has awarded more than $396,000 to students, with more than $103,000 given by UI donors. The UI Student Government, UI Graduate and Professional Student Government, and various UI colleges and departments have provided additional support. Gifts range from $50-$350 and help students cover basic needs costs, such as rent, utilities, groceries, health care, and technology expenses.
Nikki Hodous, the director of student care and assistance in the UI Office of the Dean of Students, says many students are facing significant concerns beyond their academics, including food and medication insecurity and caregiving for family.
"I work with so many students who are facing life circumstances that I don't know many other adults have to cope with, let alone someone so young," says Hodous. "They are persistent, determined, and driven as Hawkeyes—and anything we can do to support their journey makes a difference."
The fund helped McKeon afford rent and hospital bills so that she could focus more time on her academics. "Even $50 is a tremendous help—and any money can help someone who is struggling during this time," says McKeon, who is on a pre-occupational therapy studies and therapeutic recreation track. "I don't think people realize how independent and on their own some college kids are. There are many kids who don't receive any support or help from their family or parents and rely on their paychecks to be able to attend this school, pay their rent, and simply eat."
Nichole Shaw limits herself to two meals a day. It's one of the measures she's taking to stretch every dollar further amid the current pandemic. While most work-study students received pay through the end of the semester, Shaw's campus job was independent of the university and therefore her paychecks ended in mid-March due to COVID-19.
Shaw moved back home to Naperville, Illinois, to help her family with expenses, though the journalism and English major still pays rent for her Iowa City apartment since the lease runs through August. Money is tight for the incoming senior, but the emergency fund has helped her avoid eviction. "I'm barely scraping by," says Shaw. "It is important for people to support this fund, and students in general, who are facing new challenges from this pandemic. Without their support, financial failure is inevitable."
For some, the UI Student Life Emergency Fund is the only potential source for emergency aid. Junho Hah (20BBA) is ineligible for assistance from the Higher Education Emergency Relief Grants through the Federal CARES Act because he isn't a U.S. citizen or permanent resident. Raised in South Korea, the business intelligence student intern at the UI Roy J. and Lucille A. Carver College of Medicine lived off campus prior to the coronavirus outbreak, though the loss of a steady income since his job ended in May has made it difficult to afford groceries. Hah is ineligible to work again until he acquires a working authorization that he applied for two months ago, which is still pending. "It is hard to find an appropriate fund that international students can get," says Hah. "From that perspective, this fund is so important to international students. Any amount of financial aid can be helpful in our daily lives."
To help UI students in need, support the UI Student Life Emergency Fund today.