Former Hawkeye letterwinner P. Sue Beckwith, MD, makes a transformational gift to endow Iowa's head women's basketball coaching position, a first for the Big Ten Conference.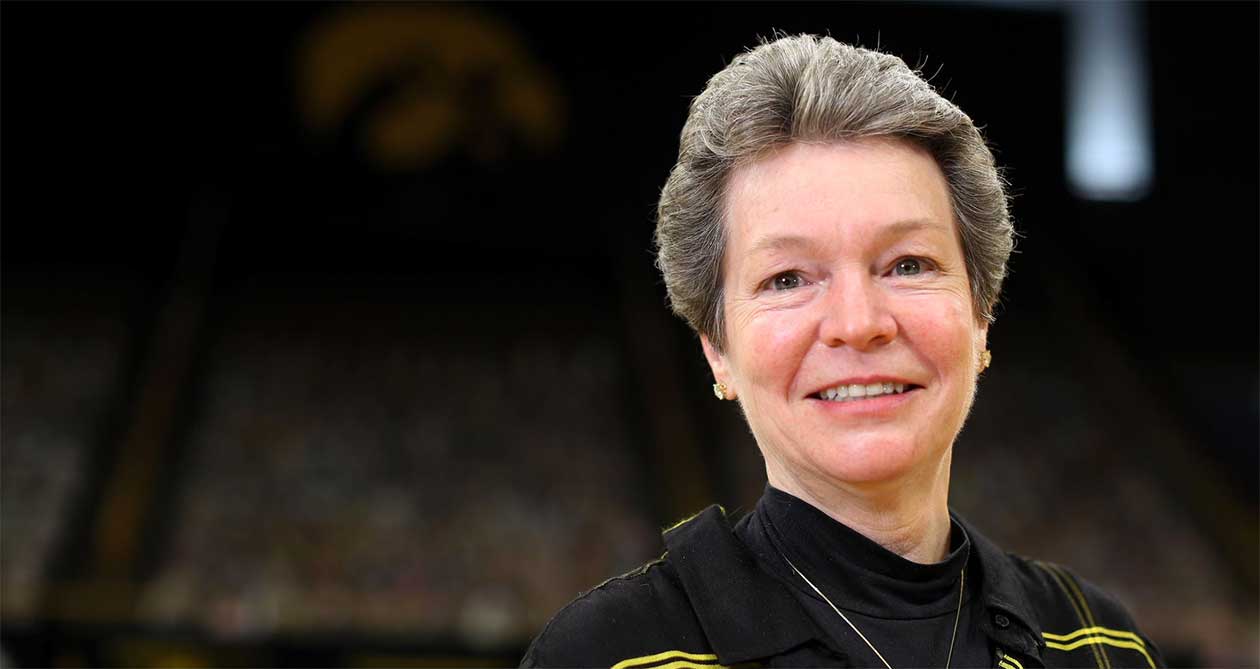 Brian Ray
P. Sue Beckwith
P. Sue Beckwith (80BS, 84MD, 15MBA) has fond memories of many of her coaches—not because of the wins and losses, but because of the life lessons she learned.
"The coaches I had throughout my life inspired me and helped me to constantly grow, improve, and stretch as a student and an athlete," she says. "Great coaches know your strengths and weaknesses, and they can identify potential—even if you can't see it."
Lark Birdsong, the University of Iowa's first women's basketball coach, saw potential in Beckwith and brought the Boone, Iowa, native into the starting lineup as a freshman. Beckwith became a four-year letterwinner for the Hawkeyes from 1976 to 1980—averaging about 10 points a game her junior and senior seasons.
Since her time as a Hawkeye student-athlete, Beckwith has gotten to know every coach throughout the program's nearly 50-year history.
"Iowa has a tremendous legacy of coaches, and today, Lisa Bluder and her staff continue to exemplify our rich tradition of women's basketball," says Beckwith, who is one of UI athletics' most generous supporters and is committed to ensuring that current and future Hawkeyes find success in competition, in the classroom, and beyond.
Beckwith has made one of the most significant contributions in the history of UI women's athletics—a total gift of $7 million, which will endow the Iowa women's basketball head coaching position and continue to grow the P. Sue Beckwith, MD, Black and Golden Opportunities Fund, which provides annual support to all of Iowa's women's sports.
"Sue is a passionate and ardent supporter of Iowa women's basketball and all of our Hawkeye women's sports teams," says Bluder, who is in her 21st season as Iowa women's basketball head coach and is the winningest coach in program history. "Sue, as an alumna of this program, has made a difference within Iowa women's basketball through her involvement and her philanthropic contributions. For me, this is truly a great day to be a Hawkeye."
In recognition of Beckwith's transformational support, Bluder and all future head women's basketball coaches will hold the title of P. Sue Beckwith, MD, Head Women's Basketball Coach. This leadership gift means Beckwith has now given nearly $9 million to Iowa women's athletics.
"Sue's professional accomplishments, personal drive, and philanthropic commitment is truly an inspiring example of a lifelong and loyal Hawkeye. I'm grateful to be able to call her a friend," says Gary Barta, the Henry B. and Patricia B. Tippie Director of Athletics Chair. "Her dedication to athletics is inspiring other female philanthropists to give back in their own way here at Iowa."
A Hawkeye for Life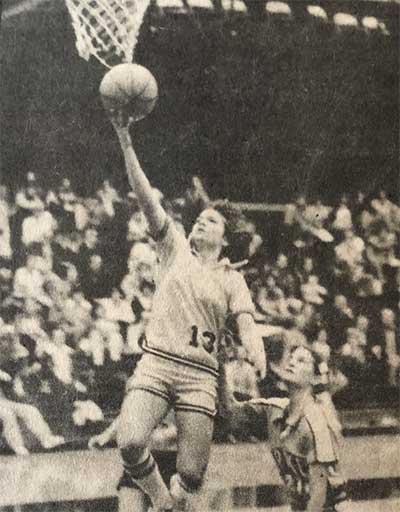 The Daily Iowan/Bill Paxson
Sue Beckwith goes up for a bucket in The Field House as the Hawkeyes take on in-state rival Drake.
Sue Beckwith was destined to be a doctor, and for her, the University of Iowa was the obvious choice for pursuing a career in medicine. Not only did she fulfill her educational aspirations at Iowa, she was also a successful contributor and letterwinner for the Hawkeye women's basketball program.
Beckwith tried out as a freshman in 1976—the third season ever for Hawkeye women's basketball—and made the team despite never playing 5-on-5 basketball. At that time, Iowa high school girls' teams played 6-on-6—where three members from each team would play offense and three would play defense.
"I vividly remember the first time coming down the court, dribbling the ball, and seeing all of these people at the other end," says Beckwith. "I had never played defense before and never really dribbled much before, but I made the team and earned a partial scholarship."
While she fondly remembers practices in the UI Field House North Gym and gutting out a tournament while battling the flu, her most cherished memories surround Coach Birdsong, her teammates, and the valuable lessons she learned as a Hawkeye.
"My experiences are one of the reasons I feel so strongly about athletics—the lessons it teaches us," says Beckwith, who graduated with a psychology degree before pursuing medical school. "Iowa was such a formative time for me—learning teamwork and time management, overcoming adversity, and gaining self-confidence and self-control."
Beckwith is also grateful to leaders like Christine Grant (70BA, 74PhD), who was women's athletic director at Iowa from 1973 to 2000, was a pioneer for women in collegiate athletics, and advocated for the implementation of the federal civil rights law Title IX, which took effect in 1972.
"At the time, I didn't know all of the things Dr. Grant had done or was doing," says Beckwith. "I remember the little things, like getting a new pair of shoes each year or being able to practice on the same floor as the men's basketball team. Dr. Grant was responsible for the opportunities I had, as well as the opportunities that hundreds of thousands of women around the country had and continue to have."
Following medical school—as well as a general surgery residency and colon and rectal surgery fellowship—Beckwith went on to have a successful surgical career in Des Moines that spanned more than 30 years. Prior to retiring in 2018, Beckwith went back to school and earned an MBA from the UI Henry B. Tippie College of Business—pursuing a passion she had her entire life.
"I had always been interested in the subject matter, and I wanted more breadth of knowledge," says Beckwith, who has been a board member of Fareway Stores, Inc., for more than 20 years, and more recently, was named board chairperson for the Midwest grocery store company. "My classmates and professors at Iowa provided that breadth of knowledge, and since then, an MBA has given me more confidence in my role on the board."
A Leading Hawkeye Philanthropist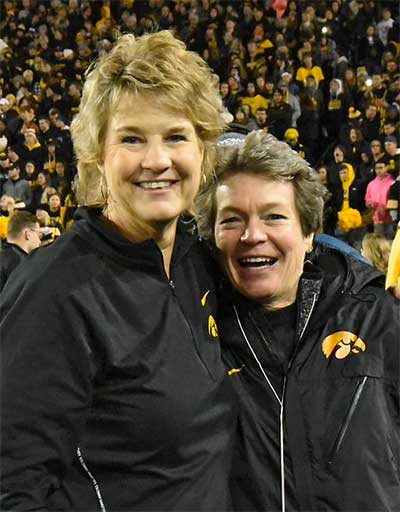 Sue Beckwith (right) and Lisa Bluder, who now holds the title of P. Sue Beckwith, MD, Head Women's Basketball Coach. In 2019, Bluder was named the Werner Ladder Naismith Women's Coach of the Year.
Beckwith, who lives in Waukee, Iowa, has a long history of remarkable philanthropy at the University of Iowa—giving back to her alma mater every year since 1984. She's also a loyal season-ticket holder for women's basketball, men's basketball, and football.
For Beckwith, it's all about the people.
"Athletics is the vehicle—the arena—for us to learn life lessons," says Beckwith. "A successful program is going to help that cause, but what is really important to me is the environment provided for student-athletes to come in, grow, and become tremendous citizens. To me, that's important to see in all programs."
In 2004, Beckwith gave back to help student-athletes by creating three endowed scholarships to support women's basketball and rowing, as well as a scholarship to honor Grant. In 2005, she made a leadership gift of $1 million for a new boathouse to benefit the coaches and student-athletes of the UI rowing program. The P. Sue Beckwith, MD, Boathouse, which opened in 2009, became the first building on the UI campus to be named in honor of a female philanthropist.
In 2016, Beckwith established the P. Sue Beckwith, MD, Black and Golden Opportunities Fund, which provides funding and opportunities, on an annual basis, to Iowa's women's athletic programs and their most pressing needs.
"It was important for me that a portion of my giving supports all programs," she says. "Although basketball is the most visible, student-athletes in all sports have the same passion, work equally hard, make similar sacrifice, display awesome talent, and reap the same benefits through their athletic endeavors."
Her most recent contribution, which creates the P. Sue Beckwith, MD, Head Women's Basketball Coach position, is an effort to support the legacy of great women's basketball coaches at Iowa and those yet to come.
"Coach Bluder recruits very high character kids who work tremendously hard," says Beckwith, noting that Iowa women's basketball is tied for best in the Big Ten for its graduation success rate. "They perform well on the court, get good grades, and do good things off the court. Coach Bluder provides an environment that breeds success."
In addition to her generous financial contributions, Beckwith has offered her time and leadership talent on a number of university boards and committees, including as a current member of the UI Center for Advancement Board of Directors and as former board member for the UI College of Liberal Arts and Sciences, the National I-Club, and the Varsity Club, amongst others.
"We're so thankful for Sue's support and friendship," says Barbara Burke, the UI's deputy director of athletics. "Her leadership on behalf of all of our student-athletes is an inspiration. This gift commitment and her vision creates an immediate and long-term impact on our women's basketball program."