Former Hawkeye tackle Tristan Wirfs had a breakthrough year with the Super Bowl champion Tampa Bay Buccaneers.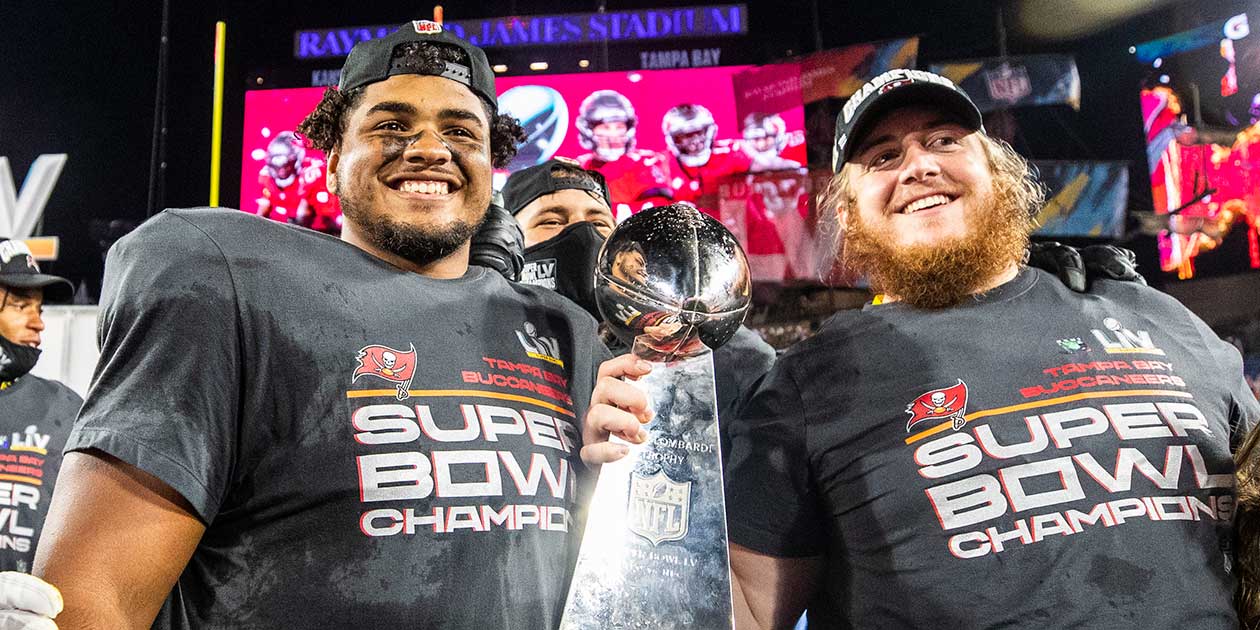 Photo: Tampa Bay Buccaneers
Former Hawkeye Tristan Wirfs (left) won a Super Bowl title in February with the Tampa Bay Buccaneers.
Tristan Wirfs is normally big on setting goals.
"I usually write sticky notes and put them on my mirror," says Wirfs, a former All-American tackle for the University of Iowa football team who just wrapped up his rookie season in the NFL with the Tampa Bay Buccaneers. "I didn't write any goals this year because just having a season was my goal."
For Wirfs, it proved to be a season to remember after his Tampa Bay Buccaneers defeated the Kansas Chiefs, 31-9, in Super Bowl LV. Not only did Wirfs start all 20 games of his rookie season, but he was on the field for 1,280 plays—allowing just one sack and having just one penalty called against him. At the end of the season, he was selected to Pro Football Focus' All-Rookie Team.
"I love being in the huddle with him," says quarterback Tom Brady, who clinched his seventh Super Bowl ring and first with Tampa Bay. "[Tristan's] got a great maturity for a younger player. Obviously, he's very talented, but he's got a great attitude and really works hard."
It ended up being the 16th time in the last 17 seasons that a former Hawkeye was in the Super Bowl. This time around, there were four Hawkeyes—Wirfs and Anthony Nelson (18BBA) for the Bucs and Anthony Hitchens and Ben Niemann (18BS) for the Chiefs.
We caught up with Wirfs to talk about the past season, his time as a Hawkeye, and his efforts to support University of Iowa Stead Family Children's Hospital.
You had a tremendous rookie season—all while playing against the best of the best. Who was the toughest defensive player you went up against this season?
I went up against a lot of tough guys, and they all have something a little bit different that they do. Khalil Mack (Chicago Bears) is pretty good, strong, and fast at the same time. You don't know what he's going to throw at you. Cam Jordan (New Orleans Saints) is a big edge rusher. If he lines up super wide and gets a full head of steam, he's powerful. Brian Burns (Carolina Panthers), Joey Bosa (Los Angeles Chargers), and Za'Derius Smith and Preston Smith (Green Bay Packers) are all tough to prepare for, too. I had a lot of fun going up against all those guys.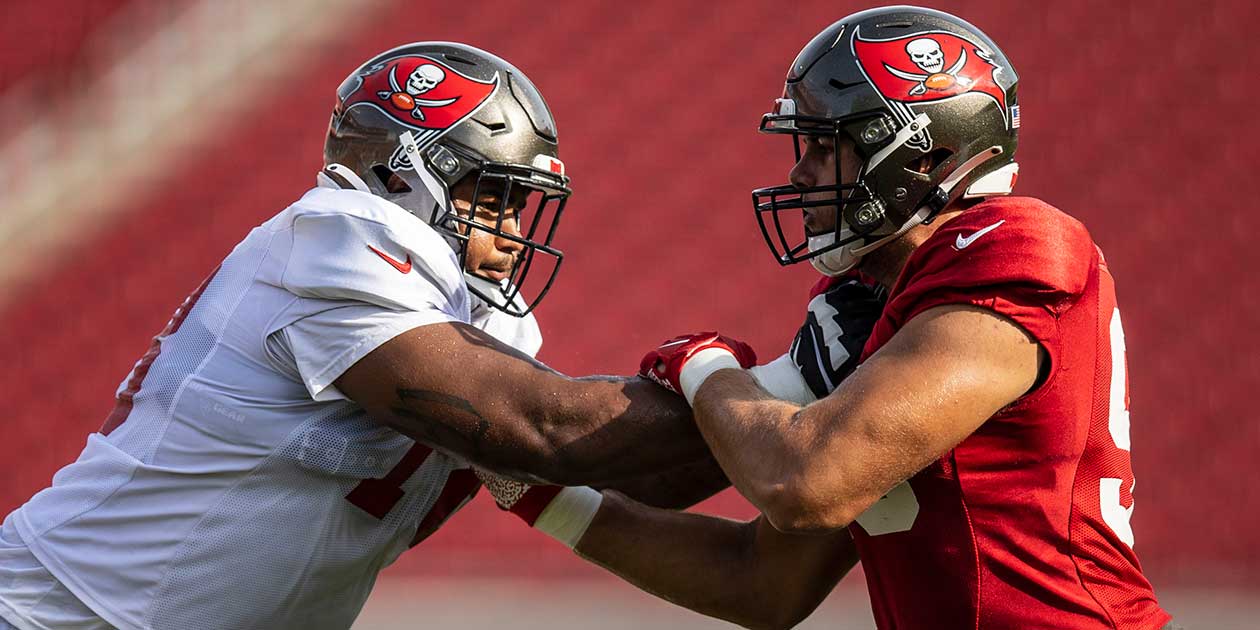 Photo: Tampa Bay Buccaneers
As a rookie, former Hawkeye Tristan Wirfs started all 20 games for the Tampa Bay Buccaneers. His stellar first year earned him a spot on the Pro Football Focus' All-Rookie Team.
As an offensive lineman, one of your bigger jobs is protecting your quarterback. What was it like competing with veteran quarterback Tom Brady?
It was awesome. So many of my buddies texted me asking about Tom Brady, and it was really cool to play with him this past year. He's a great leader. He came into the program like a general. Experiencing his leadership—firsthand—was unreal.
There were around 30 former Hawkeyes in the NFL this season. What does it say to have so many Hawkeyes competing at the highest level?
I feel like Iowa is underrated, development wise, when it comes to preparing you for the NFL. With how many guys Coach Ferentz has gotten into the league, I think that speaks for itself.
How did your time at the University of Iowa prepare you for life in the NFL?
Playing at Iowa was a big part of turning me into who I am today. Coach Ferentz runs his program at Iowa like a professional team. He does his best to turn us into better men, good husbands, good fathers, and good people in the community. My mom was also a huge part of that, but Coach Ferentz continued that at Iowa.
Before competing in the Super Bowl, you had two weeks off. What were COVID-19 protocols and testing like during the time leading up to the game?
All season long, we were testing once a day, wore masks, and wore trackers. If someone tested positive, they could use the tracker to tell how much time you spent next to a person who tested positive.
Leading up to the Super Bowl, the NFL changed testing to twice a day—testing once in the morning when we got to the facility and then again in the afternoon before we left. They took a lot of precautions to make sure no one was sitting out that game.
You aren't the only former Iowa Hawkeye with the Tampa Bay Buccaneers. What was it like reconnecting with teammate Anthony Nelson?
I loved it. Anthony and I were here at Iowa together for two years, and we had some really good battles. Making the transition from Iowa to Tampa Bay—having someone I knew down here— made it easier. When I got down here last June, he invited me to do a conditioning workout with some other teammates. He also helped me find my apartment. It's been fun to get together and compete together again.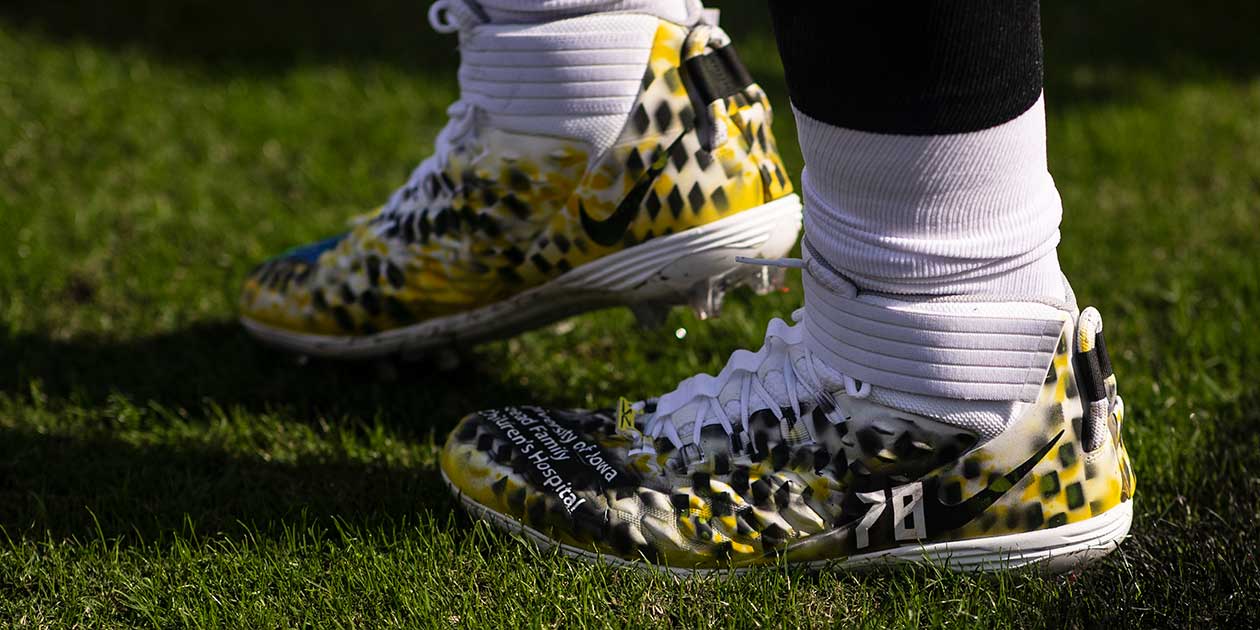 Photo: Tampa Bay Buccaneers
Through the My Cause My Cleats campaign, Tristan Wirfs chose to deck out his size 17 cleats in black and gold to raise awareness for University of Iowa Stead Family Children's Hospital.
Each year, NFL players can pick a cause that is important to them and represent their chosen organization on custom-designed cleats through My Cause My Cleats. Can you talk about why you chose University of Iowa Stead Family Children's Hospital?
When I was at Iowa, I spent a lot of time at the children's hospital. My experiences there really put in perspective what I get to do daily. Those kids are up there getting poked and prodded with needles all day. Going there to hang out with them for 15 minutes—putting a smile on their faces or hearing them laugh—is great. What I get to do isn't that hard compared to what they're going through.
So putting UI Stead Family Children's Hospital on my cleats was an obvious choice, and I gave the cleats to a girl, Kendra Hines, from my hometown [of Mount Vernon]. I've known her for quite some time. She has Down syndrome and has had quite a few procedures at the children's hospital. My mom and Kendra are neighbors, so my mom used Facetime and I got to see her with the cleats. It felt great to do that for her.
You also helped raise funds for UI Stead Family Children's Hospital through your NFL Combine experience. Can you talk about that?
I asked people to donate a certain dollar amount for every inch of my vertical jump. I ended up breaking the vertical jump record (36.5 inches) for offensive linemen, and we ended up raising more than $6,000 for the kids.
What are your goals for next season?
I'll be back to train at Iowa during the offseason, but I need to sit down and think about my goals. I'm not sure yet. Getting back to the Super Bowl could certainly be at the top of the list.