Former Marshall Scholar Richard Tyner (70BA) helps and inspires Honors Program students.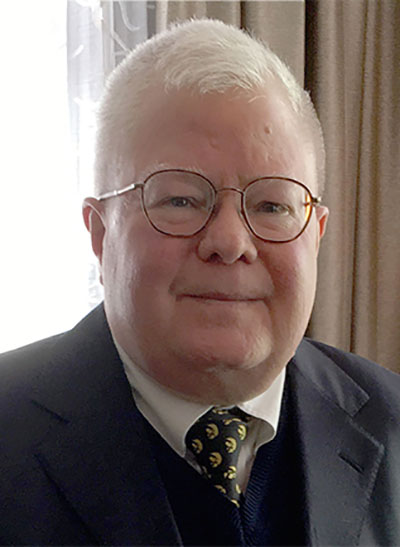 Richard Tyner
Running on four hours of sleep a night, Joseph McDonell (20BS) questioned how he'd continue pursuing a human physiology degree at the University of Iowa. In his first semester in Iowa City, the single father commuted daily from Cedar Rapids where he was completing two other degrees and working as a teaching assistant at Kirkwood Community College. Balancing his rigorous academic schedule with work, caring for his two sons, and fixing up his parents' house, McDonell struggled to find adequate time to study and sleep.
The Coggon, Iowa, native persisted, eventually earning the Richard Tyner Scholarship from the University of Iowa Honors Program. McDonell moved his family to Iowa City, improved his grades, pursued research opportunities, and coordinated free medical care for underserved populations at the UI's Mobile Clinic. In June, he will attain a master's degree in health and human physiology before starting medical school at the UI Roy J. and Lucille A. Carver College of Medicine this fall.
"The Tyner Scholarship has played such an enormous role in my life because it created the time I needed to study to be successful," says McDonell. "I went from barely scraping by to having everything I need."
MAXIMIZING TALENT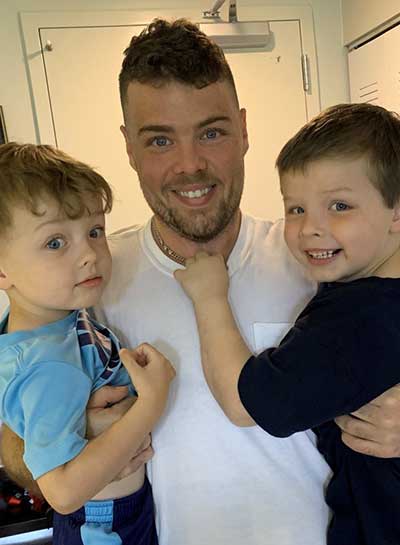 Joseph McDonell
McDonell exemplifies the type of student the Tyner Scholarship aims to help: talented scholars who haven't received a major scholarship or award and need additional support to reach their potential. Tyner (70BA), who earned entry into the Honors Program as a freshman and became a Marshall Scholar, established his scholarship in 2015 to create opportunities for high-achieving honors students. He recently increased the scholarship endowment to support four students annually and provided additional support to the Honors Program's student enrichment fund and excellence fund, allowing more students to participate in experiential learning.
Beyond his financial support, Tyner is an active member of the Honors Program Advisory Board and mentors students who are applying for major scholarships. The Shenandoah, Iowa, native annually shares his story of self-discovery with students at an honors seminar. Demonstrating the importance of an education in opening many career paths, Tyner details his journey from a farm boy who became a top Honors Program scholar at Iowa to attaining degrees at the University of Manchester, the London School of Economics, and Yale Law School. Along the way, his career trajectory evolved from wanting to teach in higher education to becoming a successful international lawyer in Saudi Arabia.
"You can't plan your whole life at 18 or even 22, but the education you get is a solid base for whatever you're going to do in the future," says Tyner, who majored in political science and French at Iowa. "You can lose a job or change a career, but you can't lose your education."
LASTING IMPRESSIONS
Tyner also connects with each of his scholarship recipients—offering advice and encouragement—whether it's at a yearly scholarship recognition ceremony or through email. Grateful for the opportunities he was provided at Iowa, Tyner aims to open similar doors for more honors students.
"The Honors Program was very important to me as a student," says Tyner. "The teaching was excellent—and when you're around the best students, you push each other."
McDonell learned that firsthand, seeing his grades rise as he modeled his peers' study habits. Starting his academic journey at age 29, after more than a decade working in heavy construction, he felt a calling to pursue a health care career. His interest in nursing evolved to medicine as he researched gas-exchange abnormalities in premature infants in the neonatal intensive care unit. McDonell's research will provide another data point for clinicians to determine whether an infant's lungs are exchanging gas efficiently to guide more targeted treatment. He will continue his neonatal research at the Carver College of Medicine and hopes to do a residency at UI Stead Family Children's Hospital. Passionate about his small-town roots, McDonell also hopes to expand telehealth networks to rural communities.
Getting a chance to meet Tyner left an indelible impression on McDonell. "It really stuck with me that he knows who I am, my story, and where I came from," says McDonell. "I hope to one day be as generous as he is."
NEW OPPORTUNITIES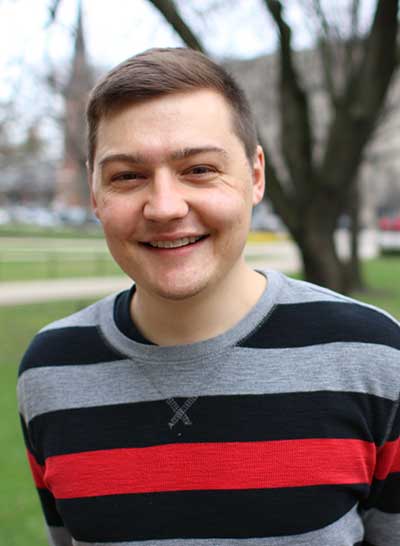 Eli Bratsch-Prince
Eli Bratsch-Prince (20BA) developed into a top Honors Program scholar in his first year at Iowa. Immediately applying himself, he earned entry into the program in his second semester and received the inaugural Tyner Scholarship, which grew his confidence and opened new doors. "I credit Richard with giving me the confidence to put myself out there and take every opportunity," says Bratsch-Prince. "That kickstarted my will to apply for competitive national scholarships and have confidence in myself and my studies, which I didn't in high school."
The Ames, Iowa, native earned the U.S. Department of State Critical Language Scholarship and the David L. Boren Scholarship and studied in Morocco, Jordan, and Oman. Bratsch-Prince, who majored in political science with an Arabic minor, is pursuing international relations work for the U.S. government and is a semifinalist for the 2021 Fulbright Award.
GETTING INVOLVED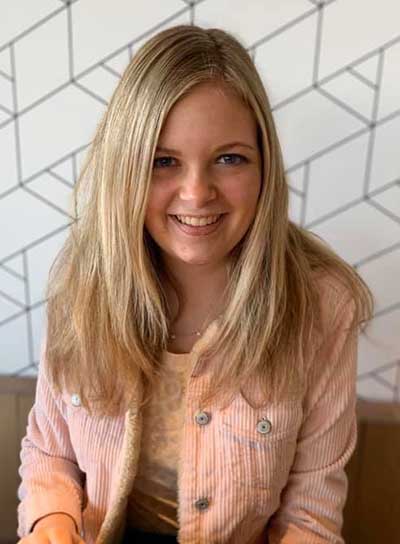 Sierra Wicks
Thanks to the Tyner Scholarship, Sierra Wicks has more time to get involved and pursue her career interests as the governmental relations committee chair for Undergraduate Student Government and the events coordinator for Ignite UI, a student organization that empowers women to be involved in politics. A sophomore majoring in politics and ethics and public policy, the Johnston, Iowa, native appreciates the financial support amid a challenging school year. "It has eased my college stress, which has been really helpful this year with the pandemic," says Wicks.
From financial support and mentorship to working on the Honors Program Advisory Board and sharing his story with students, Tyner is inspiring countless students at Iowa.
"Richard is helping students with their own self-discovery and making the most of their time at the university," says Art Spisak, director of the Honors Program. "The impact he's had in his many roles is incalculable."