A donation from Principal invests in the education of Hawkeyes while helping develop a skilled and inclusive workforce for the future.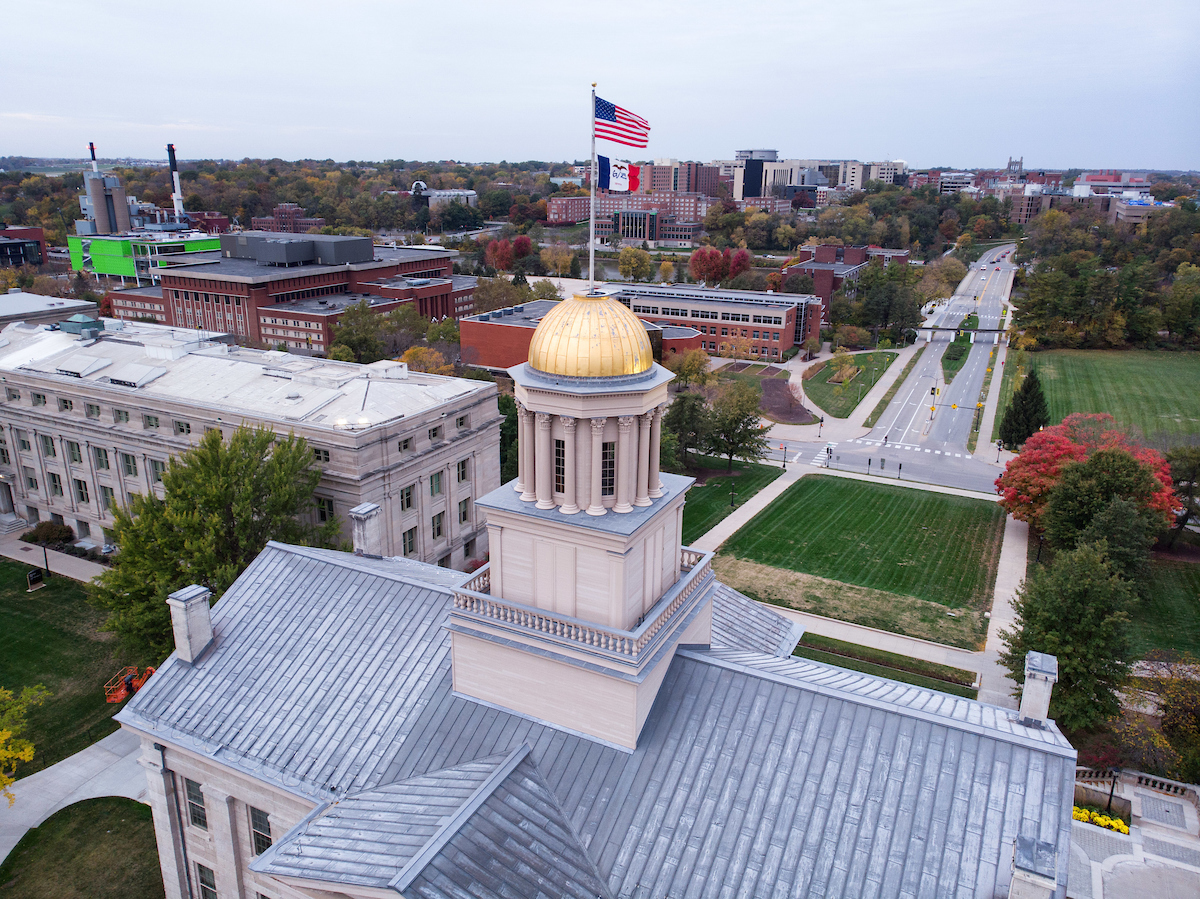 The University of Iowa's Old Capitol is one of the most recognizable images and landmarks in the state of Iowa.
From business and actuarial science to computer science and engineering, Principal is supporting the future minds of its industry by investing more than $100,000 at the University of Iowa annually. Through one gift, Principal is supporting 13 student scholarships across multiple areas of study, with a focus on diversity, equity, and inclusion efforts.
Principal made the donation through its Talent Focused Higher Education grant. Scholarships are awarded annually to students in the College of Engineering, College of Liberal Arts and Sciences, and Henry B. Tippie College of Business, and typically cover approximately $2,500. The gift also helps support programming and student organizations.
Kawther Rouabhi is a third-year student studying computer science and engineering at the University of Iowa College of Engineering. During a recent virtual panel, where students were able to connect with several Iowa alumni who now work in leadership positions at Principal, Rouabhi expressed gratitude for her scholarship and the financial relief she and her family have felt as she works through a challenging curriculum.
"Getting a college degree is tough. They are not handing these things out," Rouabhi joked during the event. "This scholarship has allowed me to focus on being the best engineer and science communicator I can be."
Student scholars shared that sentiment during the panel, explaining that Principal's generosity allows them to concentrate more on their academics and volunteer commitments, which are becoming increasingly important, according to Amy Kristof-Brown, dean at the Tippie College of Business.
"Very few of them are just getting a college degree. They are getting a college degree, adding a minor, a certificate, studying abroad, and being a mentor," Kristof-Brown said. "I look at the complexity, and I think their curriculum is about 60 percent of what they are doing. Their other experiences are really rounding them and adding to the university community."
These extracurricular Tippie College of Business experiences include the Gateway Summer and BizEdge programs, which both support minority and first-generation students through mentorships. Principal has elected to support students who are involved in both programs.
Daniel Poncer is a third-year student studying finance and accounting at the Tippie College of Business. He serves as a resident mentor with the Gateway program, where he helps introduce underrepresented high school juniors to the business major and life on campus—at no cost to them.
"This scholarship has provided me with a lot of flexibility in scheduling. Instead of working near full-time, I can maintain focus on my studies and get more involved on campus and take on leadership roles," Poncer said during the virtual event.
BizEdge is an extension of the high school program, offering peer mentorships—along with financial and professional support—to first-generation students and students of color studying business at Iowa. Principal's gift makes it possible for students to provide critical support to each other.
"Students need someone to tell them it's really OK. You are supposed to be here, stick with it," Kristof-Brown said. "Beyond just helping students pay for college, Principal is allowing students to be the connector to other students, and that is extremely impactful."
Corporate gifts, like the one from Principal, allow businesses to determine their priorities and invest in students and programs at the University of Iowa that fit their strategic priorities—working to develop students who may become future employees and inclusive leaders in their industries.
Barb McKenzie (82BBA) is the senior executive director of investments at Principal and a member of the University of Iowa Center for Advancement Board of Directors. As an Iowa graduate, she says she is thrilled Principal can assist these students in their academic and on-campus pursuits.
"It's important for students to have well-rounded experiences at Iowa to enhance their career readiness. To know that Principal played a role in the success of these students is a great source of pride for me," McKenzie said.
To learn more about corporate and foundation relations at Iowa and the annual proposal process for a gift like this one, email kelley.drowne@foriowa.org.