Five months into a global pandemic, Michelle Niermann, president and CEO of UnityPoint Health in Cedar Rapids, was hit with a second obstacle: a derecho. Niermann discusses how she helped navigate UnityPoint through a unique year.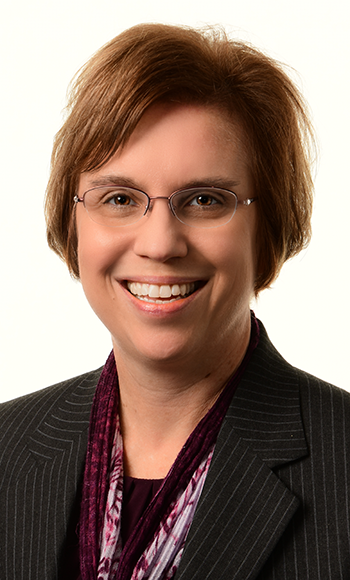 Michelle Niermann
It was a challenging 2020 for Michelle Niermann (94MA), president and CEO of UnityPoint Health in Cedar Rapids, Iowa. Not only did Niermann lead her organization through the COVID-19 pandemic, but she and her team had to navigate a natural disaster that hit Iowa, and Cedar Rapids, especially hard.
We caught up with Niermann to discuss the past year, her time at Iowa, and the future of health care administration.
What has been the greatest challenge you and your organization have faced during the COVID-19 pandemic?
Niermann: In the beginning, the greatest challenge was working through uncertainty and fear.   We've been through some natural disasters and went through another mid-pandemic with the derecho that devastated Cedar Rapids and many other Iowa communities in August. There is something of a course to those. You may or may not know it's coming, but you know the weather event itself will be time limited. You know that facilities will be damaged, and utilities and communication systems may be unreliable. You've likely planned for some or all of those things. None of us have ever experienced a yearlong global pandemic.
Not only was it difficult to try and prepare, but we also saw something in our team members we'd almost never seen before: fear. They were afraid about how we would be able to care for all those we might need to care for, but they were also afraid for themselves and those they love. It took constant learning, constant adjustment, and constant communication to ensure we were doing everything we needed to do to keep our team members and our patients safe. Over time, the greatest challenge became supporting the wellbeing of our team members as they became increasingly fatigued and increasingly disappointed by the losses we experienced.
The COVID-19 pandemic has changed everyone's lives. What is a lesson you have learned during the past year?
Niermann: I knew it already, but the year most definitely reminded me that health care team members are amazing. Where would we be as communities and as a society if not for people who give of themselves to serve others? I could not be prouder of how our team cared for our patients and our community—and one another—throughout the pandemic, as well the derecho and its aftermath.
I was also reminded of how important it is to always cultivate a good workplace environment. Starting with a basis of trust makes communication during difficult times much easier and more effective. Starting with a shared commitment to a deeply held mission and values keeps you focused on the right things and on caring for one another even when circumstances make it tough to be at your best.
What drew you to the Master of Health Administration program at Iowa?
Niermann: In the latter part of my undergraduate career, I realized the fields of study I had chosen weren't going to lead me to a fulfilling career. Without a clear aim, I started looking at graduate degree options, and when I discovered there was such a thing as a master in health care administration degree, I knew immediately that I had found my match. I was thrilled by the prospect of developing business and, more importantly, leadership skills that I could put to good use in a mission-driven field. I looked at several excellent graduate programs and found Iowa to be the best fit and the best value. It was without question the best decision and best investment in my career I could have possibly made.
What would you want a student considering a future career in health care administration to know about the field today and where it is headed in the future?
Niermann: It's hard to know where health care is headed in the future. The pandemic has made still more evident the systemic issues which underlie health care disparity. Hopefully what we've witnessed will be a catalyst for significant change. As far as health care accessibility and affordability go, though, it's very difficult to see through to comprehensive reform.
That being said, it's an incredible field. It's a team sport—it takes every player, every day. It's full of opportunities to improve and to grow how we serve our patients and our communities. And it has meaning. Our teams serve people in their most vulnerable, their most joyous, and their most difficult moments. It's an honor and a privilege to do so.