Donations spark new art and music therapy efforts in the pediatric psychiatry unit at UI Stead Family Children's Hospital.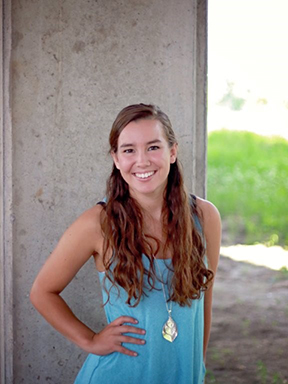 Mollie Tibbetts came to the University of Iowa to study child psychology, with the dream of helping kids find health and happiness. Three years after her killing, a memorial fund honoring Tibbetts is achieving her vision for patients at UI Stead Family Children's Hospital.
To date, more than 1,200 donors have given $129,000 to the Mollie Tibbetts Memorial Fund for Child and Adolescent Psychiatry. Tibbetts' family established the fund in 2018 to honor Mollie's academic and professional ambitions after her life was cut tragically short following her freshman year at Iowa. Since then, donations have poured in from around the nation to support art therapy, music therapy, and other mental health initiatives at the children's hospital.
"One of the biggest things that this fund has meant for us is simply the raising of awareness of youth mental health," says Hanna Stevens, director of the hospital's division of child and adolescent psychiatry. "When people think of what a wonderful person Mollie was and what she intended to do professionally to help youth mental health, it's a reminder that this is a cause worthy of attention and in great need."
The Mollie Tibbetts Memorial Fund has allowed Stevens' unit to make needed equipment purchases and support new programming. For example, the fund has been used to purchase MP3 players for music therapy programming, which can be a useful coping technique for patients in psychiatric crisis. And during the holidays, which are often a difficult time for hospitalized children, the memorial fund has helped purchase care packages for patients.
The memorial fund has also supported a pair of new art initiatives. Outpatient therapy group participants have partnered with Grinnell College Museum of Art curator Tilly Woodward and Iowa City artist Helen Neumann (97MA, 98MFA, 20MSW) to create uplifting artwork that is displayed inside the children's hospital.
"The benefits for youths during that creative process is really huge," says Stevens of the art therapy programming. "We've done this with multiple groups and involve their families and the therapists working with them. Mollie was a very creative person, and her mom is a very creative person, so this program is especially meaningful."
A Brooklyn, Iowa, native, Tibbetts was a talented stage performer, writer, and speech competitor in high school who was particularly interested in mental health issues. She chose to attend the nearby University of Iowa, where she excelled in her first year as a psychology undergraduate who one day hoped to work with children.
The fund has created strong bonds between Tibbetts' hometown and UI Stead Family Children's Hospital. The Girl Scout Daisy troop with which Mollie volunteered has made posters and cards for the children on the in-patient unit with inspiring messages. And each year, community members gather at Brooklyn's BGM High School for the Mollie Tibbetts Memorial Run, which follows the five-mile route that the avid runner would often take. Proceeds from the fall run are donated to the Mollie Tibbetts Memorial Fund.
Tibbetts' family takes heart in knowing that her legacy lives on through the impact at the children's hospital, and her mother, Laura Calderwood, continues to work closely with the child and adolescent psychiatry unit to identify new ways to support patients.
"To help kids who were suffering emotionally and mentally was very important to her," Calderwood says. "This is where Mollie would have wanted to make a difference."
---
Give today to support the Mollie Tibbetts Memorial Fund for Child and Adolescent Psychiatry.