Gary and Judy Hested love the Hawkeyes, and they show their love by making contributions to the I-Club and supporting a scholarship that benefits women's basketball student-athletes.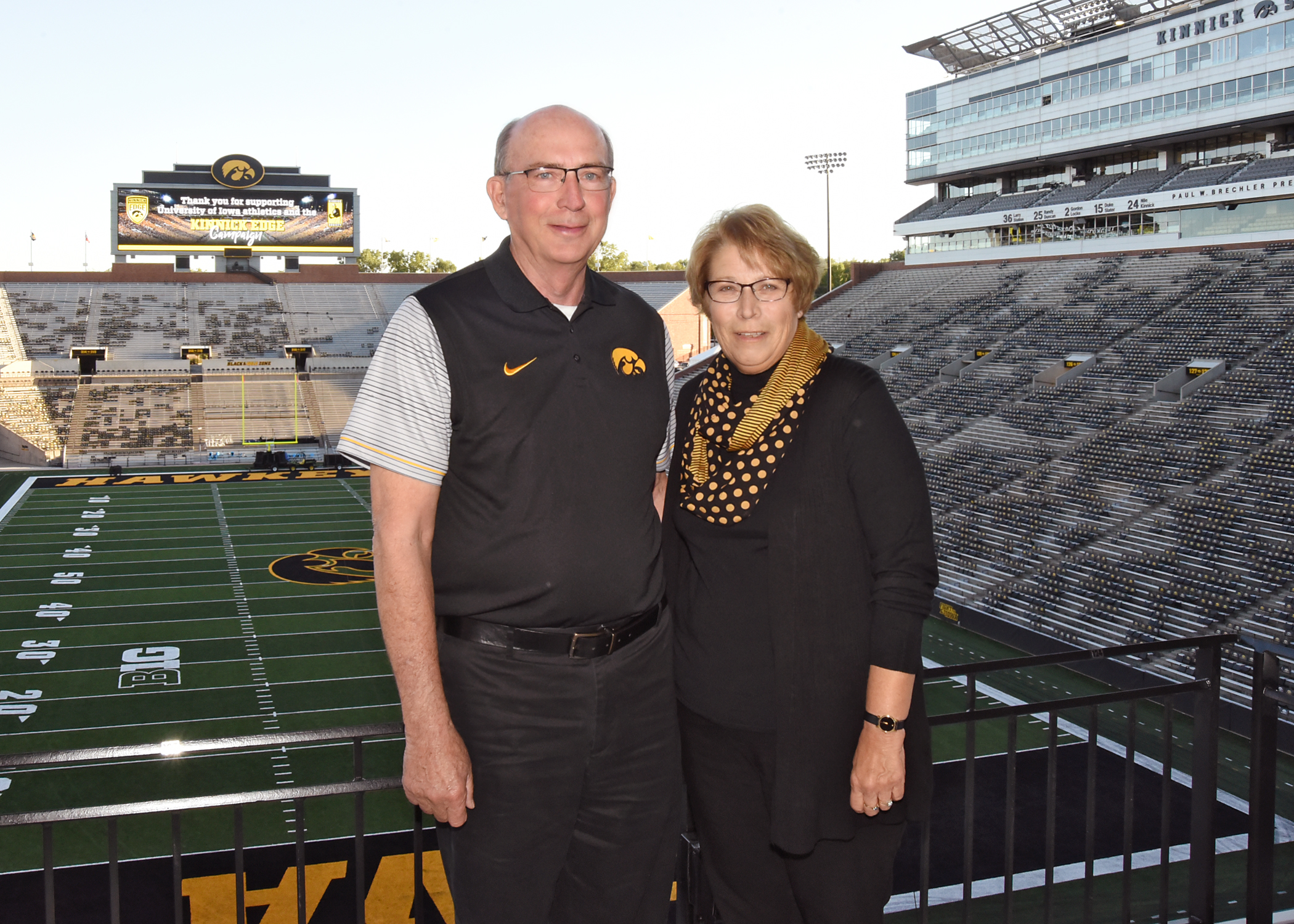 Gary Hested (72BBA) understands the importance of supporting scholarships, in part, because he funded his own education at the University of Iowa.
"I paid my way through school by saving throughout high school, working summer construction jobs in the Dakotas, and pumping gas in Coralville," says Gary, who lives in Story City, Iowa, with his wife, Judy. "Even a small amount of additional money can make a big difference."
The Hesteds created the Gary and Judy Hested Family Athletic Scholarship so that they could help fellow Hawkeyes receive a high-quality Iowa education. To date, five women's basketball student-athletes—Carly Mohns (18BS), Tania Davis (19BA), Alexis Sevillian (20BA), Monika Czinano, and Kate Martin—have received their scholarship.
"Each year we're invited to practice and then lunch with the team afterwards," says Judy Hested (72BA). "It's been nice to go to lunch and see what they're like off the court. We're always curious to talk to them about their goals in life‐beyond their athletics endeavors."
The Hesteds have been Hawkeye fans since their childhoods—Gary in Lohrville, Iowa, and Judy in Eldridge and Burlington, Iowa. While at the University of Iowa, they created fond memories of cheering on the Iowa football team, as well as the Big Ten-championship winning men's basketball team in 1970.
"I grew up with the Hawkeyes, and I have always been a sports fan," says Judy. "I got to watch Fred Brown, Downtown Freddie Brown, in both Burlington and at the University of Iowa. Those were some wonderful teams to watch."
Once the Hesteds graduated from Iowa and moved around the state—Gary working in finance and banking and Judy in health care—they stayed connected to Iowa through season tickets for men's basketball and football, as well as yearly contributions to the I-Club. They're proud to continue to support the Hawkeyes in any way possible.
"We started out supporting Iowa athletics as soon as we could afford it," says Gary, who continues to work as chairman and CEO of Exchange State Bank in Ames. "And it kind of grew from there. We have choices when it comes to what we support. As Coach Hayden Fry said, athletics is the front porch to the university, and we know that we want Iowa athletics to continue to succeed."
To learn more about how you can make a difference for the University of Iowa, please contact the I-Club at 319-467-3410 or iclub@foriowa.org. You can also explore giving options on our website.