Carter is the recipient of the Lillian C. O'Brien and Dr. C.S. O'Brien Chair in Ophthalmology. This donor-funded position memorializes Cecil Starling O'Brien, M.D., who established the Department of Ophthalmology at the University of Iowa in 1927.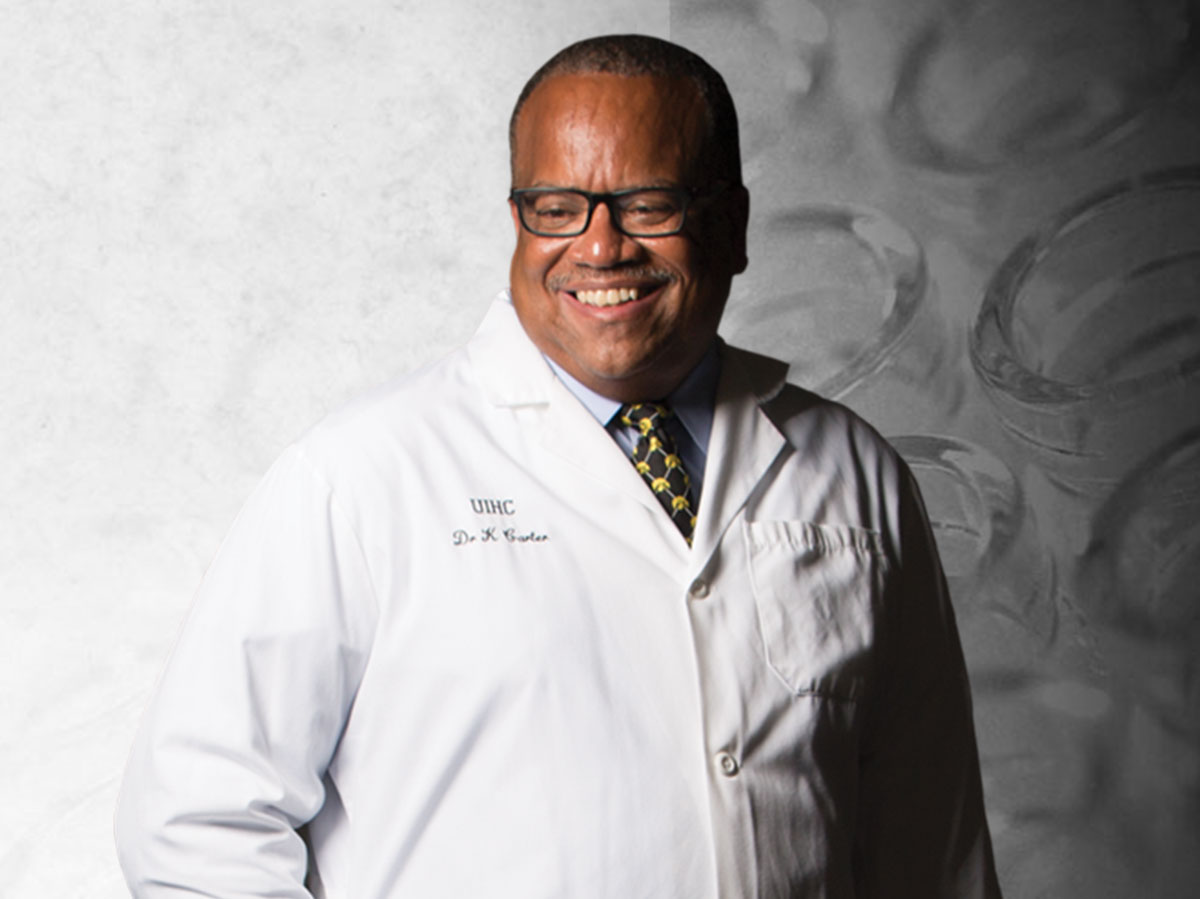 Dr. Keith Carter has worked at the University of Iowa Hospitals & Clinics for more than 30 years. He says he knows the value of private support in his own work, which is why he gives back.
Dr. Keith Carter (88F) believes in putting his money where his mouth is.
He understands that donations drive change, especially at University of Iowa Hospitals & Clinics, where he is head of the Department of Ophthalmology and Visual Sciences. He also knows that personal generosity, for any good cause, can help save lives.
"Our late son, Evan, had Type 1 diabetes, and he fell in love with a camp here in Iowa that assists kids who battle this disease," says Carter. "My wife and I give to diabetes research and diabetes camps in his memory because we've seen why such funding matters."
Carter also has witnessed the power of private support in his own work—which is why he regularly gives back to his department as well.
"People cherish their vision, and we're trying to unravel some of the greatest mysteries of diseases that affect the vision pathway," he says. "Iowa is one of the few fully collaborative vision research centers in the country that is devoted to restoring vision. Through our new discoveries and clinical trials, we offer hope to many patients and their families."
Carter credits this, in part, to Hawkeye champions who invest in the kind of groundbreaking research that makes Iowa "a gem in the middle of the heartland."
"Big gifts get a lot of press, but small gifts pay the bills. So, you need to recognize people's generosity, no matter how much they give."
- Dr. Keith Carter
"There are very smart people here, doing very important work," he says. And he would know: He's been at the University of Iowa for more than 30 years and has spent several years as chair of his department.
A specialist in oculoplastic surgery, Carter has come to realize that state funding doesn't cover everything a university needs—and that gifts from generous donors mean the difference between being average and achieving excellence.
"In the beginning, I didn't think that institutions like the University of Iowa needed additional money; however, I've learned that, due to declining state and federal funding, we need a lot of support in order to grow our faculty, educate our students, and pursue research that will take science in new, life-saving directions," he says.
To support research and care at UI Hospitals & Clinics, visit givetoiowa.org.