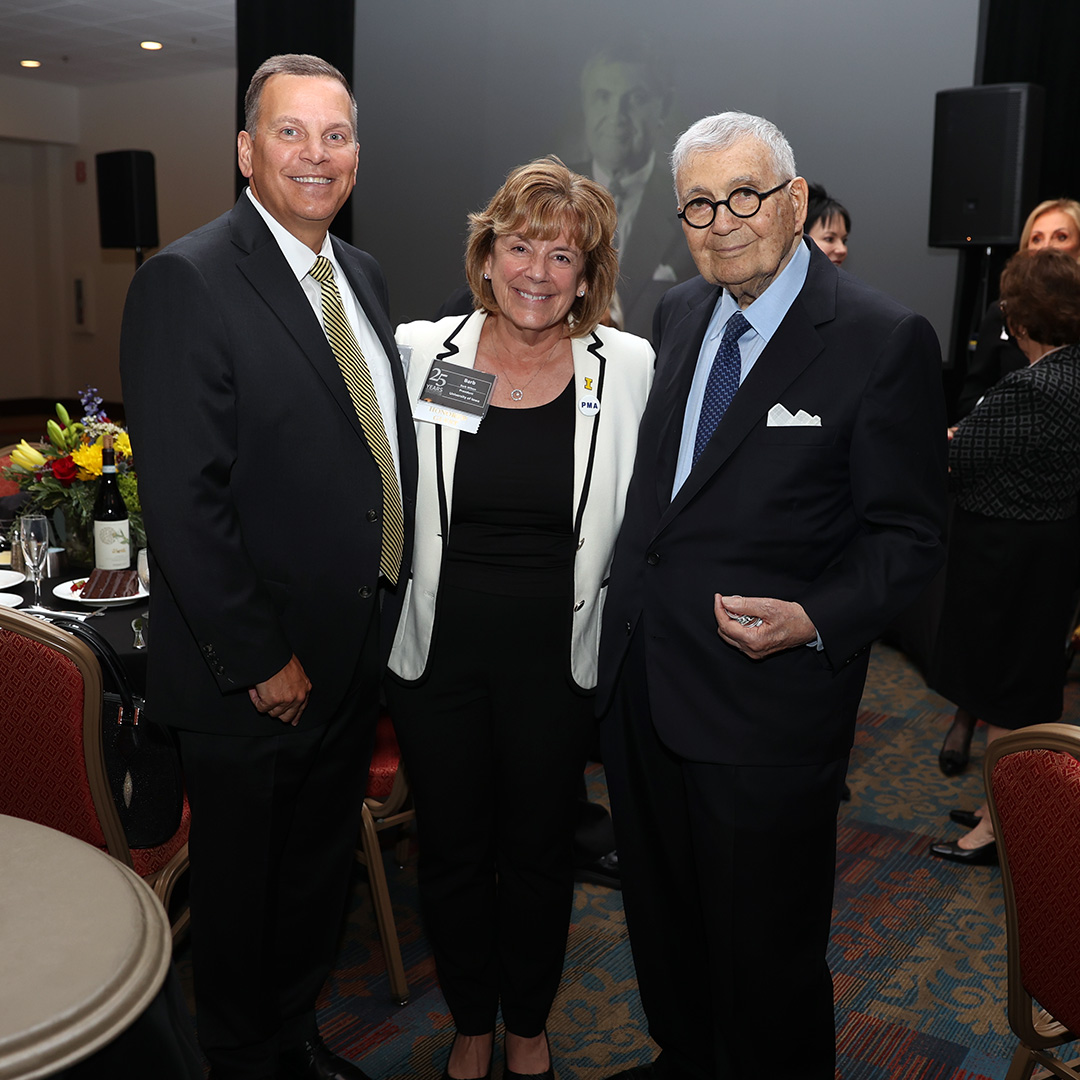 UI John Pappajohn Entrepreneurial Center Executive Director David Hensley, UI President Barbara J. Wilson, and John Pappajohn.
John and Mary Pappajohn, of Des Moines, are two of Iowa's most generous philanthropists, and they recently announced a $10 million gift commitment to continue entrepreneurship education and programming through the John Pappajohn Entrepreneurial Centers at the University of Iowa, University of Northern Iowa, Iowa State University, Drake University, and North Iowa Area Community College.
John Pappajohn made the announcement on Thursday, Sept. 23, at a 25th anniversary celebration for the John Pappajohn Entrepreneurial Centers, held at the Des Moines Marriott Downtown.
"Mary and I are proud of the amazing developments in entrepreneurship in the state of Iowa," says John Pappajohn. "We are thrilled to continue supporting the Pappajohn Centers, as they work to make Iowa the most entrepreneurial state in the country."
John Pappajohn, who immigrated to Mason City, Iowa, from Greece when he was nine months old, graduated from the University of Iowa with a business degree in 1952. His father died when John was 16 years old, and he and his brothers managed the family business as he worked his way through college.
John Pappajohn is the president of Equity Dynamics Inc., and Pappajohn Capital Resources in Des Moines. After graduating from Iowa, he was involved with several entrepreneurial projects before becoming a full-time venture capitalist in 1969. He has been involved in more than 100 startups and 50 initial public offerings and also has served as a director of more than 40 public companies.
John Pappajohn organized and financed the John Pappajohn Entrepreneurial Centers at five universities and colleges in Iowa in 1996 and has continued to support these centers for the past 25 years.
For questions, contact:
David Hensley
Clinical Professor and Executive Director of the John Pappajohn Entrepreneurial Center
319-335-0992
david-hensley@uiowa.edu