The Bogues have had a three-generation love affair with the University of Iowa. Being named the recipients of the UI's Family Spirit Award recognizes their generosity and is taking their Hawkeye pride to a new level.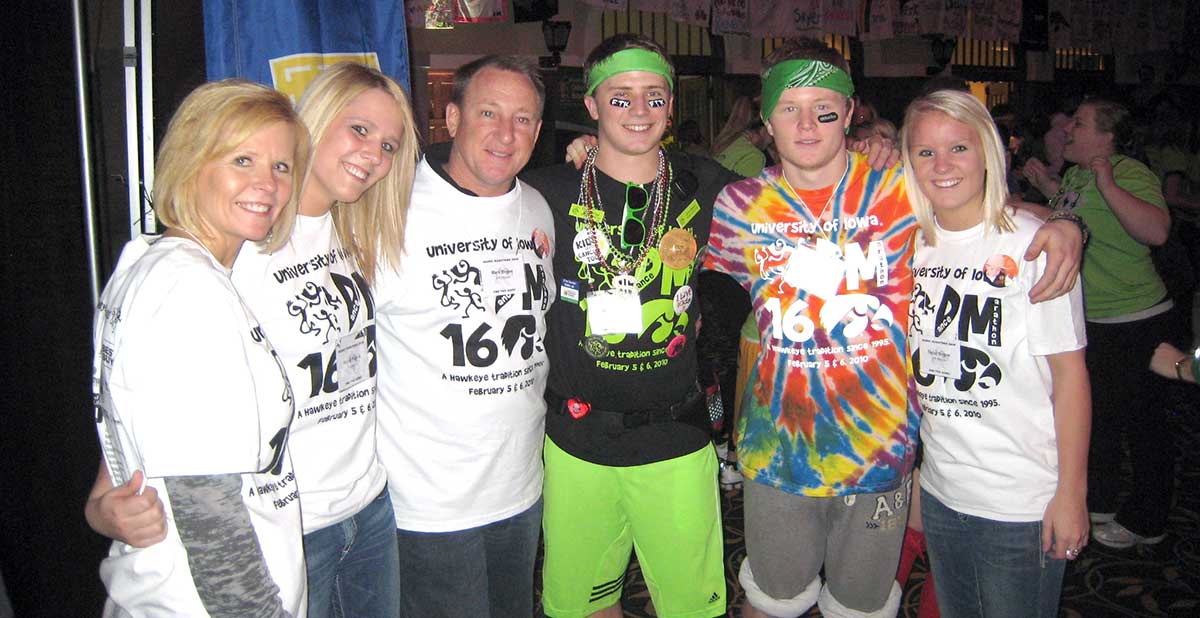 Left to Right: Jaclyn Bogue (83BBA), Nicole Patera, Mark Bogue (82BSCE), Jared Bogue (10BSE), Alex Bogue (12BSE), and Taylor Bogue (15BS)
You might say the Bogues, of Ida Grove, Iowa, have a time-honored tradition of meeting their significant others at the University of Iowa. 
It all started when Richard Bogue (50BSCE) came to Iowa on the G.I. Bill and met his future wife, Alice Johnson Bogue (50GN). Their three children—Linda Bogue Boerner (73BA, 78MA), Suzie Bogue Libbey (77BBA), and Mark Bogue (82BSCE)—soon followed in their footsteps by graduating from Iowa. Linda met her husband, Gordon Boerner (72BA), when he gave her a ride home to Ida Grove, while Mark met his wife, Jaclyn Haarstick Bogue (83BBA), at a fraternity-sorority mixer.
So, when Melissa Boerner Adrian (03PharmD), Linda's daughter, was entering her final year of classes at the University of Iowa, she was starting to feel a little pressure.
"That's what our family does—meets 'the one'," says Melissa, whose brother, Brett Boerner (06BA), is also an Iowa grad. For Melissa, her continuation of the family tradition began at a men's basketball game at Carver-Hawkeye Arena just a few months before graduation.
"I had season tickets with my friends, but they didn't show up for one of the first games. I made small talk with the guy next to me," says Melissa, of her now husband, Joseph Adrian (02BBA). "We saw each other at a few more games and soon enough, we started to date. And by the following August we were married."
Over the past eight decades, three generations and 16 members of the Bogue family have not only found love at the University of Iowa, but they've also gained transformational educations that have helped them make a difference in their communities. On Saturday, Oct. 16, 2021, the Bogue family will be recognized as recipients of the university's Family Spirit Award during homecoming festivities. The award honors a Hawkeye family who supports the UI and contributes toward bettering the state of Iowa.
"So many of us have received a great foundation at Iowa," says Jaclyn, who nominated the Bogues for the yearly award. "And that's why the University of Iowa means so much to everyone in the family. We've all had great experiences at Iowa. We're very honored and excited to receive the Family Spirit Award."
While Jaclyn grew up in Minnesota and was the first in her family to go to college—with her brother, Todd Haarstick (86BBA), soon following her to Iowa—her husband, Mark, has been going to Hawkeye games since he was a young boy. His degree from the UI College of Engineering is helping him now as president of Hi-Way Products, a custom steel fabrication company for bridge and highway construction based in Ida Grove.
"Iowa has the perfect size engineering school, and you get to know your classmates and your professors well," says Mark, who has since served on multiple UI College of Engineering boards. "Traveling around the country and going to other universities, we've realized that there are very few places like the University of Iowa."
In 2003, Richard and Alice created a scholarship within the UI College of Engineering, and Mark and Jaclyn have since supported that scholarship, along with multiple building campaigns within the college. Mark says he and his wife support scholarships, because they remember the difference financial assistance made during their time at Iowa.
"Jaclyn and I ended up graduating with very little debt, and we've wanted to pay that forward through scholarships and other charitable giving," says Mark.
Mark and Jaclyn's three children—Jared Bogue (10BSE), Alexander Bogue (12BSE), and Taylor Bogue (15BS)—are all Iowa grads. Jared, like so many other members of the Bogue family, met his wife, Heather Weibring Bogue (10BA), in Iowa City.
"Dance Marathon was one of the most rewarding things I've ever done, and I met Heather at an event for incoming and outgoing morale captains," says Jared, who served on the Dance Marathon executive committee. "We started to spend time together, dated our senior year, and got married a couple years after graduation."
Dance Marathon, which raises funds for children fighting cancer through a yearly 24-hour dance called the Big Event, has impacted the entire family. Nine family members have participated.
"All of our children were extremely involved with Dance Marathon," says Jaclyn. "They spent countless hours at the hospital and with their sponsored children. They also inspired us to get involved. Our children gained more strength and courage from these experiences and made each of them a better person."
Asitha Jayawardena (14MD, 14MPH), Suzie's son-in-law, shared in the Dance Marathon experience with the Bogues. Now he's blazing his own path in children's medicine as a pediatric otolaryngologist at Children's Minnesota in the Twin Cities. Growing up in Iowa Falls and Mason City, Asitha became a big Hawkeye fan. When it came time to pursue medical school, he didn't have to look far to find a top-ranked medical school.
"I didn't know it at the time, but Iowa really shaped me," says Asitha, whose wife, Gretchen Libbey Jayawardena, worked at UI Hospitals & Clinics while he attended medical school. "I did a lot of research with [pediatric orthopedic surgeon] Jose Morcuende (01R) with the Ponseti clubfoot program, and while I didn't go into orthopedics, I developed skills throughout my training to provide care for the little kids that walk through the door who otherwise could not hear or speak."
Jared, who is now father to a 3-year-old, says he's not only excited to pass his Iowa pride onto a fourth generation, but also to celebrate the Family Spirit Award with family and friends during homecoming weekend.
"Being Hawkeyes is a truly a special bond that we all have," says Jared. "It's a passion that isn't coached or taught—you just feel it. And as recipients of the Family Spirit Award, we know that we're carrying the banner this year for others who are passionate for Iowa."
---
Learn more about the Family Spirit Award at foriowa.org/family-spirit.