Former University of Iowa student-athletes Blake and Stephanie (Swanson) Rasing have had success in competition, the classroom, and their respective careers. As alumni, they're paying it forward and supporting Iowa's soccer and wrestling programs.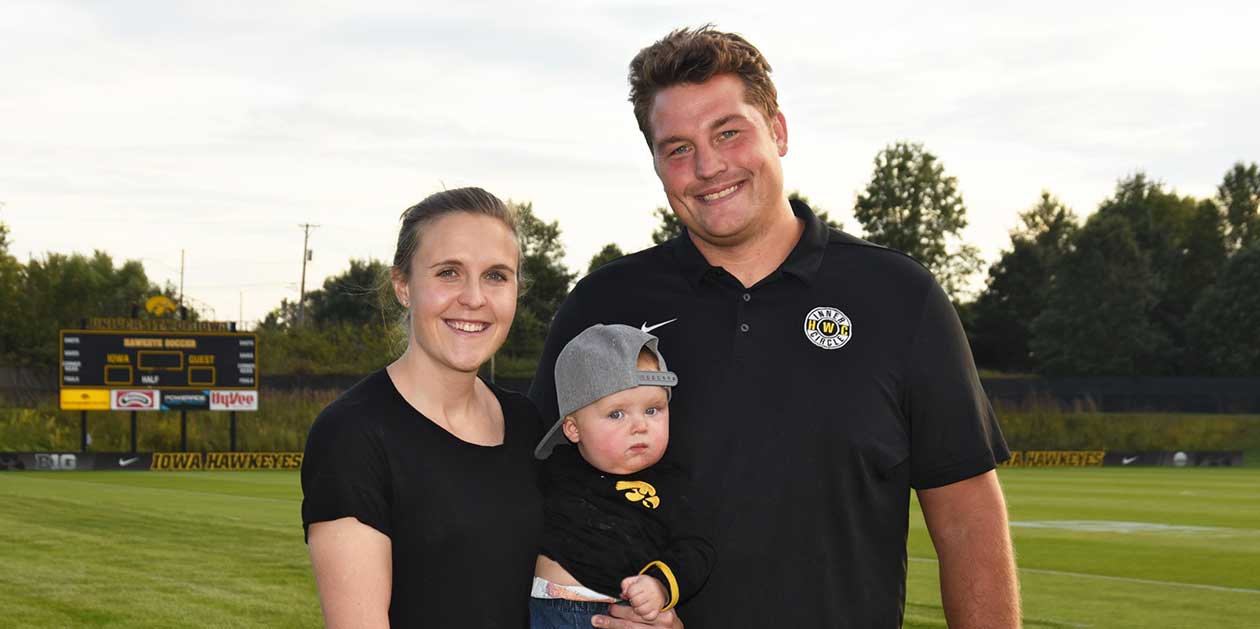 It was a wet, rainy September day in 2007 when Blake Rasing (12BBA) was driving his motorcycle up to Hillcrest Hall. That's when he crashed.
"I was walking down the hill afterwards—with a few burns on my leg—and that's when I met Stephanie for the first time," says Blake, of his wife, Stephanie (Swanson) Rasing (11BSE). "She didn't even bat an eye. She laughed and walked away."
Just a few hours later, though, Stephanie had an incident of her own.
"We had goalkeeper practice before the rest of soccer team," says Stephanie. "We were messing around and taking shots. I slid and ran my right knee into the goal post. I gashed it up and ended up going to the hospital."
Soon, both Blake and Stephanie found themselves meeting again at University of Iowa Hospitals & Clinics while waiting for medications. It wasn't the start of a romance—that took time—but it was one of many conversations that led to a lasting relationship.
"Most people get tattoos of their significant other, but I have a nice scar on my knee to remember the day we met," says Stephanie.
While meeting each other in Iowa City shaped the course of their lives, it wasn't the only highlight from their time at the University of Iowa. Blake and Stephanie were successful student-athletes. Blake was part of the 2010 national championship wrestling team and won the 2011 Big Ten title at heavyweight, while Stephanie was a four-year letterwinner and two-time Big Ten Distinguished Scholar as part of the Iowa soccer program.
Their time at Iowa also prepared them for careers in the Chicago area. Blake is a senior manager at Grant Thornton, the sixth largest U.S. accounting and advisory organization, while Stephanie is a program manager at Hendrickson International, which designs and manufactures suspension systems and components for trucks and trailers.
"Because Iowa has a smaller, Big Ten engineering school, I had a lot of great opportunities," says Stephanie. "And as student-athletes, we both knew how to put in the work to be successful. Our experiences as student-athletes—working with teammates from a variety of backgrounds on common goals—really set us up for success."
That's why the Rasings have given back to the University of Iowa, including to their respective sports. They recently supported the Carver Circle campaign, which is raising funds for a new wrestling training complex adjacent to Carver-Hawkeye Arena.
"Our love for the University of Iowa is the only thing we agree on in our household," says Blake, who credits Tom Brands (92BS) and Terry Brands (92BGS) for his success on the mat. "We talk about the University of Iowa just about every day. It's a common goal for us to help the university as much as we can because of what the university gave to us. As a former wrestler, I wanted to support Carver Circle to keep our program going and keep it strong."
They also supported the new operations facility at the Iowa Soccer Complex, which opened in fall 2021. Stephanie wanted to honor a former teammate, Kim Olsen White (10BA), who passed away in 2020 after a battle with adrenocortical carcinoma, a rare and aggressive cancer. The locker room in the new facility is named in White's honor.
"I had great teammates at Iowa, and when they decided to name the locker room after Kim, I knew I wanted to be part of that," says Stephanie. "Resiliency is an important trait as a student-athlete, and Kim was resilient as a student-athlete and during her battle with cancer. We knew the soccer facility was bigger than us. We wanted to keep her memory alive and leave a lasting impact on the program."