Since coming to Iowa in 2010, Margaret and Fran McCaffery have raised more than $1.25 million for cancer research and care. Their efforts have focused on adolescent and young adult patients ever since their son Patrick faced cancer as a teen.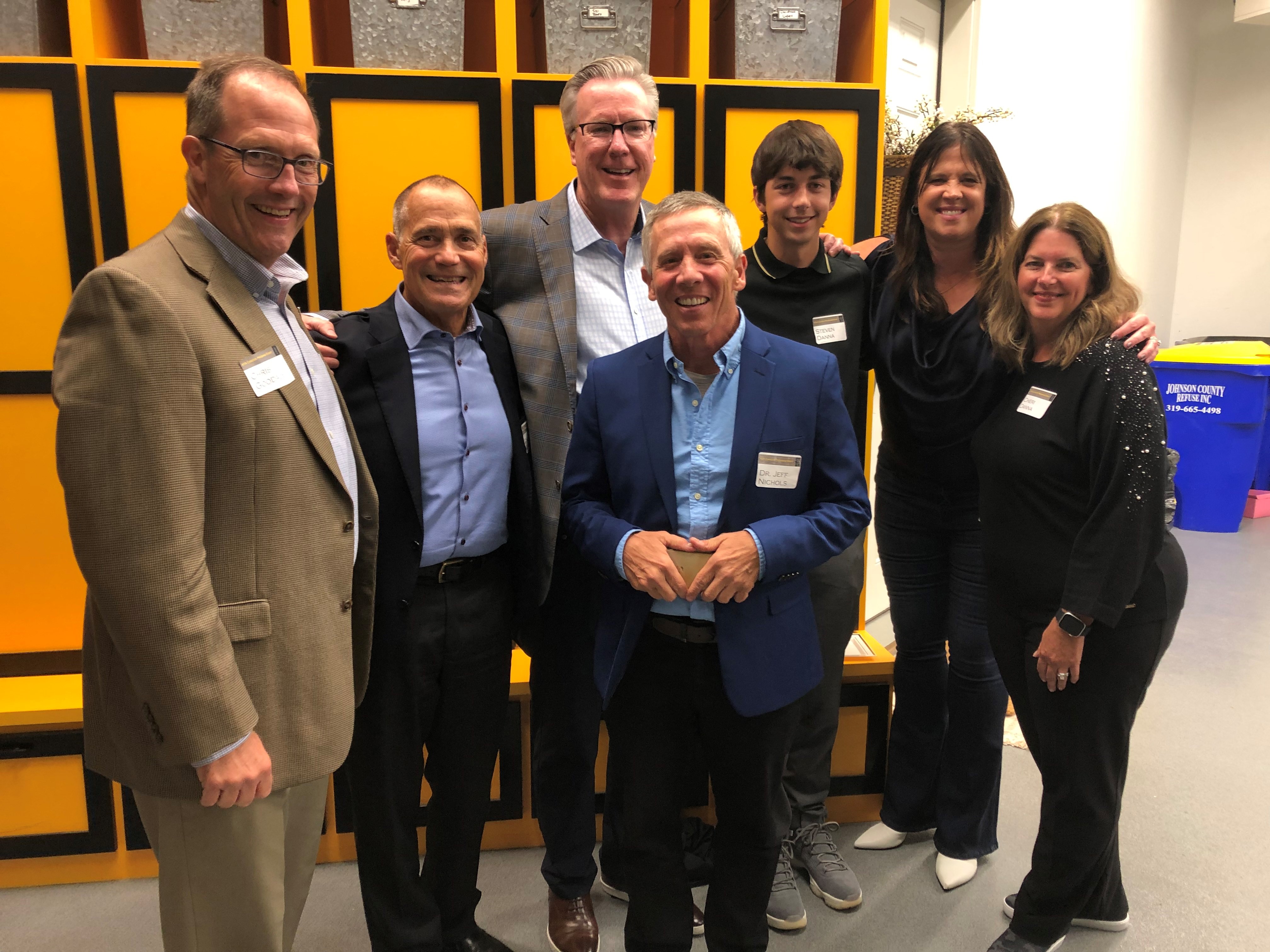 Nancy Richardson
Margaret McCaffery (second from the right) and Fran McCaffery (center in the back row) pose with several guests for a photo during their tenth annual fundraiser. The 2021 event raised more than $137,000 for the AYA Cancer Program at University of Iowa Hospitals & Clinics.
Iowa basketball couple Fran and Margaret McCaffery marked a decade of making a difference in the fight against cancer, raising more than $137,000 for the University of Iowa's Adolescent and Young Adult (AYA) Cancer Program during a recent fundraising event at their home in October.
Margaret serves on the board of directors for the American Cancer Society, while Fran is head coach of the Iowa men's basketball team. Their son Patrick McCaffery, who currently plays basketball for his dad, was diagnosed with thyroid cancer when he was 14 years old. Today, he is a cancer survivor.
The McCafferys have long been passionate cancer fundraisers and advocates. In 2015, the American Cancer Society awarded the family with the Fighting Spirit Award for its heavy involvement in Coaches vs. Cancer and other philanthropic efforts. Fran is also on the Coaches vs. Cancer National Council. His parents died from colon cancer, but the family's focus shifted to helping adolescent and young adult patient needs after experiencing the disease from Patrick's perspective.
"It's very different to tell a 14-year-old that they have cancer than it is to tell a 5-year-old. It's not any easier as a parent. But [Patrick] knew what we were talking about, and I know he thought he was going to die because everyone he had known who had cancer had died," says Margaret.
Through Patrick, Fran and Margaret became deeply aware of a resource and support gap for young people with cancer between the ages of 13-39.
Research shows better results for patients who participate in programs with expertise in treating both adult and pediatric cancer. The McCafferys appreciate that Iowa has taken a comprehensive approach to its AYA patients through clinical trials, fertility preservation, and psychological and emotional care.
Since its inception in 2011, the annual McCaffery event has raised more than $1.25 million for cancer support at University of Iowa Hospitals & Clinics, most significantly supporting AYA, which is a collaborative program between UI Stead Family Children's Hospital and Holden Comprehensive Cancer Center.
Margaret has been at the helm of the fundraiser, which evolved from a big event at Carver-Hawkeye Arena to a more intimate experience at the McCaffery home.
The 2021 event took place outside, under the stars, as guests enjoyed live music and dinner from Graze, desserts from Deluxe Bakery, and brews from Big Grove Brewery—all local to the Iowa City community. Attendees could bid on items and experiences during a silent and live auction. The evening concluded with a fireworks display.
Donors have made a substantial impact for teens and young adults receiving cancer care at Iowa. Contributions from the McCaffery events have helped fund:
A nurse coordinator for all AYA patients

Funding for research for young patients

Mental health services for patients, survivors, and their families

Patient support through inpatient and group activities like cooking, yoga, and music classes

Expanded telehealth supportive visits
To join the McCaffery family in supporting patients enrolled in the University of Iowa's Adolescent and Young Adult (AYA) Cancer Program, make a gift.