Clark Humble recently completed his goal to cheer on every Division I Football Bowl Subdivision team at home in just over five years.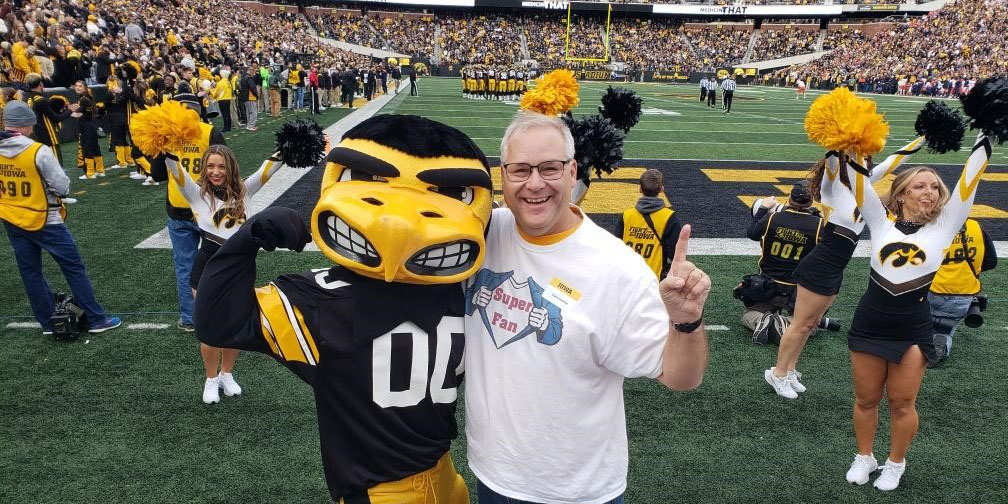 Photo Courtesy of Clark Humble
Clark Humble poses with Herky on the sidelines of Iowa's win over Illinois on Nov. 20, 2021.
Clark Humble (87BBA) is truly college football's superfan.
On Saturday, Nov. 27, at Louisiana State University, Humble completed an ambitious goal of watching a college football game at all 131 Division I Football Bowl Subdivision stadiums. The University of Iowa graduate spent the past five-plus years traveling the U.S. while taking in a lot of college football.
"I can say that I've been a fan of 131 college football teams, because I've rooted for the home team at every stop," says Humble. "Throughout it all, I've enjoyed getting to know so many fans and experiencing the energy and excitement of college football."
Humble, who grew up in Cedar Rapids, rarely went to college football games as a kid. It wasn't until he met his future wife, Patti Stallman Humble (86BBA), at Iowa, that he began cheering on the Hawkeyes at Kinnick Stadium. Patti, as a student, had season tickets.
"I'll always remember when Patti and I watched No. 1 Iowa beat No. 2 Michigan in 1985, and we stormed the field," says Clark Humble, who is retired and calls Marietta, Georgia, home. "When I've been on the field at games over the past five years, I think about that experience with my wife quite a bit."
Traveling around the country to watch college football in person wasn't on Humble's radar until the couple dropped their oldest child off for his freshman year at Yale. After experiencing a game at the Yale Bowl, one of the oldest college football stadiums in the U.S., he had a wild idea that has now come to fruition.
Humble officially started his journey in 2016 and began to gain attention during his travels after Patti gave him a T-shirt on Father's Day that explained his goal of going to every college football stadium. It's a shirt that he has worn to every game since.
Each year, Humble attended 20 to 40 football games. Going solo to most of the games, he used both commercial flights and rental cars to travel across the country. By 2019, he ratcheted up his schedule—attending 60 college football games in a matter of 14 weeks. Even with just 13 to 14 weeks in a given college football season, Humble took advantage of weeknight games throughout the season to check many stadiums off the list.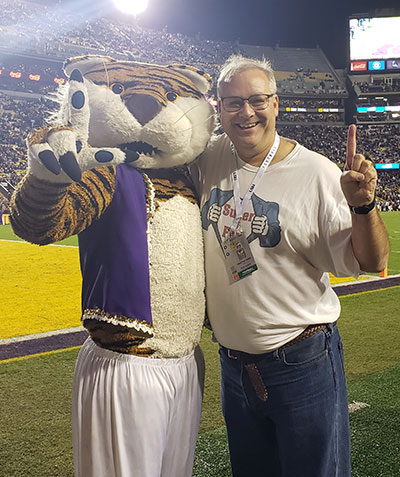 Photo Courtesy of Clark Humble
Clark completed his goal of going to every football stadium on Nov. 27, 2021, at Louisiana State University. He watched the Tigers rally to beat Texas A&M.
"Mathematically, there were 64 or 65 days of college football that year," says Humble, who was a triple major in accounting, economics, and finance at Iowa. "It was an ultramarathon, and I felt like I couldn't miss a game. I'd ask myself: Could I be home for Thanksgiving, or do I need to be at a game? That's not how I wanted to do it the last two years."
After the COVID-19 pandemic limited the number of games he could attend during the 2020 season, Humble came into the 2021 college football season with just 19 stadiums left. His schedule this year included a Nov. 6 game at Rutgers on the 152nd anniversary of the first-ever college football game, which was played on that campus, and Iowa's home finale against Illinois on Nov. 20.
While football has been a focus throughout all of Humble's travels, he made sure to make time in many of these communities to feed the homeless or volunteer at a shelter. "I learned so many great life lessons at Iowa, and I wanted to help others while traveling around the U.S.," says Humble.
Now that Humble has accomplished his goal, he's currently submitting documentation to the Guinness Book of World Records for attending all 131 Division I Football Bowl Subdivision stadiums in 5 years and 3 months, which would be the shortest amount of time ever achieved. His next steps are to write a book about his experiences and continue to attend college football games—including some of the sport's biggest rivalries.
Here's a brief Q&A with Humble on some of our most pressing questions:
What stadiums were you most excited to see?
The historic stadiums—Notre Dame, USC, Michigan, Ohio State, Alabama, and Texas—just to name a few. All are legendary football programs where so much history has taken place. Notre Dame—there are echoes in that stadium. The ghosts of athletes past and championships won. It's a powerful experience, and they have a zealous fan base.
What was the most ambitious trip you took over the past five years?
I flew from Atlanta to Denver and then drove 500 miles to Lubbock, Texas, for a Thursday night game at Texas Tech. I then hopped in the car and drove 875 miles to Provo, Utah, for a Friday night game at Brigham Young. After sleeping a few hours in the car for a second straight night, I drive 500 miles to Boulder, Colorado, for a noon kickoff on Saturday with Colorado. Then, I drove to Colorado State for a border war game with Wyoming that night. Four games, three days, 2,007 miles, and then I headed to the Denver airport for a midnight flight home.
How did the COVID-19 pandemic impact your goals?
In 2020, I saw only 17 games—22 games I had planned on seeing were canceled. In fact, I got COVID on the road and was sidelined for 11 days. One of my flights last fall resulted in seeing no games. I was flying to Denver to make visits to Colorado, Colorado State, Air Force, and Wyoming. When I landed, one game had already been canceled. Air Force limited attendants to cadets only, and then the other two games were canceled soon after.
What are some of the best football games you've experienced during this journey?
The 2020 Red River Rivalry between Oklahoma and Texas at the Cotton Bowl in Dallas. Historic stadium, historic rivals, and it was a great game—Oklahoma won the game in four overtimes.
My second choice would be the Alamo Bowl in 2016. Oregon led Texas Christian, 31-0, at halftime, and TCU comes back to win in three overtimes.
Finally, at Washington State in 2019—a Pac-12 stadium that seats just over 30,000. Washington State led 49-17 in the third quarter, and UCLA rallied to win on the last play of the game, 67-63. It was the quietest walk back to my car I had.
How does Kinnick Stadium compare to other stadiums around the country? Which stadium reminded you most of Kinnick?
Kinnick will always be by home. I have many great memories there—starting with my first game in 1978. There isn't another quite like Kinnick Stadium. The Wave was priceless, and I was grateful to be part of it.