Henry and Patricia Tippie have given to the University of Iowa for more than 60 consecutive years—largely to the UI Department of Intercollegiate Athletics and the UI Henry B. Tippie College of Business.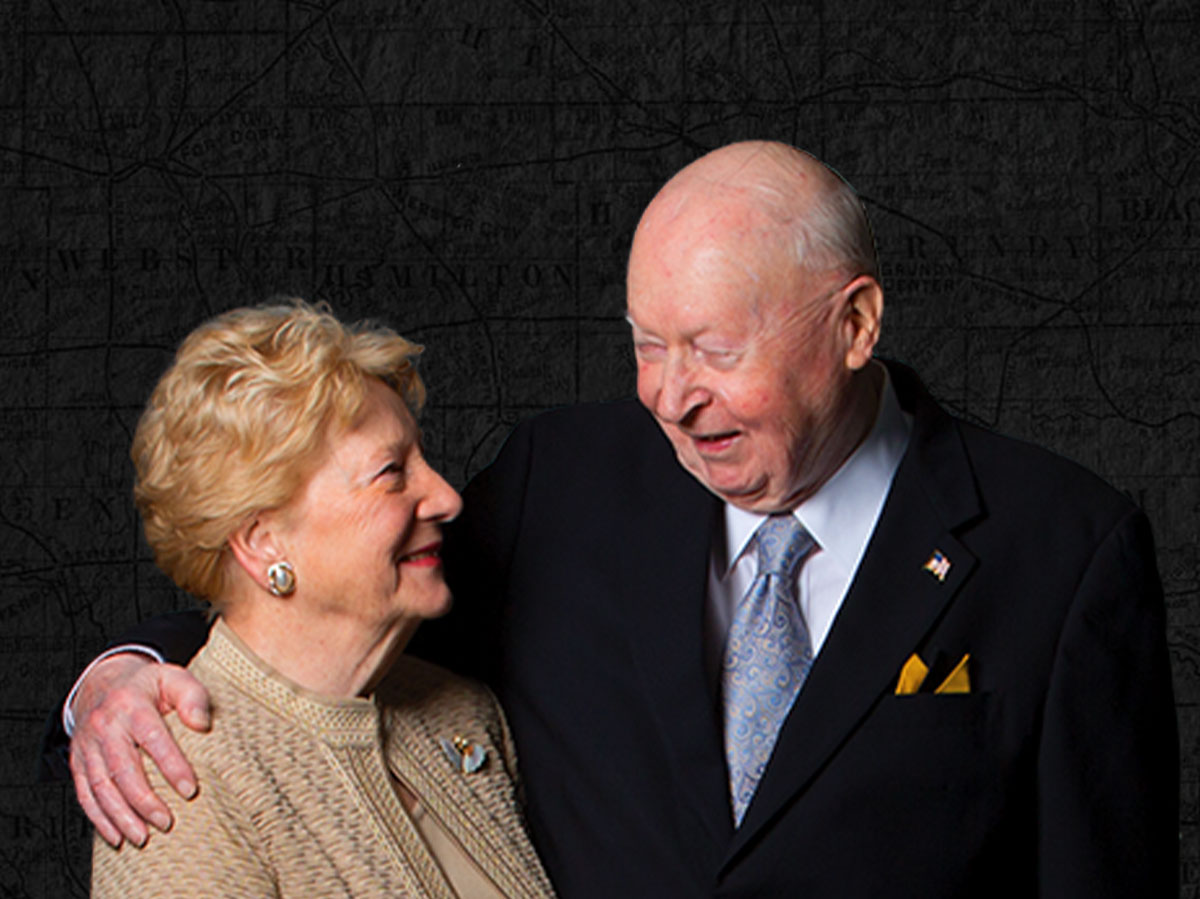 As a boy in Belle Plaine, Iowa, Henry Tippie (49BCS, 09LHD) was fascinated by sports.
Whether it was clipping sports articles from the newspaper or playing for his high-school baseball team, athletics were, and continue to be, a lifelong passion. That love of sports has always included the Iowa Hawkeyes.
For more than 50 years, Henry and his wife, Patricia, have been Iowa football season-ticket holders. Among his many fond memories is the 2010 Orange Bowl where the Hawkeyes defeated Georgia Tech. That day also happened to be his 83rd birthday.
"It was my best birthday ever," he says with a smile.
The Tippies love the Hawkeyes. Throughout the years, they've created several scholarships for student-athletes and supported facilities enhancements at Kinnick Stadium.
"We believe in the mission of Iowa athletics—that today's Hawkeyes are tomorrow's leaders," says Henry. "We are honored to support the athletic and academic experiences of Iowa student-athletes, which we see as an investment in the future."
"I benefited beyond all expectations by attending the University of Iowa. I feel strongly about repaying the benefits I received."
- Henry Tippie
But their giving doesn't stop with athletics. The Tippies—who are top University of Iowa donors—have provided transformational support for business students, which is why the college is named in the couple's honor.
Ultimately, the Tippies invest in Iowa because of the educational assistance Henry received as a student. After serving in the 20th Air Force during World War II in the Western Pacific Theater, Henry was admitted to Iowa on the G.I. Bill.
"Without the University of Iowa, who knows what might have happened in my life," says Henry. "I have always felt that my education at the University of Iowa provided me a foundation that allowed me to build on and expand my horizons. It's why Patricia and I give back to this state and its people."
Patricia, a graduate of Allegheny College in Pennsylvania, sees the role that Iowa played in Henry's life. That's why she's proud to support both her alma mater and the Hawkeyes.
"Our alma maters have had a tremendous impact on our lives," says Patricia. "We are honored to pay it forward and assist in the growth of the next generation."
Watch: Henry and Patricia Tippie