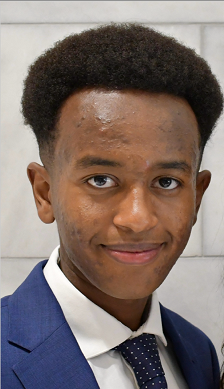 The former AIB College of Business has become known on the University of Iowa campus for helping advance business education through their remarkable generosity. Most recently, AIB provided a gift of nearly $1 million to benefit the AIB College of Business Scholarship Programóbringing their total support of this scholarship to $8.5 million.
Nancy Williams, her grandfather, Everett Fenton, and her father, Keith Fenton, each served subsequent terms as president of AIB dating to its founding in 1921. Under their family's leadership, they each brought their shared vision of providing access to college education to fruition. Nancy is pleased to see this vision continue to be fulfilled through the students who are impacted by the AIB Scholarship.
Bereket Barassa Ware, a current AIB College of Business scholar, explains how this scholarship has enhanced his educational journey. "I was born and raised in Ethiopia until the age of nine, when my family immigrated to America in order to seek better educational opportunities for my brothers and me," states Ware. "The AIB Scholarship is helping me use my education as a platform to create jobs for family and friends we left behind in Ethiopia."
These awards encourage business students to pursue their passions and continue to carry on the AIB legacy of business education.
About AIB
The former AIB College of Business launched the careers of more than 50,000 alumni during its 95-year history. Founded in 1921, the college offered diplomas, associate degrees, and Bachelor of Science degrees, primarily in the fields of accounting, business administration, and court reporting. In 2015, AIB's Board of Trustees entered an agreement with the University of Iowa to donate its 20-acre campus for use by UI. The university eventually sold the campus property in 2019. Proceeds from the sale created the AIB College of Business Scholarship Fund, which provides renewable $1,000 scholarship awards to qualified UI students.