A scientist's estate gift will support collaborative cancer therapeutics research at the UI.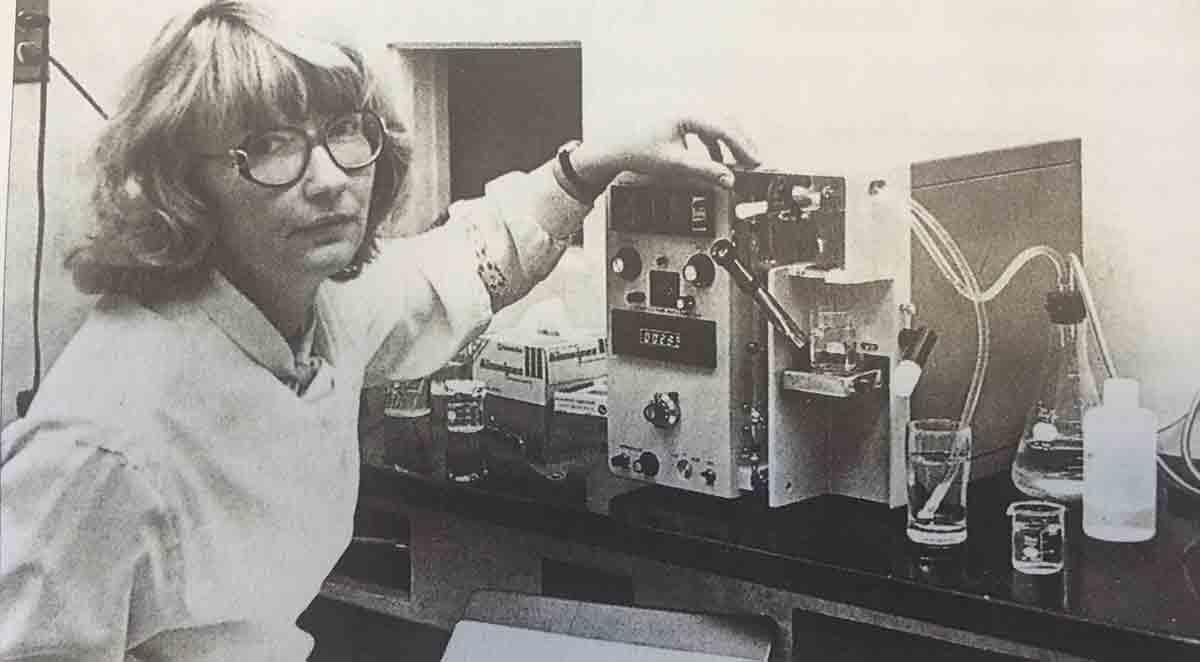 Jean Schmidt monitors cultures of mouse leukemia cells in a new cytotoxicity laboratory in 1977.
Jean Schmidt's curiosity for science started early, studying rocks and insects on a family farm in rural Black Hawk County, Iowa. Encouraged by her father to pursue her interest at the University of Iowa, she there laid the groundwork for an illustrious cancer research career that developed greater urgency after she lost her mother in 1968 to ovarian cancer.
Once Schmidt (59BA, 61MS) retired in 2005, she returned to Iowa and set up an estate gift for the UI Holden Comprehensive Cancer Center. Additionally, her father's trust was directed toward the UI College of Pharmacy. Although Schmidt passed away in January 2016, her inquisitive mind and compassion for others live on through these gifts that further her vision to improve cancer treatments and advance global health.
More than $1.6 million from the Jean Schmidt Estate and John F. Schmidt Unitrust combine to establish the Jean M. Schmidt Chair in the College of Pharmacy to support a faculty member who will pursue drug discovery with a focus on medicinal and natural products. Together, these gifts fund a collaborative effort between the College of Pharmacy and Holden Comprehensive Cancer Center for joint research.
"I am grateful for this opportunity to work with my colleagues in the Holden Comprehensive Cancer Center on recruiting a top-notch faculty member in cancer therapeutics," says Donald Letendre, dean of the UI College of Pharmacy. The gifts will also build upon the groundwork laid by Schmidt in the lab.
"These gifts will support further research into new anti-cancer drugs and improved individualized approaches to cancer therapy—two integral components of Jean's research," added George Weiner, director of the Holden Comprehensive Cancer Center, who has faculty appointments in the UI Carver College of Medicine and College of Pharmacy.
Schmidt first began that research at Iowa, where she studied bacteriology and laboratory technology. She earned a Ph.D. at the University of California, Berkeley, in 1965 followed by a National Institutes of Health postdoctoral fellowship in Edinburgh, Scotland. Schmidt advanced analysis of cancer treatments for the NIH, Germany, Norway, and the United Kingdom, and helped create the Cancer Research Institute at Arizona State University, where she served as associate director and a professor of microbiology. She also authored hundreds of peer-reviewed research publications and book chapters, while training and mentoring numerous women and Native Americans at ASU.
Though Schmidt spent 39 years at ASU, she felt her gifts could make the largest impact at Iowa. "The University of Iowa was the catalyst for her in her career," says Nathan Kramer, Schmidt's cousin. "Iowa gave her this opportunity and brought out the best in her and her interests. It fine-tuned her scientific talents to go further."
Driven to help others through her research and empathy, Schmidt leaves a legacy through her gifts that will endure—and potentially inspire others to support cancer research.
"Hopefully these gifts can help find some more cures," says Schmidt's first cousin JoAnn Kramer (62BA), "because cancer has touched every family in the world in some way."