Scott Helverson acted as a back judge at this past February's matchup between the Los Angeles Rams and the Cincinnati Bengals.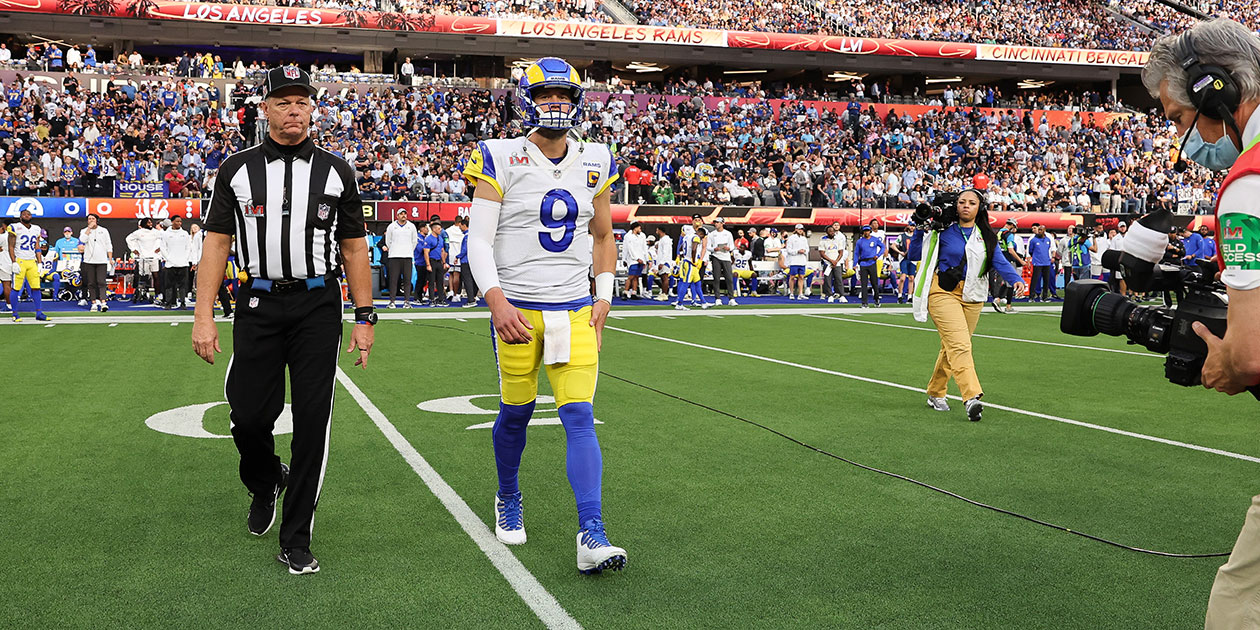 PHOTO Ben Liebenberg/NFL
Scott Helverson (86BBA) has reached the Super Bowl—the pinnacle of his profession—three times since trading in his football helmet for a whistle.
Helverson, who has been an NFL referee since 2003, most recently served as back judge during this past February's Super Bowl between the Los Angeles Rams and the Cincinnati Bengals. He previously was back judge in the 2008 and 2011 Super Bowls.
"It's the ultimate goal every year—to work the Super Bowl," says Helverson, who calls Norwalk, Iowa, home. "As an official, it's something you strive to do every year—be No. 1 in your position. That takes preparation, hard work, and some luck."
Helverson, who walked on at Iowa, became a two-year letter winner for Iowa football and was a frequent target of quarterback Chuck Long (85BBA). So many of the lessons Helverson learned from head coach Hayden Fry stick with him to this day.
"The little things make a big difference, and that's extremely important when you officiate," says Helverson. "Team building, of course, is an important part of football, and it's important for our seven referees on the field and our person in the replay booth to work well together. We spend a lot of time preparing for the season and preparing for every game. For me, it's important to know my position and own my position on the field."
Helverson recently sat down with Iowa Magazine to discuss Iowa football and his rewarding career as an official.
Iowa was 36-12-1 during your four years at Iowa. What are some of your favorite memories?
The memory people remember the most is the ruled no catch in the back of the end zone during the No. 1 Iowa vs. No. 2 Michigan game in Iowa City in 1985. Coach Fry always liked to tell everyone that game was the reason I became an official. It's kind of karma that I'm an official now.
How did you get into officiating?
I met a guy named Bob Holliday, who was a Big Eight official at the time. He knew my background and told me that I'd make a great official. At the time, I had no desire to be an official. I was working with a friend of mine as an assistant football coach at Des Moines North High School.
Fast forward, my friend Tom O'Boyle took a new job with Des Moines Roosevelt High School and couldn't take any assistants along with him. I had Bob's phone number, called him up, and he told me I was refereeing Iowa State's spring football scrimmage the next day and wouldn't take no for an answer. I went out and bought a referee's shirt, pants, shoes, socks, and a hat, along with a whistle and a flag.
I fell in love with it. I started working high school games and worked my way up before getting a shot in the NFL.
What makes officiating enjoyable for you?
Everything. No two games are the same, but every game is a challenge and has a different feel. One week might involve a great running team, next week might be a great throwing team, or the following week you might have two teams that aren't very good. There are so many challenges every week.
Can you walk us through a typical week as an NFL official?
Each week, we get a situational test that we're required to do. They get more complicated every week. In addition, we all do some scouting of both teams prior to traveling to the game site on Friday. We will look at offensive and defensive formations and just prepare for anything that a team might do that is unusual or unique.
On Saturday, we will meet for three hours as a crew. We talk about rules, video review, the prior game, the upcoming game, and then go out for dinner as a crew on Saturday night.
On Sunday, we arrive at the stadium three hours prior to kickoff. We walk the field to see if there is anything dangerous to the players—for instance, holes in the field or TV stands too close to the action. We meet with the chain gang. We meet with the timers. We have security meetings. And then we play the game.
After the game, we get a thumb drive, which is the TV version of the game. I'll spend whatever time I have on the airplane watching the game—watching every position of every play. I critique the game myself, but the NFL also critiques every play of every game and gives us a grade for the game. And then we do it all over again.
What are your favorite officiating memories?
I've worked a lot of championship games, and that's something that brings me a lot of pride. Super Bowl 42 is a pretty good memory—undefeated New England Patriots against the New York Giants. I was the calling official on the David Tyree one-handed helmet catch late in the game that helped the Giants upset the Patriots.
Outside of the three Super Bowls, I officiated the 2000 college football championship between Oklahoma and Florida State.
Prior to having my first Super Bowl, I worked a great AFC championship game between Tom Brady and Peyton Manning. I also had the first game after Hurricane Katrina at the Superdome in New Orleans; that was a crazy game and those fans made it a tremendous environment.
I also worked in arena football for 13 years and had three championships, along with three Alonzo Stagg bowls (Division III championship games) and many high school championship games.