The 1957 UI College of Law graduate was an ardent supporter of his alma mater, making a lasting impact for future generations.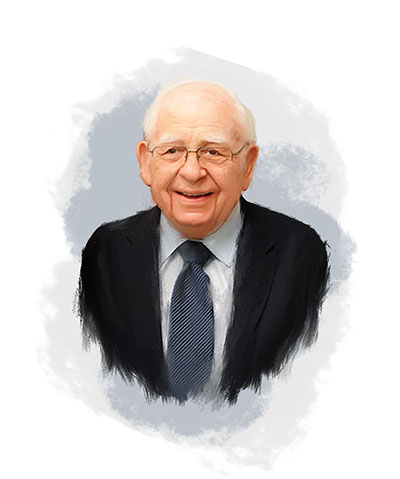 When a young Ernie Buresh discovered a hole in his shoes, his mother used a piece of cardboard to cover the spot. His parents, struggling Iowa farmers during the Great Depression, did not have the resources to buy new shoes for their children.
"I'm just a guy who grew up poor and learned from that," said Ernie during an interview with The Anamosa Journal-Eureka.
Ernie's humble beginnings drove him to new heights, which included earning a degree from the University of Iowa College of Law, successfully owning seven banks in Eastern Iowa, and giving back much of his time and resources to nonprofits and charities. Buresh died on April 24, 2022, in Cedar Rapids.
Visitation will be on Saturday, April 30, from 3–6 p.m. at Cedar Memorial in Cedar Rapids. A celebration of life will be at 2:30 p.m. on Sunday, May 1, at First Presbyterian Church, 310 5th St. SE, Cedar Rapids.
From Small-Business Owner to Successful Banker
Ernest "Ernie" J. Buresh was born October 28, 1926, in rural Linn County, Iowa. Upon graduating high school and serving in the U.S. Army, Ernie enrolled at Iowa State University and earned an agricultural engineering degree in 1948. One year later, he married Joanne Paulsen at the Little Brown Church near Nashua, Iowa.
The Bureshes established a home near Swisher, Iowa, where they operated a successful feed business, Swisher Farm Supply. During the next two decades, though, Ernie gradually transitioned from agriculture to banking—a field that had always intrigued him—by earning a law degree from the University of Iowa College of Law in 1957 and a degree from the University of Wisconsin School of Banking in 1966.
"I had a craving to own a bank," said Ernie in an interview with The Cedar Rapids Gazette. "I observed that, when you go to bed at night, the clock keeps ticking away, and the bank earns interest. If you own the bank, it's your interest that is growing."
What followed was a more than five-decade banking career in Eastern Iowa, where Ernie owned banks in Anamosa, Cedar Rapids, Martelle, Onslow, Shueyville, Springville, and Tipton. While his impoverished beginnings drove him to great professional success, it also instilled in him a passion for giving back.
"My mother always said that anything you give away comes back to you twice or more," said Ernie in an interview with The Gazette. "She always was doing something for somebody."
A Hawkeye Philanthropist
As one of the University of Iowa's most generous supporters, Ernie and his wife, Joanne, established a family legacy of philanthropy by instilling the importance of giving back in their daughters, Sandra and Wendy. The Buresh family has provided meaningful support to many areas at Iowa including UI Stead Family Children's Hospital, the College of Law, Hawkeye athletics, and others. Ernie was an avid Hawkeye fan and proud football ticketholder for nearly 40 years.
Ernie also gave of his time. From 1972 to 1981, he served on the University of Iowa Foundation (now University of Iowa Center for Advancement) Board of Directors, and until his passing, was a lifetime honorary director. He also served on various committees as well, including the Iowa Endowment 2000 Campaign and the Medical Center Council Executive Committee.
"Ernie was a remarkable man, whose modest beginnings led to a lifelong commitment to helping others," says Lynette Marshall, president and CEO of the University of Iowa Center for Advancement. "His legacy of generosity is truly inspirational."
In 2012, the Bureshes received the Player Appreciation Award from the Iowa football team. The Bureshes first joined the I-Club—Hawkeye athletics' recognition club for donors—in 1975, and the third floor of the Paul W. Brechler Press Box at Kinnick Stadium is named in honor of their late daughter, Sandra, who died in 2012.
"Ernie Buresh is a true Iowa success story," says Kirk Ferentz, Moon Family Head Football Coach. "His business success is well known, and his generosity through his life—including to our athletic department—leaves a lasting legacy. Perhaps his greatest gifts were his humility and long-time love and appreciation of his wife, Joanne, and daughters Wendy and Sandra. I am grateful to have known him and send my heartfelt condolences to his family and friends."
He also supported the Jones County Regional Medical Center, the National Czech and Slovak Museum and Library in Cedar Rapids, Camp Courageous, public libraries in Anamosa and Springville, and more. In 2015, Ernie penned a memoir about his life entitled, "The Advantage of Being Born Poor."
Ernie is survived by his wife, Joanne (Paulsen) Buresh; one daughter, Wendy Buresh (77MD) and Alan Robb, MD, of Cedar Rapids; and two grandchildren, TJ and Katie.