Doctors Michael and Linda Muhonen aim to help budding neurosurgeons launch their research careers.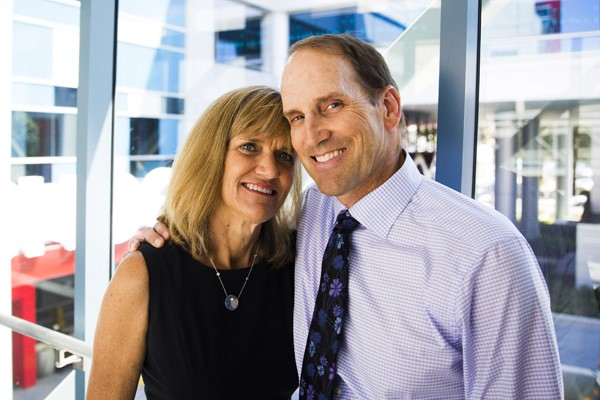 PHOTO COURTESY CHILDREN'S HOSPITAL OF ORANGE COUNTY
Doctors Linda and Michael Muhonen
It's been more than 25 years since Michael "Mike" Muhonen (93R) ) left the University of Iowa for the sunny weather of Southern California. Muhonen, who served as chief of pediatric neurosurgery at Children's Hospital of Orange County (CHOC) for the past 27 years, however, has not forgotten the superb training he received at Iowa or the graciousness and humility of his patients.
For this reason, he and his wife, Linda Muhonen (90R, 95F), a pediatric cardiologist at CHOC, have left an estate gift of $1 million to support young neurosurgeons—those in the first five years of practice—as they start their research careers. Ultimately, the Muhonen family hopes to fund an endowed chair for early-career neurosurgeons. Philanthropic gifts such as these assist in the growth and sustainment of the education and research missions within the Roy J. and Lucille A. Carver College of Medicine's Department of Neurosurgery.
Mike Muhonen is no stranger to the impact generous philanthropic donations can have. In 2020, a grateful patient's family donated $2 million so he could start CHOC's Hydrocephalus Lab. He reduced his clinical caseload to spend time developing devices to help patients with hydrocephalus, a condition in which fluid accumulates in the brain. Today, his seven-person lab is the one of the largest in the United States dedicated to treatment of hydrocephalus.
During his career, he has led a number of clinical trials at CHOC and authored multiple manuscripts and book chapters, including in the American Association of Neurological Surgeons' Neurosurgical Aspects of Pregnancy, Principles of Surgery (Lippincott Raven), and Pediatric Neurosurgery and Surgery of the Developing Nervous System (W.B. Saunders Co.).
He completed his residency at Iowa in general surgery from 1987 to 1988, as well as his residency in neurosurgery from 1988 to 1993. After residency, he was an assistant professor of neurosurgery in the UI Carver College of Medicine for three years.
"I have very fond memories of Iowa," he says as he glances at a Hawkeye football helmet in his office signed by legendary Iowa wrestling coach Dan Gable. "I'm very thankful that they gave me a residency position. The faculty were most gracious in helping me become a safe and successful neurosurgeon."
Among his mentors were Arnold Menezes (74R), professor of neurosurgery and pediatrics, director of pediatric neurosurgery, and former vice chair of the department; Patrick Hitchon (80F), professor of neurosurgery and biomedical engineering; and Donald Heistad (67R, 68F), who holds the Pomerantz Family Chair in the Division of Cardiology and is also a professor of neuroscience and pharmacology.
"Arnold Menezes gave me more training than anyone, and I still use some of his surgical techniques," says Muhonen. "I'm grateful for the expertise he provided. Dr. Hitchon taught me more about how to be a versatile neurosurgeon to try new innovations than anyone ever. I worked in Dr. Heistad's lab, and he taught me how to do world class research, and I am grateful for his mentorship in neurovascular research, especially now that I am back running a laboratory."
Muhonen's career also coincided briefly with that of Matthew Howard III, who holds the John C. VanGilder Chair in Neurosurgery and is chair of the department. Both started their jobs at Iowa on the same day—July 1, 1993. "Dr. Howard has created one of the greatest training programs in the world," says Muhonen. "I'm so proud of it that I want to give back and make it even better."
His soft spot for Iowa goes beyond the expert training he received. He fell in love with the Hawkeye State and felt privileged to take care of its people. "Iowans are salt of the earth people and are proud of their roots," he says. "They're gracious, grateful, and humble." Even today, he marvels at the number of times Iowans told him, "Doc, do your best. Whatever happens, happens."
Iowa City was also where the Muhonens put down roots and started their family. Linda Muhonen completed her last year of residency at Iowa. She then spent three years doing a fellowship in pediatric cardiology at UI Hospitals & Clinics, during which the couple's three daughters were born. The physicians bought their first house in University Heights, which happened to be across the street from Kirk and Mary Ferentz, who had young children of their own at the time.
More than two decades later, Mike Muhonen still receives letters and cards from former patients. "It just makes me smile every time I receive one," he says. "I love the state of Iowa, the medical center, and the whole Hawkeye nation. I felt privileged and honored to be a small part of the University of Iowa medical center."
And, thanks to the Muhonen family, Iowa's neurosurgery department will be well poised in the future to continue its goal of nurturing promising young neurosurgeons.