A century-long connection to the University of Iowa is bringing the Ashton family back to Iowa City to receive the Family Spirit Award.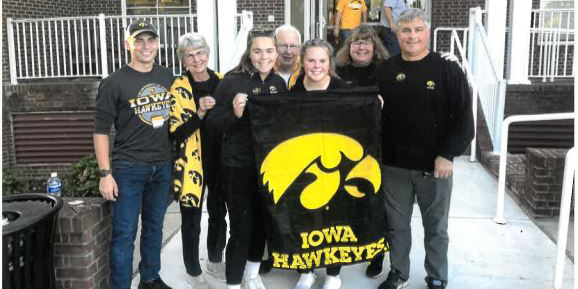 Several members of the George S. Ashton family of Davenport, Iowa, show their Hawkeye pride.
Growing up in a family of engineers, Jim Ashton (64BSCE) was destined to follow in the footsteps of his elders at the University of Iowa. He and his older brothers—George D. Ashton (61BSCE, 71PhD) and Bill Ashton (62BSCE, 63MS)—witnessed the rewards of hard work from their father, Frank W. Ashton (30BSCE), who joined the Rock Island District (Illinois) Army Corps amid the Great Depression. He applied for a janitor position, though the corps hired him as a civil engineer—and he rose through the ranks to become its chief engineer 50 years later. The three brothers also participated in frequent engineering discussions with their father and uncles George C. Ashton (23BE) and Ned L. Ashton (25BE, 26MS), who were the first generation of Ashton brothers—and sons of George S. Ashton—to earn UI engineering degrees.
At the family cabin north of Clinton, Iowa, Ned Ashton brought out the slide projector to share projects he was working on, including bridges, restorations, and a large radio telescope. It was only a matter of time before the second generation of Ashtons undertook major projects of their own. "From a very young age, I knew that engineering was an honored career and lifestyle," says Jim Ashton, who earned advanced degrees at MIT and Harvard and directed a team of international manufacturing subcontractors that produced the F-16 fighter plane. "I don't think it ever occurred to me that I would study anything else."
Throughout more than 90 years, 30 members of the George S. Ashton family of Davenport, Iowa, graduated from the University of Iowa, including nine from the College of Engineering. On Saturday, Sept. 17, 2022, the Ashton family will be recognized as recipients of the university's Family Spirit Award during Family Weekend festivities. The award honors a Hawkeye family who supports the UI and contributes toward bettering the state of Iowa.   
"The university has given our family very much," says Jim Ashton, whose sister, Janet Ashton Ross (58BA), was an award-winning artist who met her husband, Timothy A. Ross (61BA, 63MA, 72PhD) at Iowa. "We have tried to give a little back—and when we've been able, it seemed appropriate to help others get the same education and experiences." Across four generations, the Ashton family has attended Iowa a combined 104 years, including 43 in the College of Engineering.
Lasting Impact
Bill Ashton's path toward engineering was further influenced by his father introducing him to a couple of staff members at the College of Engineering. "Their emphasis on quality and ethics had a lasting impact on my professional career in design and public works," says Bill, whose wife, Ann Milligan Ashton (88BS), is a fellow Iowa grad. He became a professional engineer and president of Ashton Engineering, which has helped design trail systems and bridges across Iowa, including the High Trestle Trail Bridge near Madrid. "The (college) instilled in me the understanding that any job requires a team of many different abilities."
The three second-generation brothers each had their own unique specialties and skills. George D. Ashton—who wed UI graduate Nancy Murray (62BA, 69MA)—participated in the Iowa Institute of Hydraulic Research and worked with the U.S. Army Cold Regions Research and Engineering Laboratory on research surrounding river ice processes and problems. He and his brothers were inducted into the college's Distinguished Engineering Alumni Academy, and Jim Ashton's support includes three named professorships: the James E. Ashton Professorship in Engineering, the George D. Ashton Professorship in Hydraulics, and the William D. Ashton Professorship in Civil Engineering. The UI engineering legacy continued with Bill Ashton's sons, Steven W. Ashton (95BSE) and David J. Ashton (88BSE), who married Mary Kay Eckerle Ashton (88BSN). David and Mary Kay's daughter, Abby Ashton Kelly (16BS), followed Mary Kay's path into the health care industry.
Efforts Beyond Engineering
The Ashtons' work ethic also led to athletic success and numerous accolades, including eight Iowa letterwinners. In 2004, Bill Ashton and Jim Ashton made the lead gift that led to the naming of the Ashton Cross Country Course in honor of their coach, Francis Cretzmeyer (36BA, 38MA). "That gift was in return for the discipline, motivation, and enthusiasm instilled in us by Cretzmeyer and our teammates," says Bill Ashton. "Their encouragement made us better people and helped us throughout our careers to overcome adversity, obtain measurable goals, and manage multiple objectives."
Ned Ashton was an All-American swimmer for the Hawkeyes and served as a professor of civil engineering at Iowa. He and his wife, Gladys Brooker Ashton (26BSPE), had three daughters, Joye Ashton McKusick (51BSPE, 74MA), Ruth Ashton Johnson (55BA), and Jane Ashton Nelson, who carried forth the active Hawkeye legacy in other ways. McKusick, who married track and cross country letterwinner Severt Jack Davis Jr. (56BA), was a member of the Iowa Mountaineers and an avid swimmer. She later married Marshall McKusick, a professor emeritus of anthropology at Iowa. Ruth Johnson was lead drummer of the Scottish Highlanders and competed on the field hockey and swim teams before becoming a decorated swim coach. She inspired her husband, Ronald Johnson (64MA), to become a water safety instructor. Jane Nelson attended Iowa for two years and her husband, Sherman Nelson (57BSCE, 62MS), earned a civil engineering degree at Iowa and was a letterwinner for the men's swim team. George C. Ashton's daughter, Carol Ashton Kelly (51BA), is one of eight biological second-generation Ashtons who attended Iowa.
McKusick's three children, Karen Davis Leibold (77BS), Deborah Davis Germann (81RADT), and Lorraine Davis-DeLong (85BS), are all UI graduates. The Hawkeye ties grew when Karen Leibold wed Charles Leibold (76BA), who served as lead drummer for the Iowa Scottish Pipes and Drums. Bill Ashton's daughter, Patricia Ashton Rolfstad (93BA), married Iowa wrestling letterwinner Erik T. Rolfstad (93BA), while the most recent UI alumnus is Gregory Germann (17BBA), son of Deborah Germann and her husband, Keith Germann (76BBA). The Hawkeye family also includes Gregory Germann's wife, Morgan M. Germann (16BA).
Whether it was in the classroom, engineering lab, athletics, or life, the Ashtons have demonstrated a high standard in all their pursuits. "Across four generations of the Ashton family, the University of Iowa and the College of Engineering are held in high esteem for setting us up for careers and doing productive and rewarding things," says Jim Ashton. "It is great to feel so good about a university that has played a major role in shaping many in the family, in the ability to do things—and do them honorably."