The former university president played a key role in founding the UI's fundraising arm.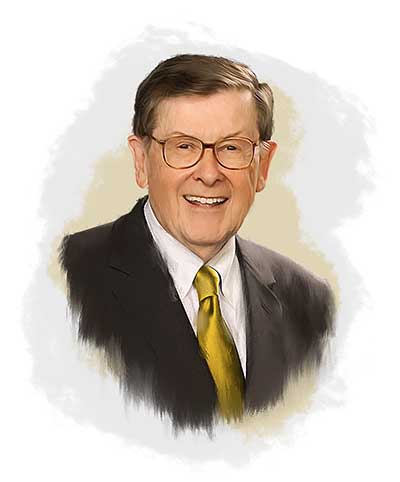 University of Iowa President Emeritus Willard "Sandy" Boyd (81LHD) died on December 13, 2022. He was 95. Throughout his more than 65 years at Iowa, he served our institution in many capacities. One of his earliest tasks was helping to conceive and establish the University of Iowa Foundation (now known as the UI Center for Advancement).
In 1955, Sandy was appointed by then president Virgil Hancher (1918BA, 24JD, 64LLD) to look at various models of how fundraising was organized at our sister Big Ten universities. After extensive research and visits by train to other institutions, Sandy made his recommendations to President Hancher. The State University of Iowa Foundation was formed in 1956 with the goal of helping the university meet needs beyond those provided for by state support.
The foundation raised approximately $28,000 from 1,300 contributors in that first year. But most importantly, Sandy played a significant role in establishing an organization that harnesses the collective generosity of our supporters from around the world to provide crucial and enduring support for our students and faculty, for life-changing research, and so much more.
Sandy and his wife, Susan, were among the first and most dedicated contributors to the university and gave generously to many areas, including the College of Law, UI Health Care, Hancher, and the museums. Sandy established the Susan Kuehn Boyd Iowa Writers' Fellowship Fund to honor Susan's career as a reporter and her love for writing and literature.
Both Sandy and Susan served on the foundation's board—Sandy from 1969 until 1981 and then again as interim UI president/ex officio from 2002 to 2003. Susan began serving in 1982 and, in 1994, was named Lifetime Honorary Director.
Sandy has left an indelible mark on the University of Iowa and its people. In 2016, as Sandy prepared to retire, an interviewer asked him, "What does the University of Iowa mean to you?" Sandy answered, simply, "One could say that it's been my life."
Read more about Sandy Boyd's impact and legacy at Iowa.
---
Celebrate Sandy Boyd's more than 65 years of service to the University of Iowa
A memorial service, followed by a reception, will be held at Hancher Auditorium on Friday, April 7, beginning at 2 p.m.