Iowa's Jack Campbell, one of the top linebackers in the 2023 NFL Draft, shares how he's preparing to make the jump to the sport's highest level.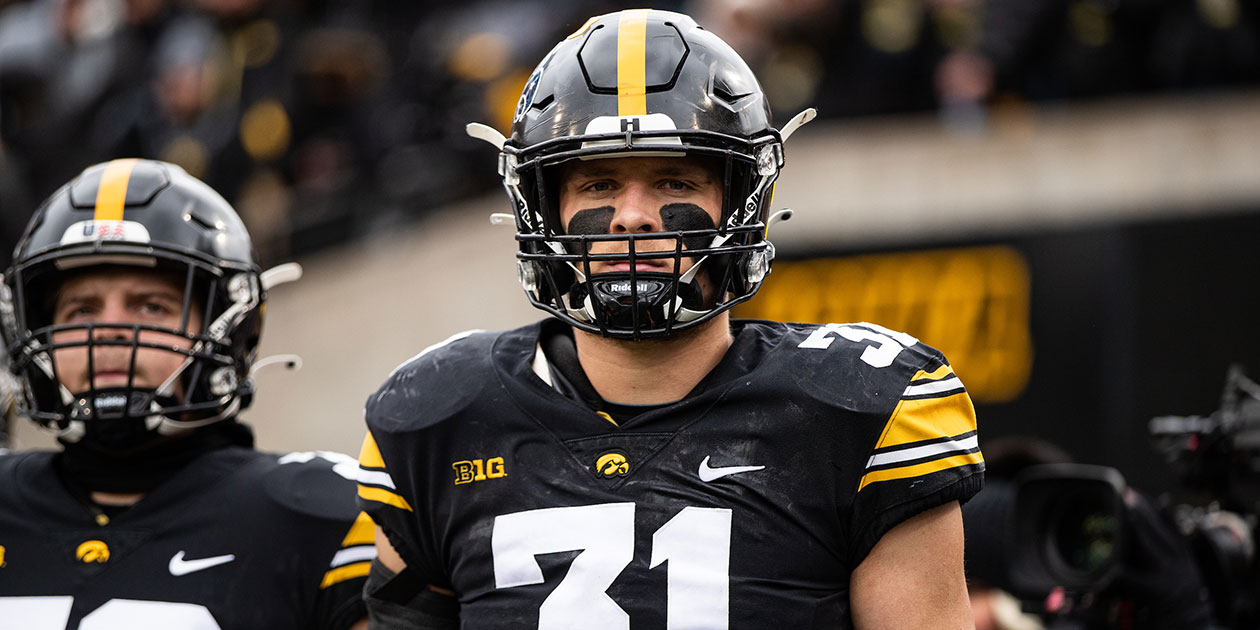 Photo Courtesy of Hawkeye Athletics
Jack Campbell (22BA) was the unquestioned leader of Iowa football's stout defense this past season. The Cedar Falls, Iowa, native finished the regular season with 128 tackles—ranking second in the Big Ten Conference. His talents and leadership will be missed on the field.
"To think we're going to replace Jack Campbell is not realistic," says Kirk Ferentz, Moon Family Head Football Coach, who has had 48 players drafted by the NFL in the last 12 years—including 25 on the defensive side of the ball.
After ending his career on a winning note—helping the Hawkeyes take down Kentucky, 21-0, in the Music City Bowl—Campbell's focus turned immediately to preparing for the NFL Draft.
"I got to work the very next day—getting ready to go out there and put my best foot forward," says Campbell, who is the No. 2 linebacker in the NFL Draft according to ESPN analyst Mel Kiper Jr. "I've been training, watching tape, preparing for interviews, and meeting with coaches. At the same time, any free time I've had has been spent with my family."
We talked to Campbell about the NFL Draft—which is April 27–29—to learn more about the process, as well as his time as a Hawkeye.
How has your Iowa career prepared you for the NFL?
Iowa's coaches and staff do such a great job of teaching what you need to know to be successful in both football and in life, but at the same time, they expect a lot out of you on the field. It's really run like a professional organization. I've talked with guys from other programs during the NFL Draft process, and the obligations and standards that are in place here are second to none. I feel confident in taking the next step because of how Iowa's organization is set up.
You're the first Hawkeye to win the Butkus Award as the top linebacker in the nation and the Campbell Trophy, which goes to a college football player with the best combination of academics, community service, and on-field performance. What do those honors mean to you?
Those awards are an accumulation of a lot of hard work and doing the little things right for a long period of time. Both awards didn't happen overnight—they were a four-year thing. Four years of doing what Iowa Hawkeyes are expected to do every day, and if you stick to the plan, anything is possible.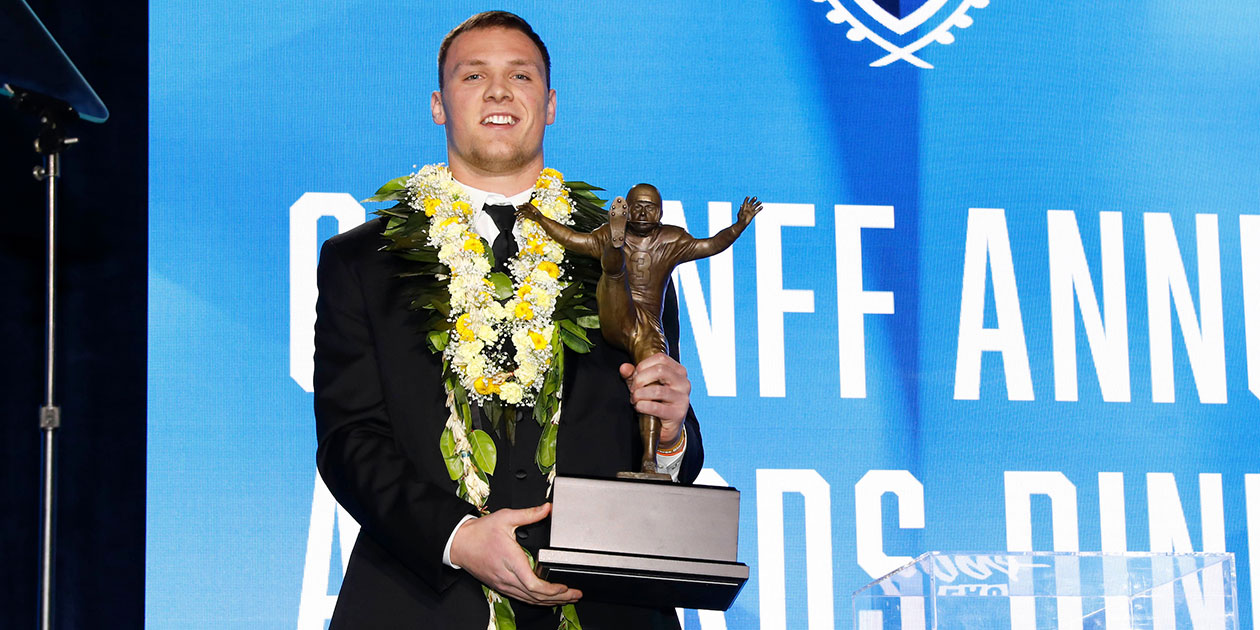 PHOTO: National Football Foundation/Josh Hawkins
Iowa linebacker Jack Campbell accepts the 2022 William V. Campbell Trophy during the 64th National Football Foundation Annual Award Dinner in Las Vegas.
Can you talk about the training process ahead of the draft? Who have you leaned on the past few months?
I've spent a lot of time in Iowa City with my teammates who are going through the same process—Seth Benson (22BS), Sam LaPorta, Jack Plumb, Monte Pottebaum (22BA), Lukas Van Ness, and others. It's been a big help to talk to the guys and see how they feel about different experiences, conversations, and anything that goes into the NFL Draft process. I've also talked to some guys who have been in the NFL—Parker Hesse (17BA, 18MA), Tyler Linderbaum (21BA), Ben Niemann (18BS) and Nick Niemann (20BA), and Kristian Welch (20BA). I wanted to get their opinions on what the NFL looks like and how to conduct yourself.
What was the NFL Combine like?
They turn you into a track athlete there. You run and do all these different drills, and you have a six-day period to get things done—sprints, broad jumps, vertical jumps, and things like that. And then you lift, too. To get ready for the NFL Combine, I did a lot of technique work, watching video to see where I could improve in running and cutting. It's all things to help you get better times. Now that the NFL Combine is over, I'm trying to get back into football shape.
What's the best advice you've gotten over the past few months?
Be yourself and never change. What's gotten you to this point is going to get you where you want to go in the NFL. Don't let the situation or outside factors change who you are—just be you.
What are your plans for the NFL Draft?
I'm going to be at home in Cedar Falls with my family. I'm keeping it small.