Hawkeyes end sensational season 31-7
Iowa's magical postseason run fell one win short of a national title.
LSU defeated Iowa, 102-85, on April 2—the highest-scoring national title game of all time. While everyone in Hawkeye Nation would have loved to see Iowa bring home a national title, it was still a season to be remembered.
Here's a recap of the Hawkeyes' remarkable run.
---
Hawkeyes End Regular Season With Momentum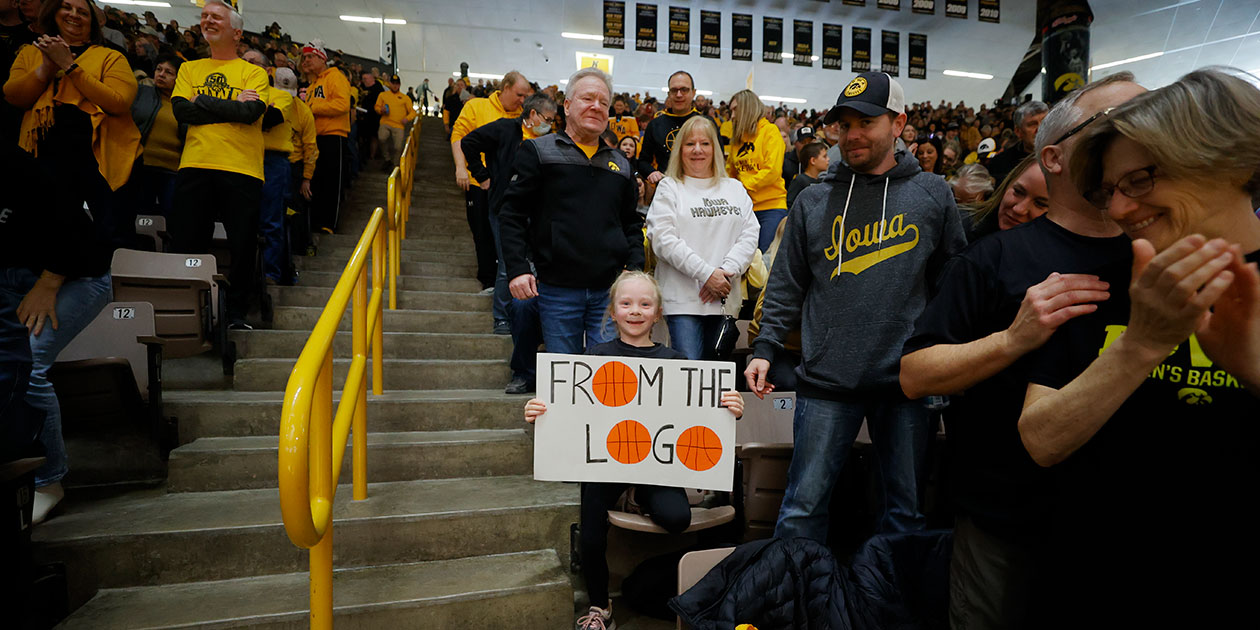 Photo: Alyssa Skala/hawkeyesports.com
Iowa entered its season finale winners of 11 of its past 13 games, but the Hawkeyes—with a couple tough losses—needed momentum going into the postseason. Iowa got it, thanks to a Caitlin Clark three-pointer at the buzzer to lift the Hawkeyes to an 86-85 victory over Indiana.
---
Iowa Repeats as Big Ten Tournament Champions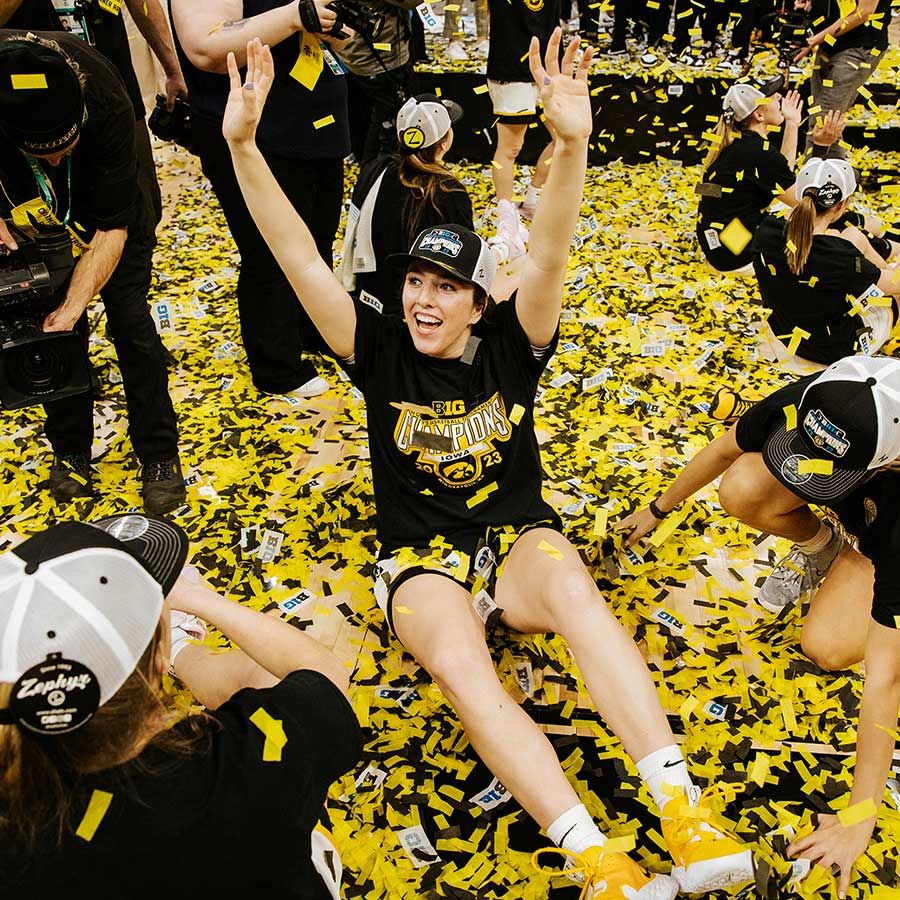 Photo: Caleb Saunders/hawkeyesports.com
After defeating Purdue in the Big Ten Tournament quarterfinals, Iowa faced a tough Maryland squad—a team that the Hawkeyes split with during the regular season. All five starters scored in double figures, though, and the Hawkeyes took down the Terrapins to advance with an 89-84 win.
In the tournament final, the Hawkeyes left no doubt as to who is the best team in the Big Ten Conference. Iowa thumped Ohio State, 105-72, in front of a conference-tournament record crowd of 9,505 in Minneapolis.
It was a historic moment for the Hawkeyes. Not only did Iowa tally its most points ever against a Big Ten opponent, it was the first time in program history that the Hawkeyes claimed back-to-back tournament titles.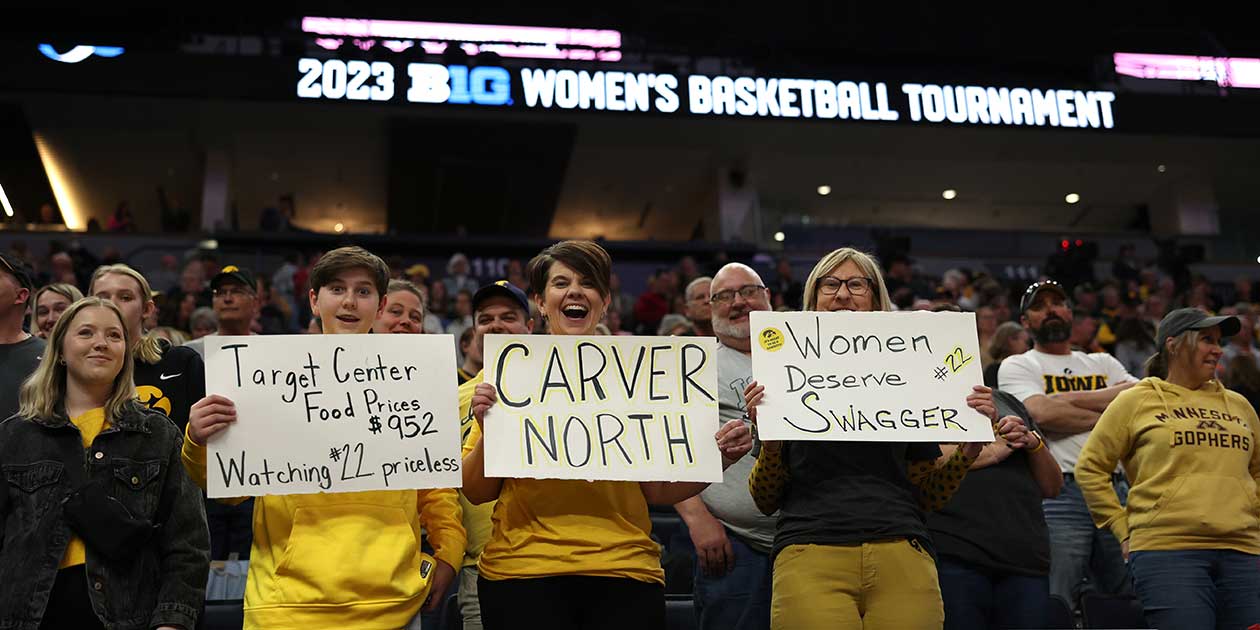 Photo: Brian Ray/hawkeyesports.com
Clark, Monika Czinano, and Gabbie Marshall were named to the all-tournament team after the victory. Clark led Iowa with the first triple-double in tournament championship history—leading the Hawkeyes with 30 points, 17 assists, and 10 rebounds. Czinano added 26 points and seven rebounds in the win. Marshall ended the Big Ten Tournament on fire—hitting 27 of her past 44 3-point attempts.
---
Iowa Enters NCAA Tournament as No. 2 Seed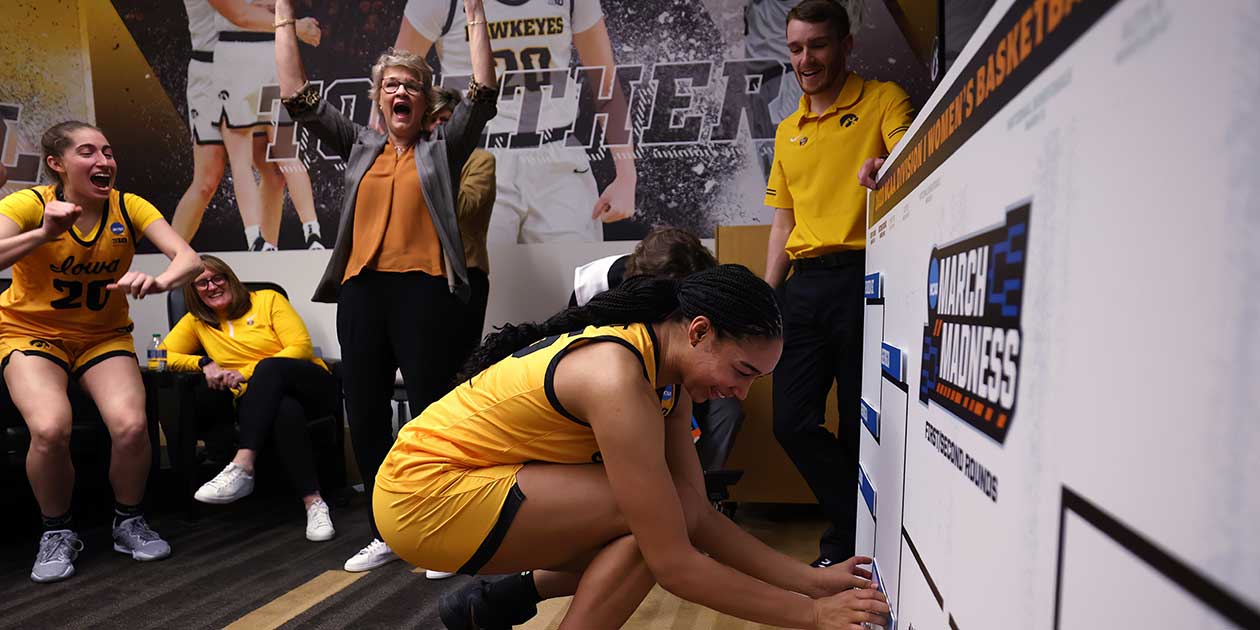 Photo: Brian Ray/hawkeyesports.com
For the fifth time in school history, Iowa earned a No. 2 seed in the NCAA Tournament, and Hawkeye fans couldn't wait to see their team in action two more times this season. That's why, in just 53 minutes, tickets to the first- and second-round matchups sold out.
Said Clark: "I think maybe we've gotten kind of used to our fans being as incredible as they are. I think it just shows the excitement in our community about women's basketball and that's the excitement that it could be like all around the country."
---
Sweet Finish to Season at Carver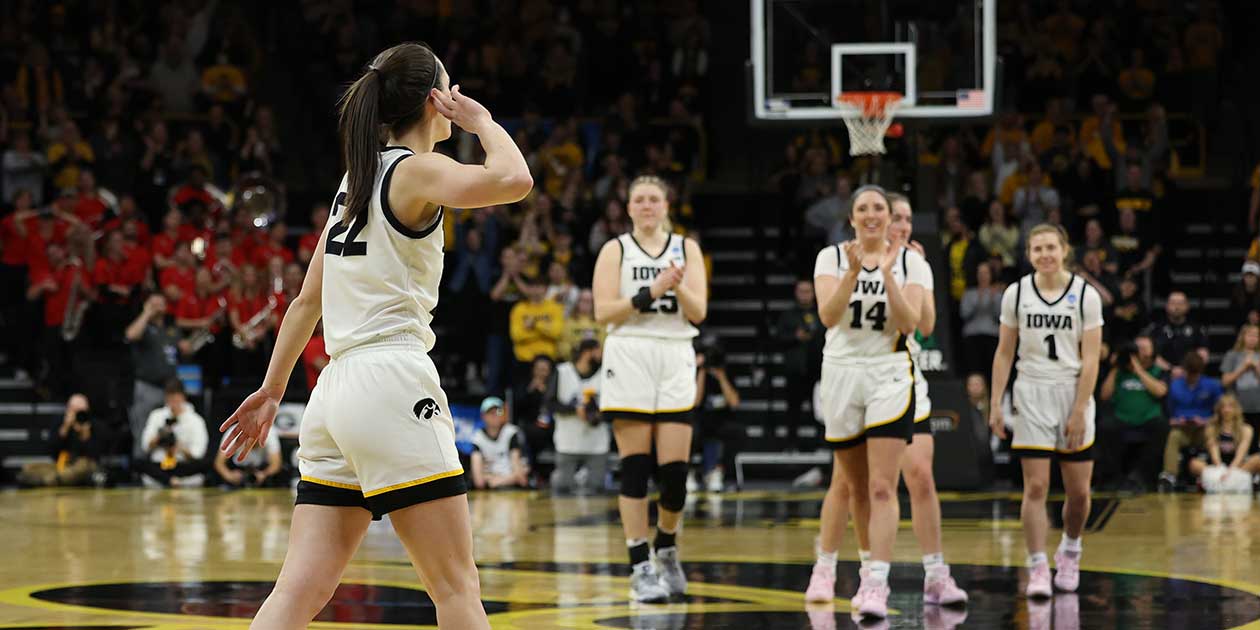 Photo: Brian Ray/hawkeyesports.com
After second-seeded Iowa opened the NCAA Tournament with a 95-43 victory over Southeastern Louisiana—scoring the second-most points in program history for an NCAA Tournament game—the Hawkeyes moved on to face a tough Georgia squad.
Four Hawkeyes scored in double figures as Iowa advanced with a 74-66 victory over the Bulldogs.
According to ESPN, Iowa's game against Georgia was the most-viewed early-round women's tournament game on record with 1.5 million watching the Hawkeyes advance. Czinano and McKenna Warnock were victorious in their final Carver-Hawkeye Arena appearance, as Iowa went 17-1 at home this year.
With the win, Iowa advanced to its ninth Sweet 16 appearance and its fourth since 2015.
---
Jensen Named Assistant Coach of the Year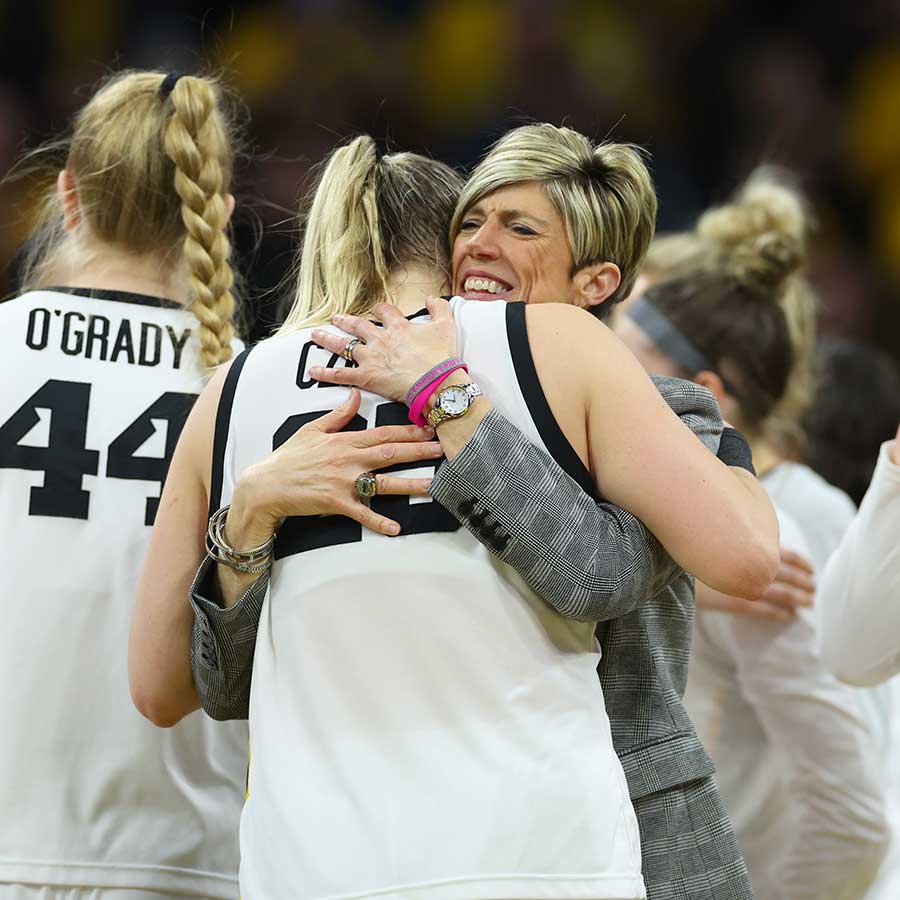 Photo: Stephen Mally/hawkeyesports.com
Associate Head Coach Jan Jensen earned the 2023 Division I Assistant Coach of the Year honor from the Women's Basketball Coaches Association. Jensen, who has been with the Hawkeyes for 23 years, has helped Iowa to 21 postseason appearances—including 17 NCAA Tournament berths.
It's been an emotional roller coaster for Jensen, who lost her father to pancreatic cancer on March 26.
"She is the epitome of an amazing person, amazing coach, so to see her go through that, it's obviously super tough, especially in one of the highs of all of our lives," Czinano said.
---
Iowa Takes Down Colorado, Advances to Elite Eight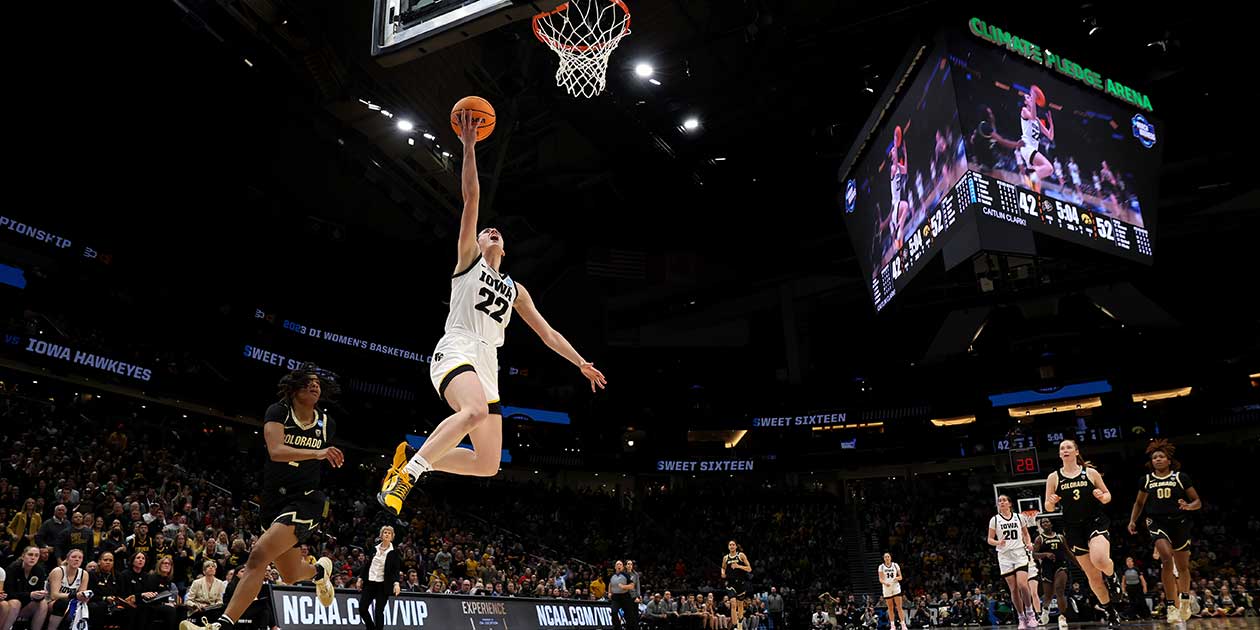 Photo: Brian Ray/hawkeyesports.com
Despite trailing at halftime against a tough Colorado team, Iowa found its footing in the third quarter. The Hawkeyes outscored the Buffaloes, 25-13, to start the second half en route to an 87-77 victory in the Sweet 16.
"It started on defense for us," said Clark, one of four Hawkeyes to reach double figures in the win. "We were getting stops [in the third quarter], and that's what leads to really good offense for us."
While Iowa pushed the lead to double digits, Colorado—which gave up the most points it had all season—got within four points late in the fourth quarter. But Iowa was too much—as Czinano scored inside and the Hawkeyes made seven free throws in the final 60 seconds.
---
Hawkeyes Survive, Advance to Final Four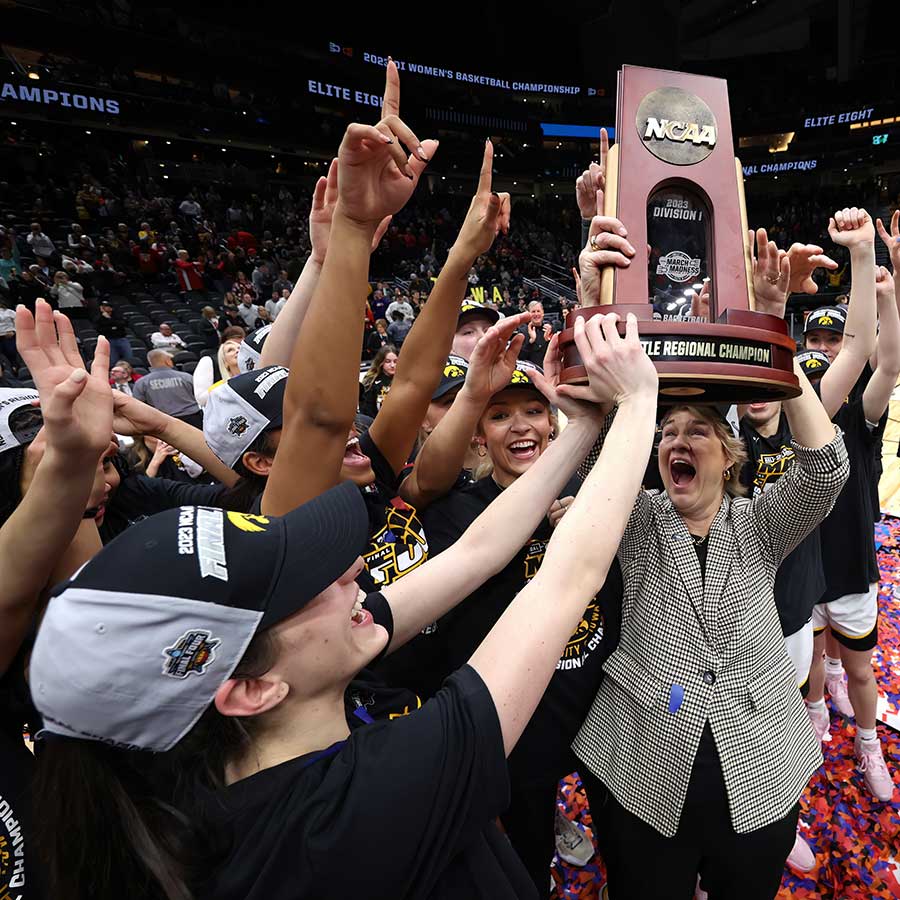 Photo: Brian Ray/hawkeyesports.com
If Clark wasn't National Player of the Year going into the Elite Eight, her performance against Louisville solidified her spot as the nation's best player.
Clark—tallying the first 40-point triple-double in NCAA Tournament history (41 points, 10 rebounds, 12 assists)—led the Iowa Hawkeyes to a 97-83 victory over the Louisville Cardinals and secured the program's first Final Four berth since 1993.
After falling into an early 8-0 hole, Iowa's starting five—playing their 90th straight game together—weren't rattled. Clark was unstoppable to end the first quarter—scoring or assisting on every one of Iowa's points as the Hawkeyes took a 25-21 lead after the first quarter.
Leading 48-43 at halftime, Iowa took control by outscoring the Cardinals—who were making their fifth straight Elite Eight trip—by a 30-16 margin in the third quarter. It was a lethal combination of great offense, strong defense, and a partisan Hawkeye crowd that even the ESPN broadcast team noticed.
"This is ridiculous to have this kind of presence in Seattle," said Rebecca Lobo, of Hawkeye fans traveling nearly 1,900 miles to cheer on their team.
With the win over Louisville, Iowa reached the 30-win plateau for the first time in school history.
---
Clark Named National Player of the Year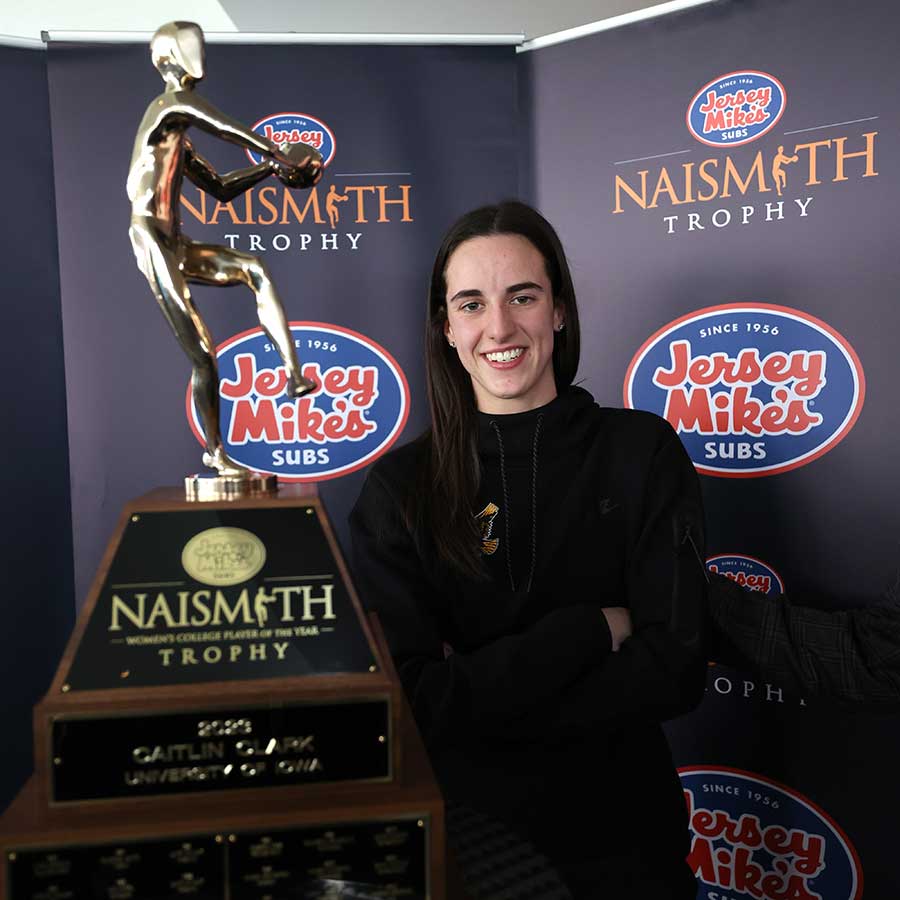 Photo: Brian Ray/hawkeyesports.com
On March 29, Clark was named the recipient of the 2023 Naismith Trophy—the most prestigious individual basketball honor presented annually to women's college basketball's most outstanding player.
"Winning this award is a huge accomplishment," Clark said. "This is such a huge honor for our family and program. None of this would be possible without my tremendous support system. I want to thank Lisa Bluder and her staff for giving me the opportunity to play basketball at the University of Iowa. It is a place I have thrived in since I stepped on campus."
The following day, Clark was named Associated Press National Player of the Year. She's the second Hawkeye—and Big Ten student-athlete—to earn this distinction. Iowa's Megan Gustafson (19BBA) was the recipient of the national award in 2019.
Clark is one of three Hawkeye recipients of the Naismith Trophy since 2019, and the second women's player. Gustafson was the 2019 honoree, while Luka Garza (21BBA) was chosen in 2021. Iowa is one of just six institutions to have both a men's and women's Naismith Trophy honoree (Duke, LSU, Notre Dame, Texas, and Virginia).
---
Iowa Advances to Final, Ends South Carolina's 42-Game Win Streak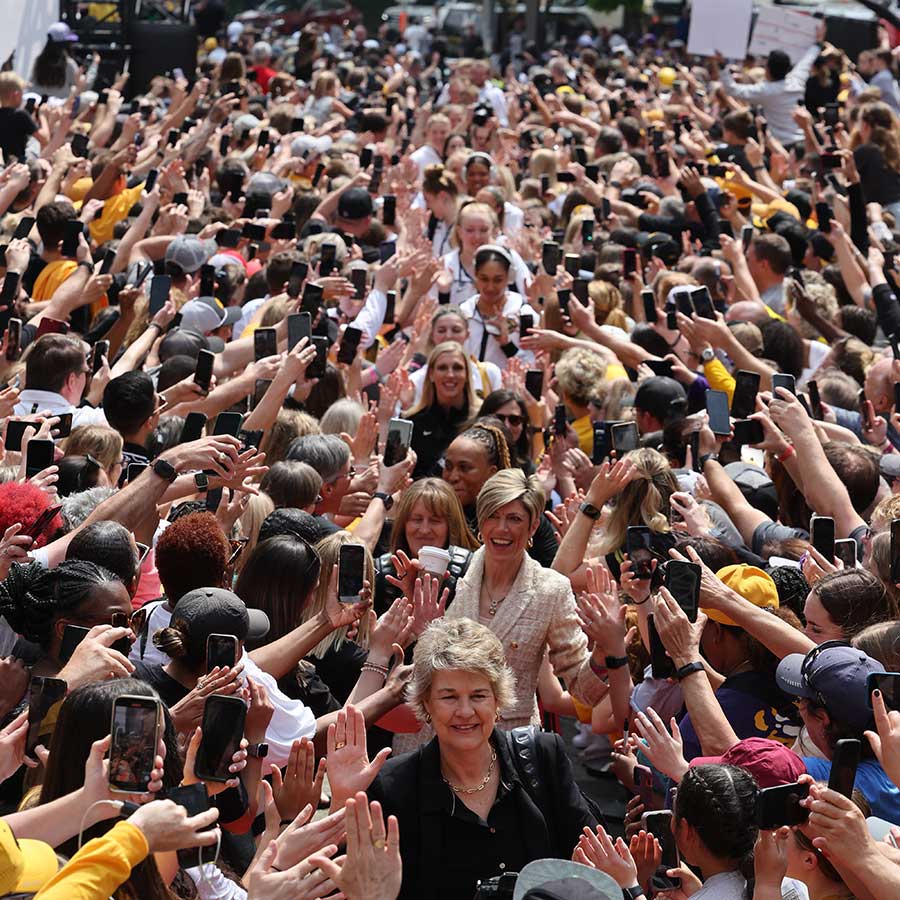 Photo: C. Guerra
It had been 30 years since Iowa women's basketball made its first Final Four. This time, the Hawkeyes had the last laugh.
Clark scored 41 points and Iowa ousted defending national champion South Carolina, 77-73, in front of 19,288 at American Airlines Center in Dallas. According to ESPN, Clark is the first player in NCAA history with back-to-back 40-point games.
"I love me some Caitlin Clark," Bluder said, whose team scored more points against South Carolina than any other opponent this season. "We've been talking about being mission-focused a lot this year, and we had a game plan and these guys executed so well. That is South Carolina we just beat, folks. Amazing."
Iowa jumped on the Gamecocks—leading for most of the first half. An 8-0 run—capped off by a Kate Martin layup—gave the Hawkeyes a 46-37 lead. But South Carolina—who hadn't lost in 359 days—trimmed the lead to just four points heading into the fourth quarter.
After briefly losing the lead, Clark's three-pointer with 8:55 left in the game put Iowa back in front, 62-60—a lead they would not relinquish. Clark either scored or assisted on all of Iowa's 18 points in the fourth quarter—scoring the final 13.
With the win, the Hawkeyes advanced to their first-ever national championship game and became the Big Ten's first team to reach the title game in 18 years.
---
Hot-Shooting Tigers Upset Iowa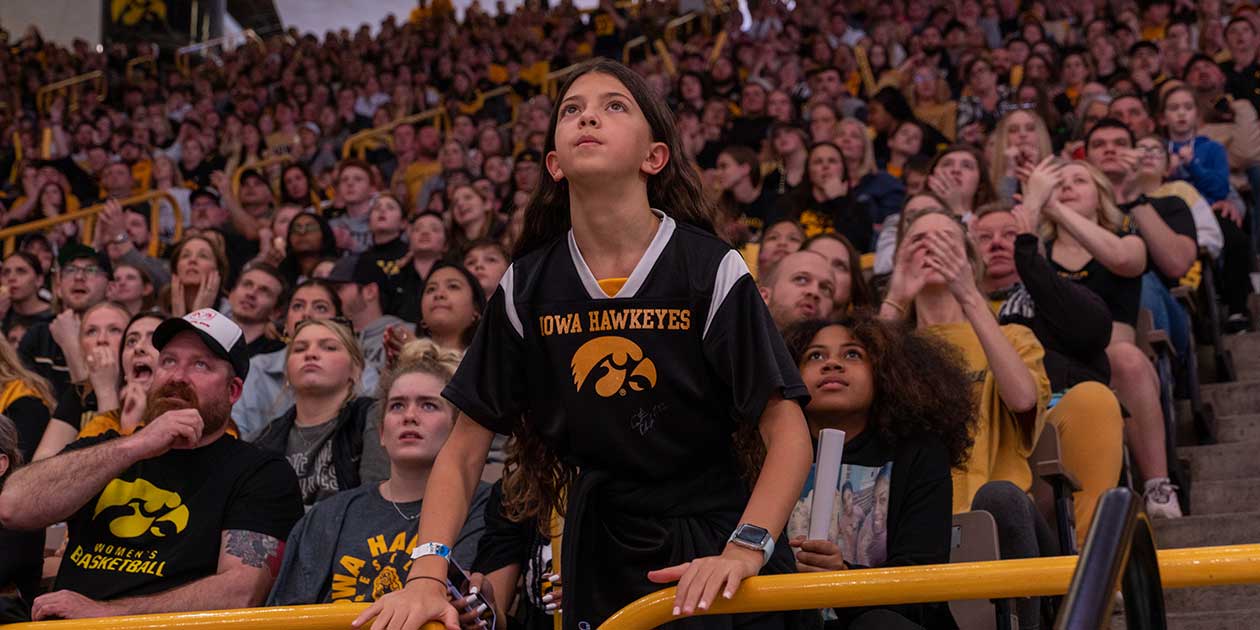 Photo: Hawkeye Athletics
LSU shot 54%—including 64% on 3-pointers—to upset Iowa in the NCAA title game by a 102-85 score.
Four Hawkeyes scored in double figures, with Clark leading the way with 30 points.
The crowd of 19,842 at American Airlines Center broke the record for the largest attended game in NCAA Tournament Championship history.
Two seniors played their final games for the Hawkeyes. Czinano ended her Hawkeye career with 2,413 points—shooting 67% in five seasons of action. Warnock ended her Iowa career with 1,277 points.