Jones and Nile Kinnick are the only Iowa football players to have their jersey numbers retired.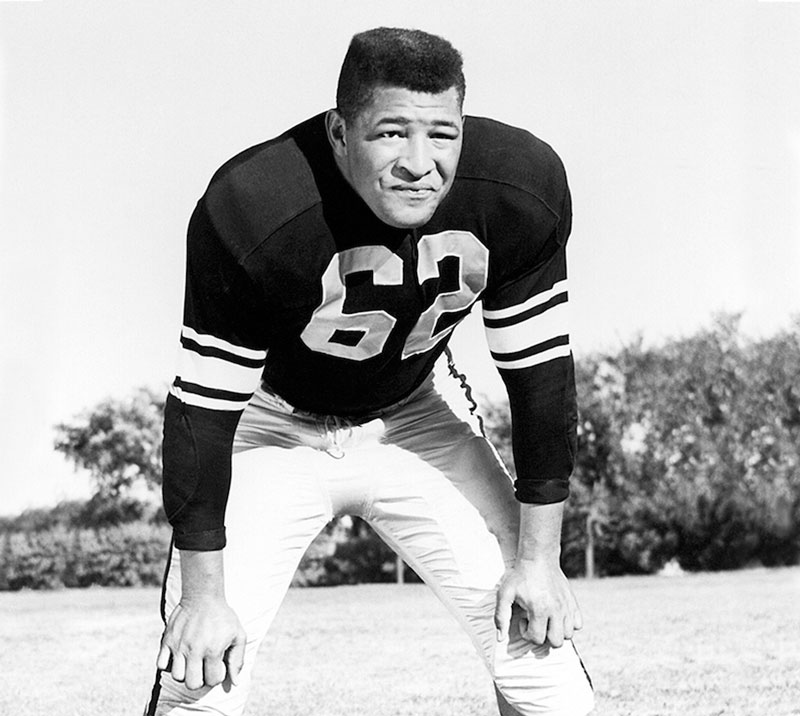 PHOTO: HAWKEYESPORTS.COM
Calvin Jones wearing his number 62 jersey.
In the 134-year history of the Iowa football program, only two jersey numbers have ever been retired: the No. 24 jersey of Iowa's lone Heisman Trophy winner, Nile Kinnick (40BA), and No. 62 worn by Calvin Jones.
As an interior lineman for the Hawkeyes, Jones' hall of fame career spanned three seasons from 1953 to 1955. In that time, Iowa celebrated two winning seasons and a No. 9 ranking in the final 1953 Associated Press poll.
Jones was a consensus All-American in 1954 and 1955, and he remains the only Iowa player to be named a first-team All-American three times. In 1955, he became the first African American to win the Outland Trophy honoring the best interior lineman in the country.
Jones was known for his toughness and played the entire 1954 season with a fractured wrist. He still managed a consensus All-America selection and finished 10th in the 1955 Heisman Trophy race as team captain.
Off the field, the Steubenville, Ohio, native had a 3.0 grade point average as a physical education major. He broke barriers in 1954 as the first college football player ever to grace the cover of Sports Illustrated and his appearance on the cover came at a time when many universities still banned African Americans from playing football.
After his final season for the Hawkeyes, Jones went on to play for the Winnipeg Blue Bombers in the Canadian Football League (CFL). He was selected for the CFL all-star game in his rookie season.
On December 9, 1956, following the all-star game, Jones' flight out of Vancouver crashed and killed everyone on board. His death came six days before the 1956 Hawkeye football team won the program's first Rose Bowl in a 35-19 victory over Oregon State.
In 1980, Jones was inducted into the College Football Hall of Fame. He's also a member of the inaugural class of the Iowa Varsity Club Hall of Fame and was selected for Iowa's all-time football team in 1989.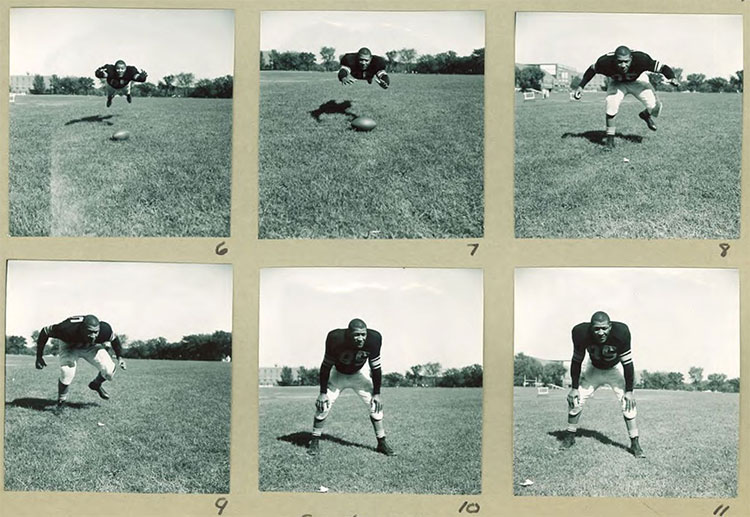 PHOTO: DIGITAL.LIB.UIOWA.EDU, University Archives
1954 Scrapbook photos of Iowa football offensive guard Calvin Jones.