A four-generation connection to the University of Iowa—spanning more than 80 years—is bringing the Hawkins family back to where it all began, Iowa City, to receive the UI Family Spirit Award.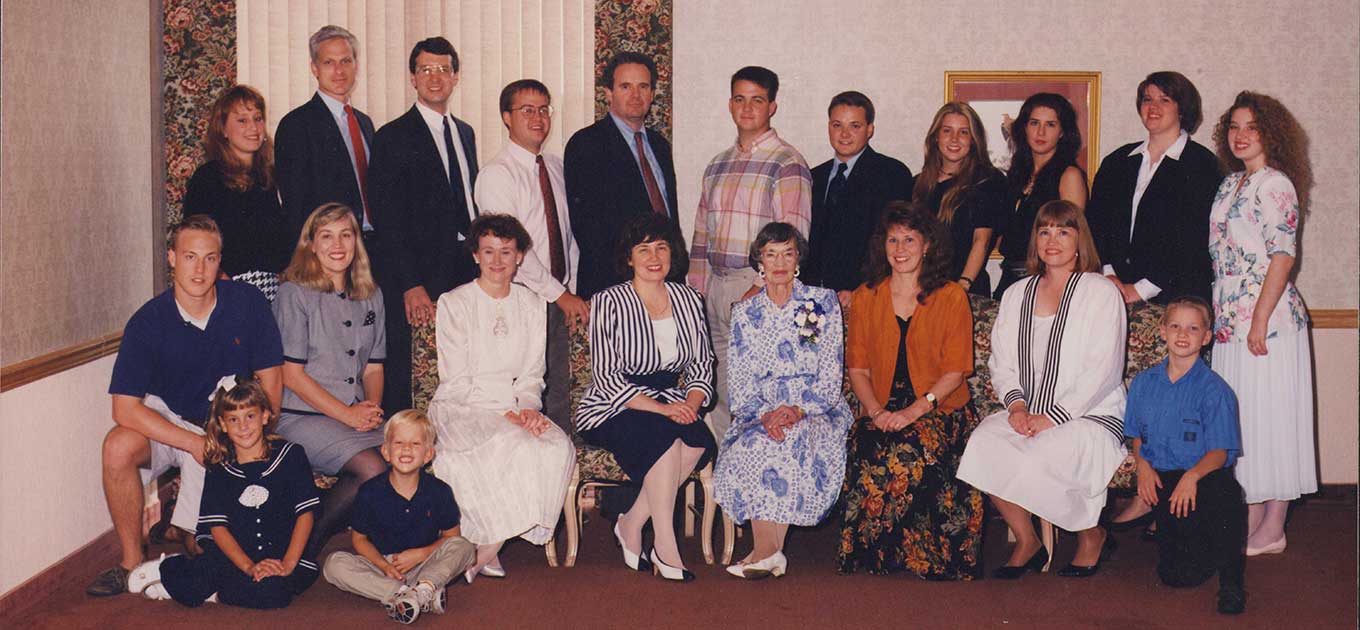 PHOTO COURTESY HAWKINS FAMILY
This photo from Dolores Hawkins' 75th birthday in 1991 includes 13 University of Iowa grads and three generations of the family.
When he arrived in Iowa City as a 22-year-old freshman in 1937, Max Hawkins Sr. (41BA) had one suitcase of clothes, two dollars, and a commitment to the University of Iowa football program. It proved to be the right move for the young new Hawkeye, who grew up in rural Mississippi amidst the Great Depression and had just finished serving his country in the U.S. Navy.
"The highlight of my life is when I just barely made the football team at Iowa," said Max Sr. during a 1970s University of Iowa Oral History Project interview. He started as a guard and blocked for Heisman Trophy winner Nile Kinnick (40BA)—playing a vital role on the 1939 Ironmen team that finished 6-1-1 and contended for a national championship.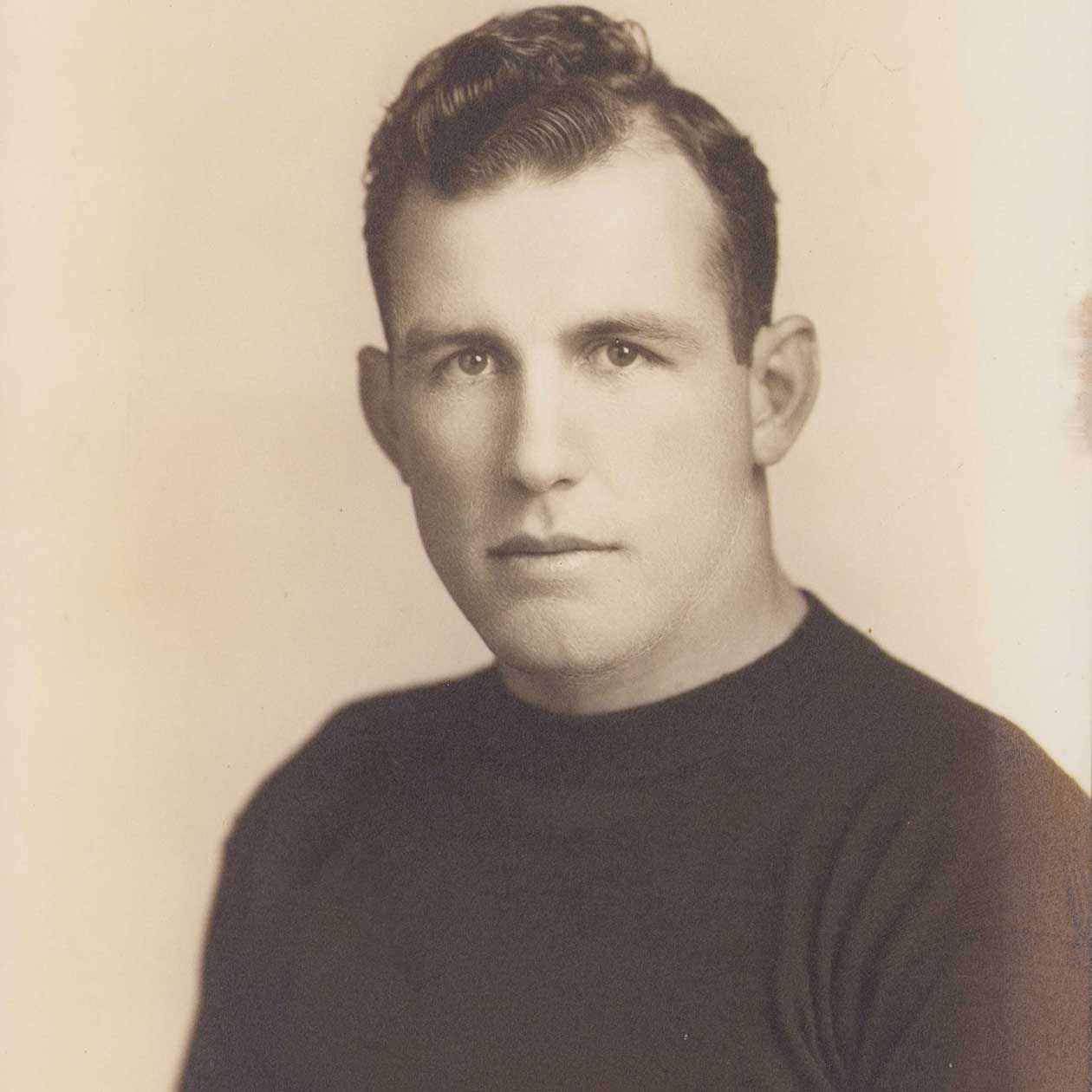 PHOTO COURTESY HAWKINS FAMILY
Max Hawkins Sr. football portrait
While Max Sr. will always be remembered for his efforts on Iowa's legendary 1939 squad, his impact beyond the gridiron proved to be even more monumental. After meeting his wife, Dolores Helmer Hawkins (39BA), they raised their family in Iowa City as he worked for the University of Iowa—representing and promoting its interests in the state legislature and throughout the Hawkeye State.
"Everything my father did revolved around what was best for the University of Iowa," says daughter Catherine Hawkins Engel (76MA), who lives in West Des Moines, Iowa, alongside husband Rick Engel (76JD). "He felt like he owed it to the university. Coming to Iowa, being on the Ironmen football team was truly life changing for him."
Now, more than eight decades later, the Hawkins family continues to make an indelible impact on the University of Iowa and the Hawkeye State. That's why the family—with four generations of Hawkeyes and nearly two dozen Iowa graduates—was recently named the 2023 recipients of the University of Iowa Family Spirit Award. The Hawkinses will be recognized during Family Weekend and at the Iowa football game against Rutgers on Saturday, Nov. 11.
"It's certainly a great honor for our family," says daughter Elizabeth Hawkins Kepp (65BA). "There are so many family members who have gone to Iowa, and my mom and dad would be extremely proud and pleased to know that so many of their kids, grandkids, and great grandkids have been loyal to Iowa."
No Place Like Iowa City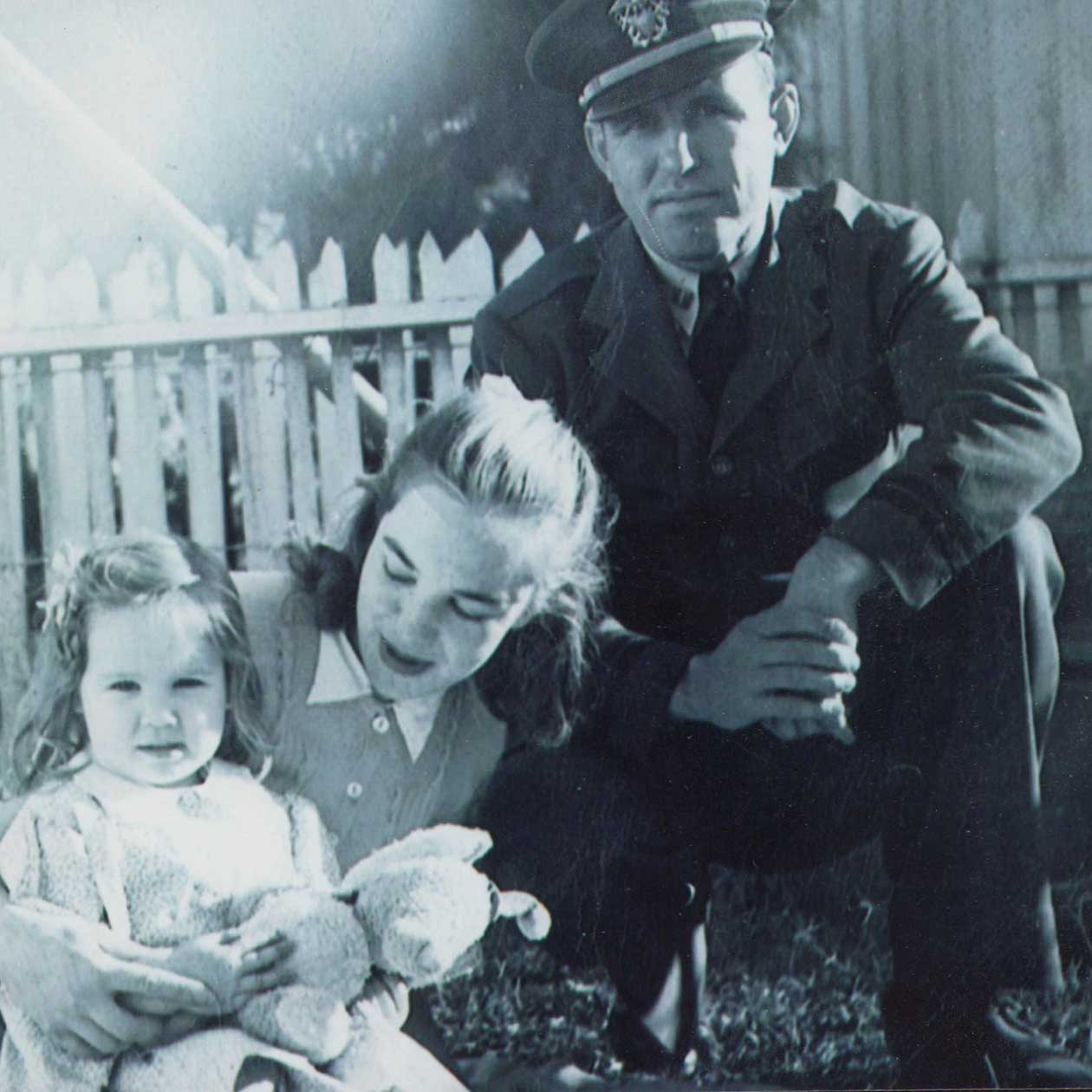 PHOTO COURTESY HAWKINS FAMILY
Max and Dolores Hawkins with their firstborn, Debbie, in 1943
After serving in the U.S. Navy during World War II, Max Sr. returned to Iowa City and began to make a difference in the community, the university, and the state. He was elected to the local city council while becoming the university's first field secretary in 1948—traveling the state to recruit student-athletes and start I-Club chapters. He helped form the Old Gold Development Fund, which is now known as the UI Center for Advancement, and then served for more than three decades as a lobbyist for the university and the Board of Regents, State of Iowa.
"He was a larger-than-life, life-of-the-party guy," says his granddaughter Heather McDonald, of Waterloo, Iowa. "He could hold a crowd when he spoke, and you felt his presence when he was there."
While Max Sr. is credited for helping the university acquire upwards of $750 million—much of which funded expansions to UI Hospitals & Clinics—his children remember life beyond work, including growing up on Melrose Avenue across from Kinnick Stadium. All five children—Deborah Hawkins Horne Pickering (63BA, 67MA, 82PhD), Max Hawkins Jr. (78BS, 91BS), Anne Hawkins Kennedy, Elizabeth, and Catherine—were especially fond of fall in Iowa City.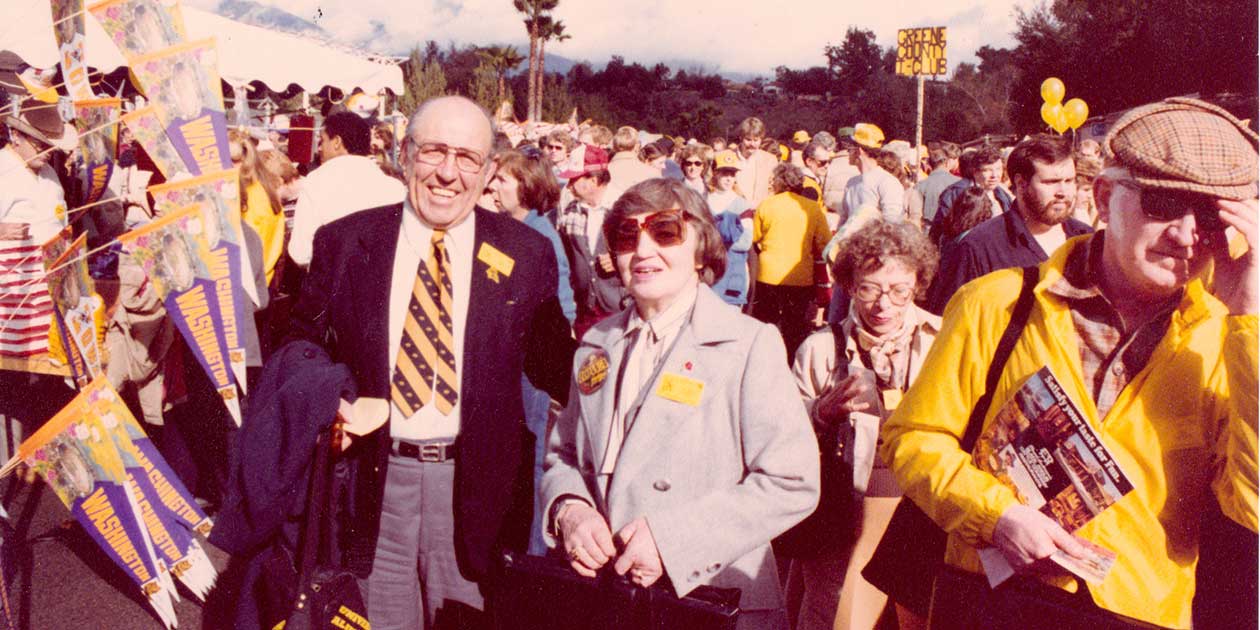 PHOTO COURTESY HAWKINS FAMILY
Max and Dolores Hawkins watch Iowa play Washington in the 1982 Rose Bowl.
"Football Saturdays were always a big deal in the house," says Max Jr. "My parents loved to have people over—and my dad loved Iowa football."
The Hawkins family was known to host legendary parties for alumni, politicians, friends, and Ironmen football players such as Albert Couppee (47BSC), Russell Busk (40BA), George "Red" Frye (47BSPE), and Erwin Prasse (42BSPE). The home also was a location for family gatherings and big events, including Deborah's marriage to husband, David Pickering (83MA, 84PhD).
"Max Sr. had a friend who was a judge and asked him to preside over the wedding ceremony," says David, who met his wife while they both worked in the University of Iowa's Department of English as graduate assistants. "The whole family was so welcoming, and that's something I never forgot. That's who Max Sr. and Dolores were—so hospitable and generous."
While Iowa City is home for many family members, it's also been a place where so many have advanced their learning and professional aspirations. Jeff Horne (90BA), Deborah's son, says his Iowa experience set him up for success working in local government—including as a city administrator for nearly 20 years.
"Looking back, it wasn't the specifics of the classes that helped me, it was the critical thinking skills that I acquired," says Jeff, whose sons, Joseph Horne (22MA) and John Horne (23BS), are now also proud alums. "I appreciate great faculty members—such as Ray Riezman, Jay Holstein, Sydney James, and Burns Weston—who all imparted something to me."

On the Gridiron: Coming Full Circle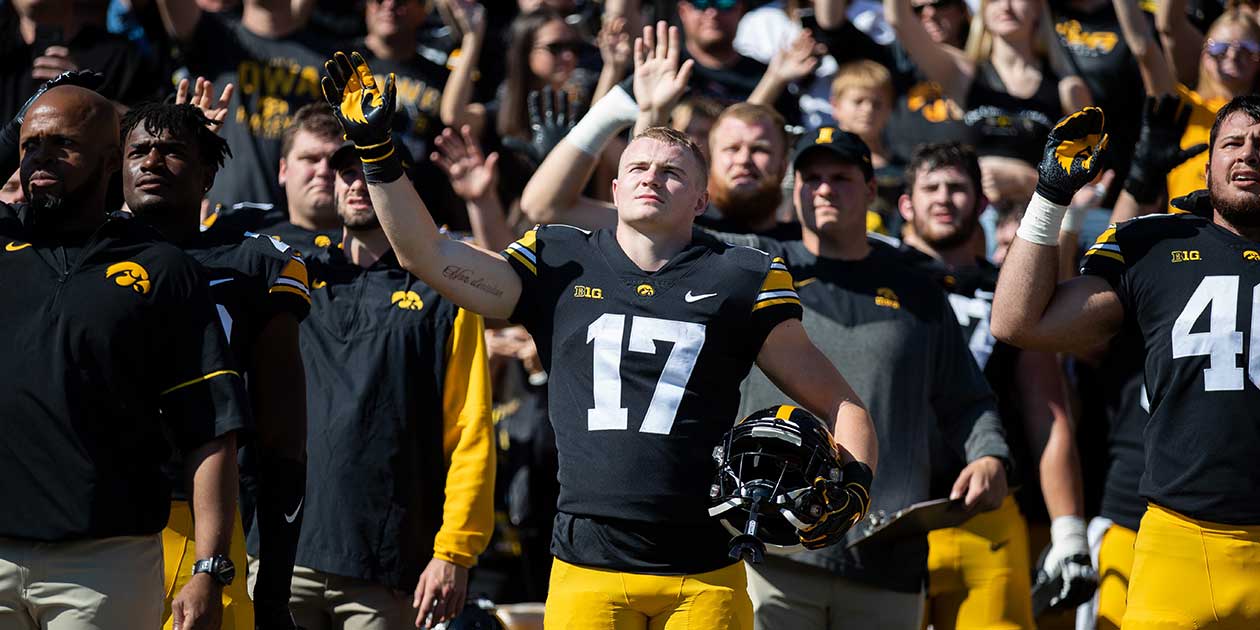 PHOTO COURTESY HAWKINS FAMILY
Max White waves to the pediatric patients at UI Stead Family Children's Hospital during an Iowa football game.
Football was a first love for Max Hawkins White.
"It's a sport that brings us all together," says Max. "My father has always been a coach, and my brothers and I always dreamed of playing football at any level. We just wanted to play, and my mother has been the most supportive person in the world."
The great-grandson of Max Sr. walked on at Iowa in 2021—bringing the Hawkins family back to Kinnick Stadium and a location that means so much to the entire family. A lot has changed on the field since his great-grandfather played for the Hawkeyes.
"I know everyone back then played both ways; that's just unreal doing that with such few numbers," says Max, who now lives in the family's former house on Melrose Avenue with teammates. "And throw in competing for a national title, too—that's just a whole different era and a different level of grit."
For Max's grandmother, Anne, it brings the family story full circle—both with the University of Iowa and with the family's former residence on Melrose Avenue.
"When Max texted me a picture and said, 'Guess where I'm living next year?,' I couldn't believe it," she says. "It's so surreal, especially because there are a lot of similarities between my dad and my grandson. They are both hard workers, honest, and respectful. I think my dad would be just over the moon to have a great-grandson on the Iowa football team and to receive this award."