Iowa researchers have a new ally in the battle against cancer: our pets.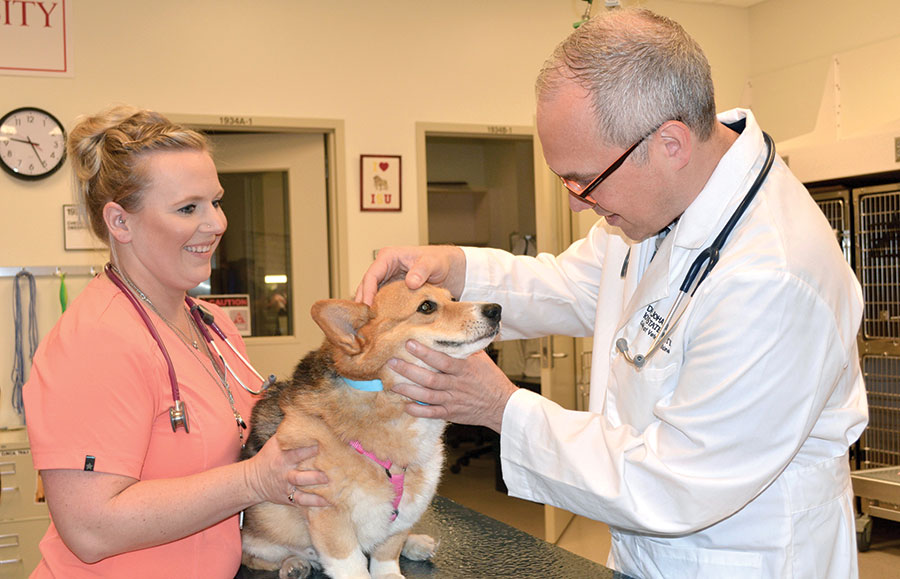 Iowa State University veterinary oncologist Chad Johannes (right) will team up with UI physicians in the Side by Side in Cancer Research program.
As director of the UI's Holden Comprehensive Cancer Center, George Weiner studies CAT scans. As coordinator for the veterinary oncology program at Iowa State University, Chad Johannes scans cats. Together, they hope to make strides in the fight against cancer, for two-legged and four-legged patients alike.
In a new partnership between the state's premier medical and veterinary colleges, scientists are examining how cancer research in pets can benefit humans—and vice versa. The program, called Side by Side in Cancer Research, has sparked new collaborations between physicians and veterinary researchers whose patients' cancer cases are surprisingly similar.
"Companion animals, and dogs in particular, have more in common with humans than other animal models that have been used in the study of cancer," Weiner says. "Perhaps more importantly, we share the same environment. Dogs and cats share the same houses we do, they breathe the same air, and in some cases, eat the same food and drink the same water. That really gives us an opportunity to learn from each other."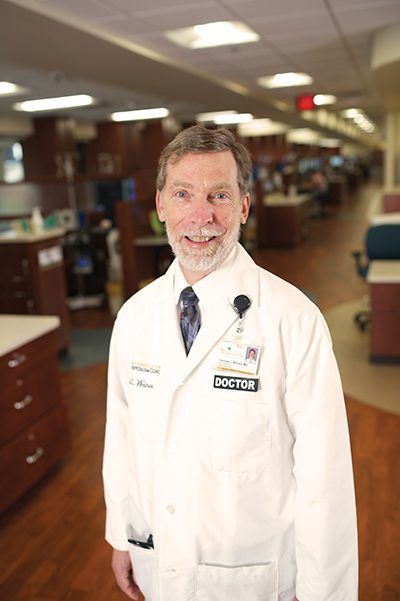 George Weiner is director of the UI's Holden Comprehensive Cancer Center.
A visit by Weiner earlier this year to ISU sparked the idea for the partnership. While in Ames to speak at a seminar, he met with veterinary oncology faculty and students and, for the first time, toured a major animal hospital. Weiner was struck by the familiarity of it all: A pharmacy with drugs similar to those being used at Holden, an infusion center for patients, and talk of treatment regimens all-too familiar to doctors in Iowa City. Of course, there were also some surprises: "I just saw a llama with pemphigus," he overheard one faculty member say, referring to a skin disease.
At the end of his visit, Weiner met with Johannes, who leads ISU's companion animal oncology program. While UI and ISU cancer researchers have collaborated on one-off projects in the past, the two doctors discussed possibilities for an ongoing partnership in a number of areas. The Side by Side in Cancer Research program soon took shape, including a new fund established through the UI Center for Advancement to support the initiative.
Collaborations are already in the works. Holden has been a leader in promising research that shows high doses of vitamin C can be used to attack cancer cells, so ISU researchers have been working with their UI colleagues in recent months to study its effectiveness in veterinary patients. A paper detailing their findings is forthcoming. The two institutions also plan to study the impact of radon, a gas carcinogen, on domesticated animals. While radon is the second-leading cause of lung cancer in humans, less is known about how it affects cats and dogs living in homes with high radon levels.
According to the American Veterinary Medical Association, about half of dogs over age 10 develop cancer, and they're stricken with the disease at about the same rate as humans. Dogs—particularly larger breeds like golden retrievers and Bernese mountain dogs—often suffer from the same types of cancers as humans. These include lymphoma, osteosarcoma, melanoma, and colorectal cancer, which Weiner and Johannes say present an opportunity for comparative studies.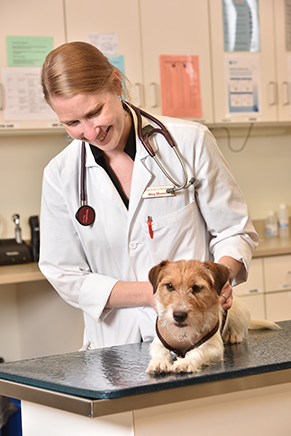 Iowa State assistant professor Margaret Musser is among the members of the university's veterinary oncology team.
Treatment options also are similar, with veterinarians often using generic versions of the same cancer-fighting drugs prescribed for humans. ISU will soon open a new veterinary radiation therapy center, which would the first of its kind in Iowa, and recently hired its first-ever surgical oncologist. "As pets are living longer because preventative medicine is getting better, they're living long enough that many get cancer," Johannes says. "At the same time, many of our clients expect similar levels of treatment options for pets that they might expect for themselves if they were diagnosed with similar conditions."
Johannes says pets' shorter lifespans could allow researchers to evaluate new therapies more efficiently: "We wished pets lived longer. But could we utilize that compressed timescale to gain information that would be helpful for the development of drugs and therapies on the human side?"
Side by Side leaders are in the process of raising pilot funds to launch a new peer review competition in which UI and ISU researchers would pitch collaborative projects, then vote to fund the most promising ideas. They're also planning visits to and from Ames and Iowa City, as well as a research symposium to exchange ideas.
"By leveraging the strengths of both the UI and ISU, we can maximize the positive impact for the people and pets of Iowa," Johannes says. "For many people, pets are part of the family—they're one team in life. Now they're on our team in cancer research."
Learn more about Side by Side in Cancer Research and how you can support the program with a donation.