Thanks to a transformative grant, the Roy J. Carver Department of Biomedical Engineering is poised to take on a widespread health threat.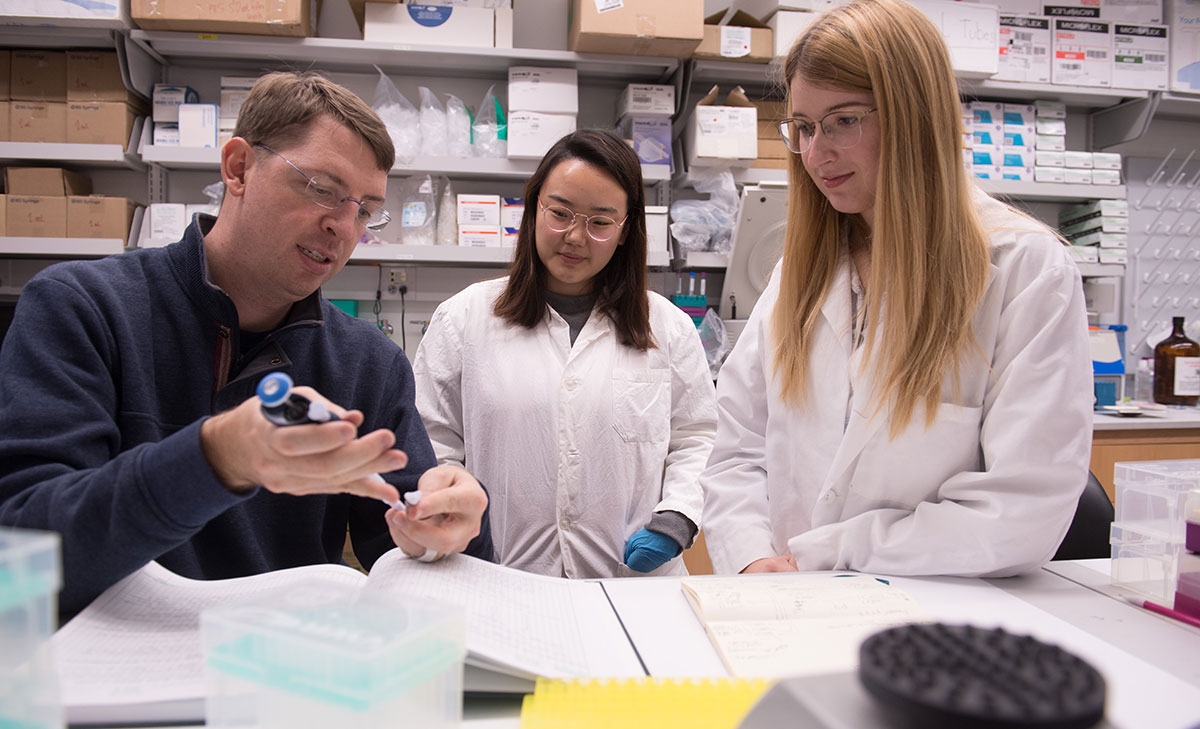 Engineering students Lin Di (middle) and Hannah Dobrowski (right) work with biomedical engineering assistant professor James Ankrum in his laboratory last year.
One of Iowa's top innovators of the 20th century is paving the way for the University of Iowa to become a leader in biomedical engineering in the 21st century and gain new ground against a devastating killer.
The Roy J. Carver Charitable Trust, a foundation established by the late Muscatine, Iowa, entrepreneur and philanthropist, recently announced a historic $12 million grant to transform the UI's biomedical engineering program. The newly renamed Roy J. Carver Department of Biomedical Engineering—already the largest program within the UI College of Engineering—plans to dramatically expand its academic and research efforts in the coming years. This new vision places a special emphasis on lung disease, which is the third leading killer in the U.S. and the primary cause of death in infants.
Respiratory and pulmonary disorders like asthma, cystic fibrosis, emphysema, and lung cancer affect tens of millions of Americans and are responsible for one in seven deaths, according to the National Institutes of Health. UI leaders believe biomedical engineers—scientists with technical engineering expertise to address problems in biology and medicine—are uniquely equipped to confront the complexities of lung disease in the coming decades.
"I like to tell people that, whether we like it or not, we're all going to be customers of biomedical engineering someday, whether it's a CT scan or a heart valve or a hip replacement," says Joe Reinhardt, professor and executive officer for the Department of Biomedical Engineering. "Lung disease is a significant health problem, and if we can do anything to address it, we can make an impact on the overall state of health care on the world."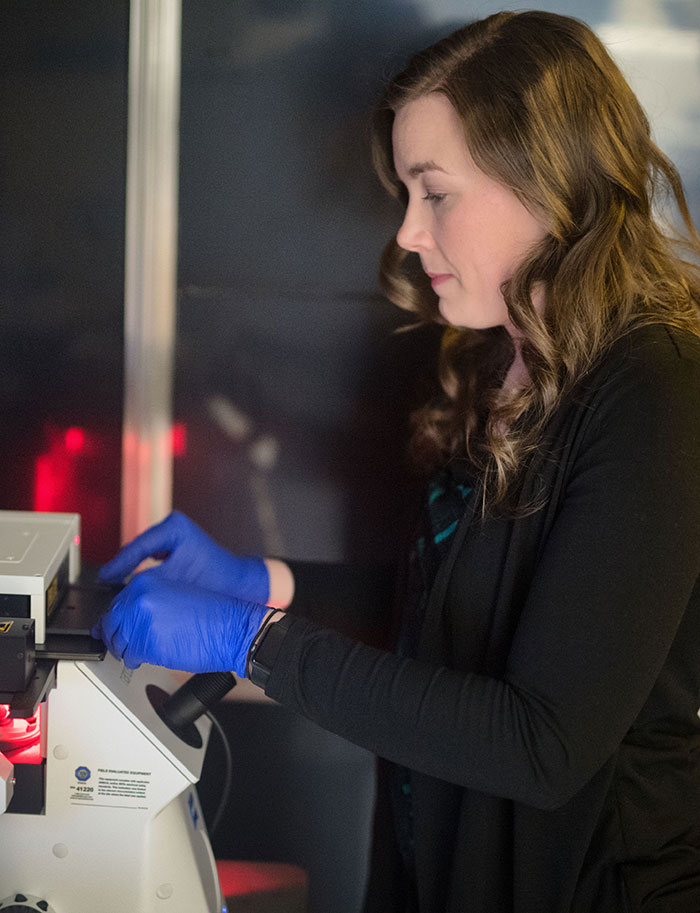 Biomedical engineering assistant professor Kristan Worthington works in the laboratory last year.
The grant is the largest ever received by the College of Engineering. It's also a fitting addition to the legacy of Carver, an engineer-turned-industrialist who channeled much of his philanthropy to UI medical endeavors. Carver, who earned an engineering degree from the University of Illinois in 1934, began his career as a highway engineer in Illinois before making a name for himself as one of Iowa's most influential businessmen. In the late 1930s, he devised a new and more efficient type of fluid pump, an invention that came to be in high demand during World War II and led to his first venture, Carver Pump Company, which he moved to Muscatine, Iowa. By the 1950s, he had launched Carver Foundry Products and Bandag Company, which became the world's largest manufacturer of tire retread materials and transportation equipment.
Later in life Carver parlayed his business success into philanthropy, focusing largely on areas that advanced scientific knowledge and human health. He was a passionate supporter of the University of Iowa, where his four sons attended college. In 1978, he donated $2 million to expansion efforts at UI Hospitals and Clinics and construction of the Carver Pavilion. And after his death in 1981, the Roy J. Carver Charitable Trust continued as a key supporter of UI's medical school, which in 2002 was renamed the Roy J. and Lucille A. Carver College of Medicine.
This isn't the first time the Carver Charitable Trust—one of the largest private philanthropic foundations in Iowa—has partnered with the Department of Biomedical Engineering. Over the past two decades the foundation has awarded nearly $3 million to establish a cell and tissue engineering research lab and a medical device design lab, among other new programs.
UI's biomedical engineering program can be traced back to the early 1970s, when mechanical engineers and orthopedic surgeons first began collaborating on medical problems. The university introduced a four-year undergraduate curriculum in 1974 and formally established the Department of Biomedical Engineering in the mid-1980s. At the time it was one of just two accredited programs of its kind at a U.S. public university.
Today, boosted by growing career options in the medical and biotech industries, the program has become the fastest-growing engineering degree path at the UI. This past fall, 520 undergraduates and 53 graduate students were enrolled in the department, which is housed in the top floor of the new annex at the Seamans Center for Engineering Arts and Sciences.
The Carver grant will allow the department to permanently endow its executive officer post, hire five new faculty members with respiratory and pulmonary expertise, expand its doctoral program, invest in research, retain top faculty, and create four new Carver professorships. Reinhardt, whose research is focused on pulmonary imaging, sees the injection of talent and resources leading to breakthroughs. He says that could include the development of new medical devices, advances in cellular engineering, and novel drug therapies.
Kristan Worthington (14PhD), an assistant professor of biomedical engineering, is among the scientists who will benefit from the new collaborations and research opportunities created by the grant. The department now has the ability to kick-start its most promising projects even before securing external funding, says Worthington, as well as take part in more scientific conferences and raise Iowa's profile nationally. Even more, it will help faculty better train students for careers as clinicians, academic researchers, and innovators in the biotech industry.

"This helps attract support and retain high-caliber graduate students and faculty members," says Worthington, an expert in biomaterials and tissue engineering. "It will create a positive feedback loop—the more strong researchers we can bring to campus, the better our research will be. Then we'll attract even more strong researchers to campus, and so on and so forth. This gift gives us a boost for a long time to come."
---
Learn about the ways you can support the UI College of Engineering.