A University of Iowa scholarship supports students who have a passion for the game of basketball—all thanks to a few former UI basketball players.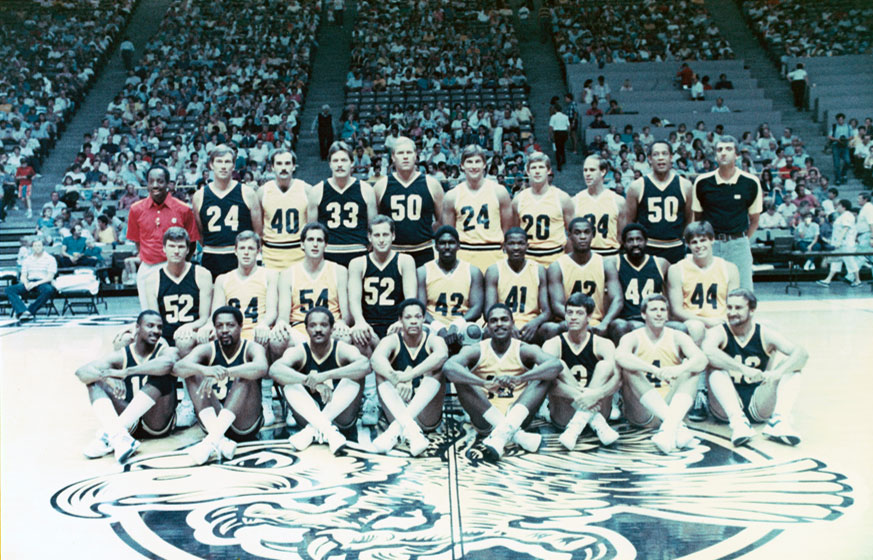 Pictured are former Iowa men's basketball players who took part in a charity basketball game at Carver-Hawkeye Arena in 1986. The first of three charity basketball games helped raise more than $300,000 for two UI scholarships. Front row (left to right): Ronnie Lester, Fred Brown, Bo Hairston, Rick Williams, Waymond King, Jim Hodge, Kirk Speraw, and Chad Calabria. Second row: Fred Haberecht, Craig Anderson, Steve Krafcisin, Steve Waite, Mike Henry, Greg Stokes, Michael Payne, Clay Hargrave, and Mark Gannon. Back row: Kenny Arnold, Ken Grabinski, Kevin Boyle, Dan Frost, Mike Gatens, Bobby Hansen, Dick Peth, Tom Norman, John Johnson, and Glenn Vidnovic.
Basketball is more than just a game to Brooke Stout.
Stout, who started playing basketball in the third grade while living on a farm outside of Washington, Iowa, learned countless life lessons on the hardwood.
"Basketball taught me to never give up and to work hard to accomplish my goals," says Stout, who was a two-year varsity starter at Washington High School. "My teammates were the reason I enjoyed basketball so much. The game produced some of my closest friends, and we learned responsibility, accountability, and to never give up on each other."
When Stout chose to come to the University of Iowa, she left competitive sports behind, including basketball. Because of her love for the game, though, Stout was a recent beneficiary of the Iowa Farm Scholarship/Iowa Basketball Letterman Fund, which provides one-year full-tuition scholarships to UI students who played basketball in high school and have a rural or agricultural background.
The Iowa Farm Scholarship/Iowa Basketball Letterman Fund got its start during the 1980s farm crisis. While the economic downturn was wreaking havoc on rural Iowa families, a few Hawkeye basketball letterwinners decided to help.
"We wanted to find a way to give back to the state that we represented and to the people who supported us during our time on the court," says Mike Gatens (76BA), an Iowa City native who earned three varsity letters under former coaches Dick Schultz and Lute Olson. "We thought it would be great to have an alumni basketball game and have the money go toward helping those affected by the farm crisis."
In 1986, Gatens and other UI basketball letterwinners held the first of three alumni basketball games at Carver-Hawkeye Arena. Their efforts were substantial, raising $300,000 over five years to support two endowed scholarships: the Iowa Farm Scholarship/Iowa Basketball Letterman Fund and the John Streif Men's Basketball Scholarship, which honors the longtime Iowa athletic trainer.
While Stout says the full tuition scholarship has improved her Iowa experience, other recipients such as Kaylee Kortenkamp—who suffered a career ending basketball injury during her time at East Buchanan High School in Winthrop, Iowa—said it has helped her get involved in organizations such as Dance Marathon.
"This scholarship has allowed me to focus so much more on my studies in biomedical engineering and get involved on campus," says Kortenkamp, who received the scholarship in the 2017-18 academic year. "I can't express how grateful I am to these individuals who believe in future generations."
To date, the Iowa Farm Scholarship/Iowa Basketball Letterman Fund has supported 58 students by using the interest accrued each year to award the scholarship. Gatens said he's been humbled to meet several of the recipients and see that the former Hawkeyes' work more than 30 years ago continues to have an impact on Iowa's students.
"As a kid in Iowa City, I dreamt of being a basketball player at Iowa, and I was fortunate enough to be a scholarship athlete," says Gatens. "It's so important to give back so that others can participate and have memorable experiences. Through these scholarships, we have been able to help some really good kids."
If you or someone you know may qualify for the Iowa Farm Scholarship/Iowa Basketball Letterman Fund, learn more.