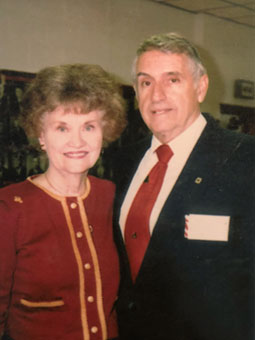 As a young man growing up in Cedar Rapids and Des Moines, Iowa, James "Jim" Wilson (51BSPE) was heavily influenced by what he saw through his camera lens. "Photography was his life," says Marilyn Wilson about her late husband, who died in 2017. "Jim had a dark room in sixth grade, and his parents gave him a camera for a high school graduation present. He loved to take photographs."
His passion for photography only grew as he got older. While at the University of Iowa, Jim had the opportunity to work under the tutelage of F.W. Kent, who, for 47 years, was the official UI event photographer.
"Jim had to work for everything he had in life," says Marilyn. "While at Iowa, Jim had to pay his way, so he worked whenever and wherever he could. He loved working for F.W. Kent, who was a mentor to him."
After graduating from the UI in 1951—the same year the Wilsons got married—and serving a short stint with the U.S. Navy, Jim worked for Iowa Methodist Hospital in Des Moines, where he founded the medical photography department. But, just a few years later, Jim was offered a job with Eastman Kodak Company—an organization he worked for until his retirement in 1986.
For his more than 30 years at Eastman Kodak, Jim was able to photograph several celebrities—including Elvis Presley, Frank Sinatra, and Bob Hope—and he photographed the 1996 Summer Olympics in Atlanta. He also was instrumental in introducing color photography to businesses throughout the Southeastern U.S.
When Jim died in 2017, his wife of more than 60 years, Marilyn, wanted to do something to honor his exemplary career. In 2018, the James W. Wilson Photography Scholarship was established, and Delaney Corrigan, of Batavia, Illinois, has received the scholarship for the 2019-20 academic year.
Marilyn is funding this scholarship through the charitable IRA rollover. The charitable IRA rollover allows individuals over the age of 70½ to give up to $100,000 from an IRA directly to a qualified charity, such as the State University of Iowa Foundation, without having to pay income taxes on the distribution.
For Marilyn, the James W. Wilson Photography Scholarship is a great way to honor her late husband.
"Jim was an exceptional guy," says Marilyn. "He was extremely grateful for his degree and for the knowledge he gained at Iowa. He was a loyal Hawkeye."