From the music and fanfare of the homecoming parade, to a ride on the Hawkeye Express before the big Iowa football game, there is plenty for kids to enjoy during homecoming at Iowa.
There is fun to be had for Iowa fans of all ages—including the youngest of the Hawkeye flock—during University of Iowa Homecoming. Dress the family in black and gold, and book it to Iowa City for these kid-friendly homecoming festivities on October 18-19, 2019.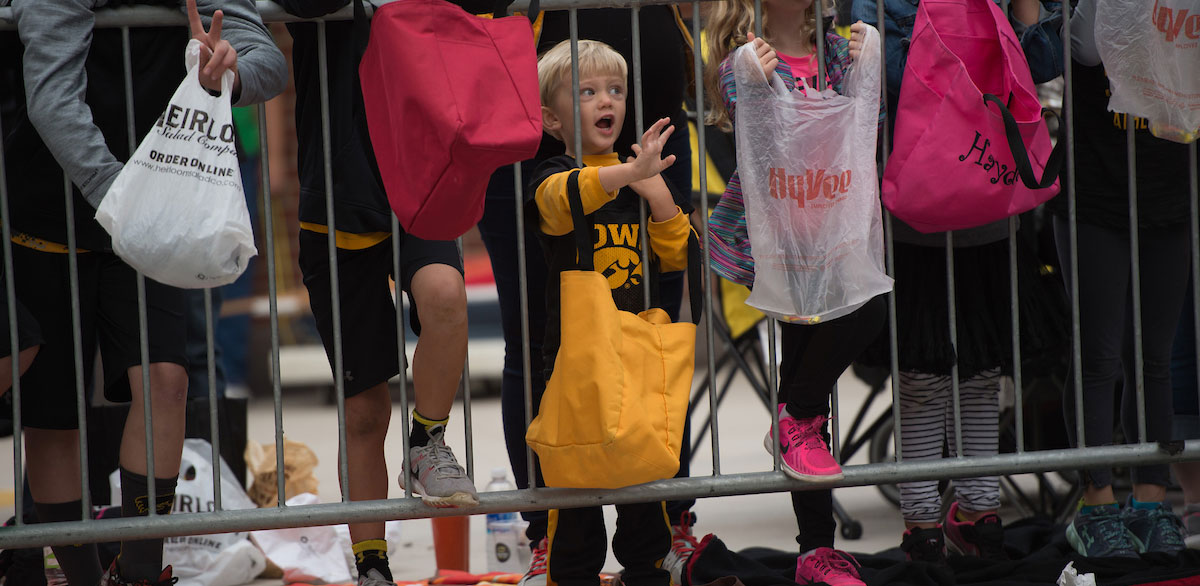 Children line the Iowa Homecoming parade route in downtown Iowa City to collect candy, see Herky, listen to the Hawkeye Marching Band, and more.
IOWA HOMECOMING PARADE
Kids won't want to miss the annual Iowa homecoming parade. From floats and freebies to Herky and the Hawkeye Marching Band, this is the ultimate kid-approved homecoming event.
The parade begins at 5:45 p.m. on Friday, Oct. 18, 2019, but arrive early to park and pinpoint the perfect spectating spot. The parade draws an estimated 15,000 Hawkeyes from around the world—including alumni and friends, fans, and families.
Everyone is invited to stop by the Alumni Engagement Tent before the parade for Hawkeye freebies and information about how to stay connected to the University of Iowa. The tent will be open from 2 to 5:30 p.m. on the Pentacrest.
Homecoming Parade Parking and Travel
Expect road closures along and around the parade route, located in the heart of downtown Iowa City. Paid parking is available in nearby parking ramps. To avoid tricky travel, park on campus and ride the free CAMBUS into downtown Iowa City. Young children will also love riding a big, black and gold bus.
Grab-And-Go Dinners
Iowa City is an oasis for any foodie family. Skip the waits before and after the parade, and instead feast on a grab-and-go dinner from more than a dozen downtown restaurants. From pizza to froyo, savor the local flavor while watching the Hawkeye fanfare. See the list of participating restaurants on the homecoming parade webpage.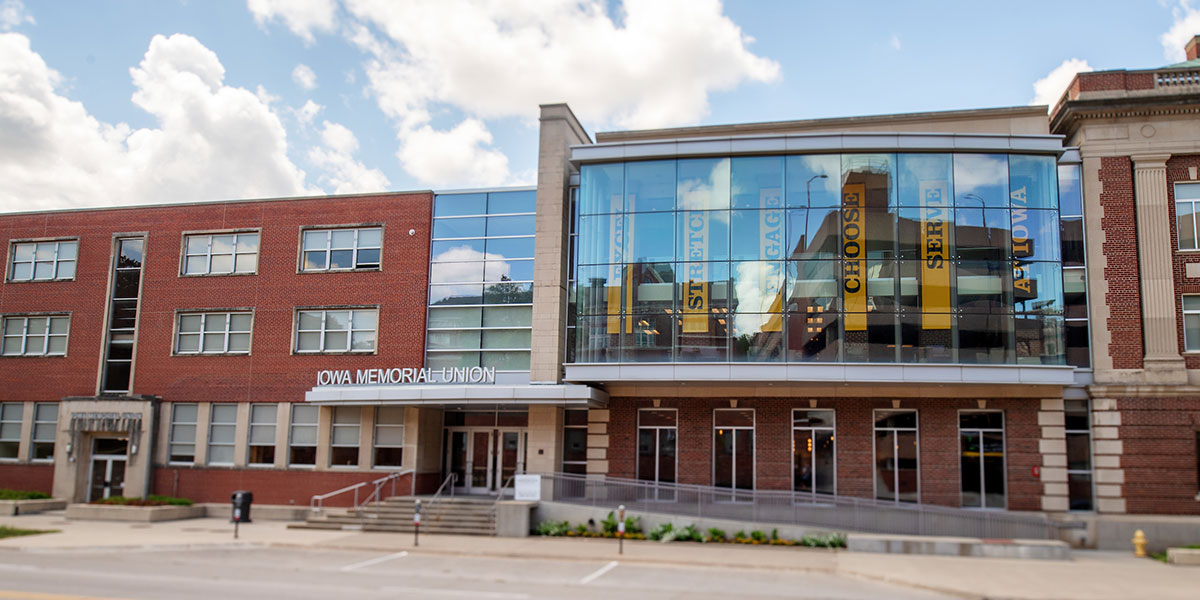 The Iowa Memorial Union will host a free family open house after the parade. Parking may be available in the IMU ramp located across the street.
IMU FAMILY OPEN HOUSE
Why sit in parade traffic when you can play instead?
After the parade, swing by the Iowa Memorial Union's Family Open House at 125 N. Madison St. This family-friendly frenzy features live music, a black-and-gold balloon play area, coloring, snacks, and more. This event is free and open to all families, but an adult must attend with children.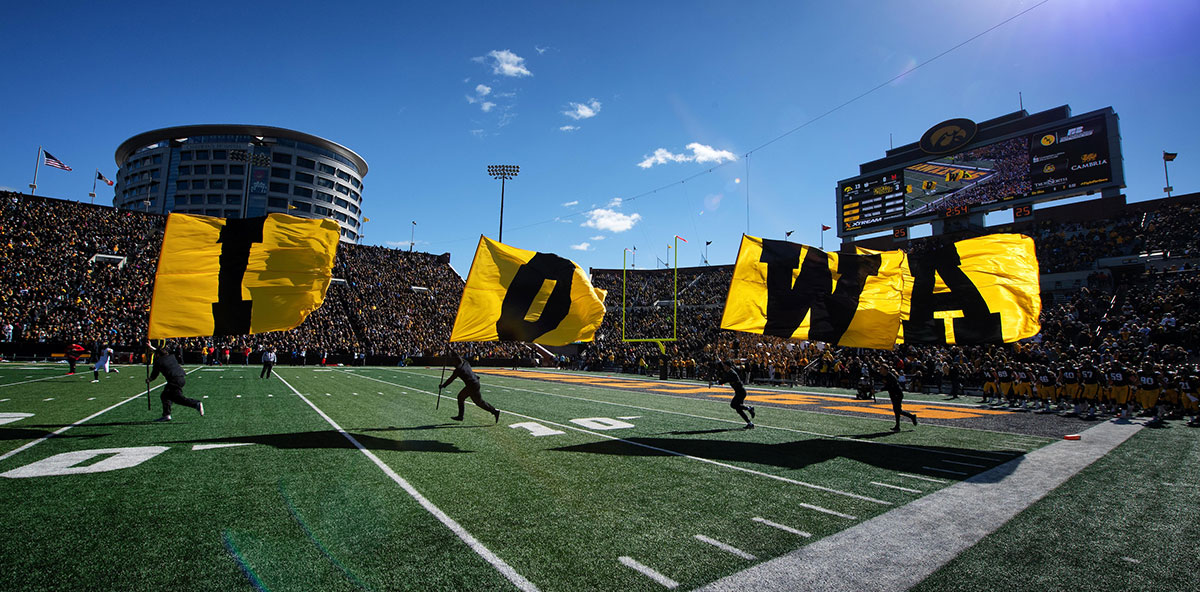 With appearances by Herky and the Iowa Spirit Squads, including the iconic I-O-W-A flags, the Iowa Homecoming football game is sure to be a hit with kids in your family.
IOWA HOMECOMING FOOTBALL GAME
The Iowa Hawkeyes will face the Purdue Boilermakers in the 2019 Homecoming game. Kickoff is at 11 a.m. on Saturday, Oct. 19, 2019, inside historic Kinnick Stadium.
Youth tickets are available at a discounted rate. All fans, regardless of age, need a ticket to enter Kinnick Stadium. Experience one of many family-friendly Hawkeye game day amenities:
Hawkeye Express
Hop aboard the Hawkeye Express, and ride a black and gold train straight to Kinnick Stadium. Round-trip tickets are $15 (cash only) with children 12 and younger riding for free.
Pregame Hawkeye Marching Band Concert
Fans and their families can enjoy a free pre-show from the Hawkeye Marching Band in the renovated recreation building across from the stadium. The homecoming show starts at 9:45 a.m.
Krause Family Plaza Tailgate
This is the ultimate family-friendly tailgate with a kid zone, photo booth, and giveaways. Families can eat, shop, and dance. It's all here. Come early to see the Hawk Walk (when football player enter Kinnick Stadium) and snag autographs with coaches and athletes.
For more details, including parking, travel, and stadium information, visit the Iowa football game day website.
Don't miss any of the 2019 homecoming festivities! Check out Iowa Magazine's University of Iowa Homecoming Guide to learn about Hawkeye homecoming traditions and review local recommendations for things to see, eat, and do while in Iowa City.