A four-generation connection to the University of Iowa—spanning 101 years—is bringing the Frohwein-Parsons Family to Kinnick Stadium on Saturday, Nov. 16, to receive the UI Family Spirit Award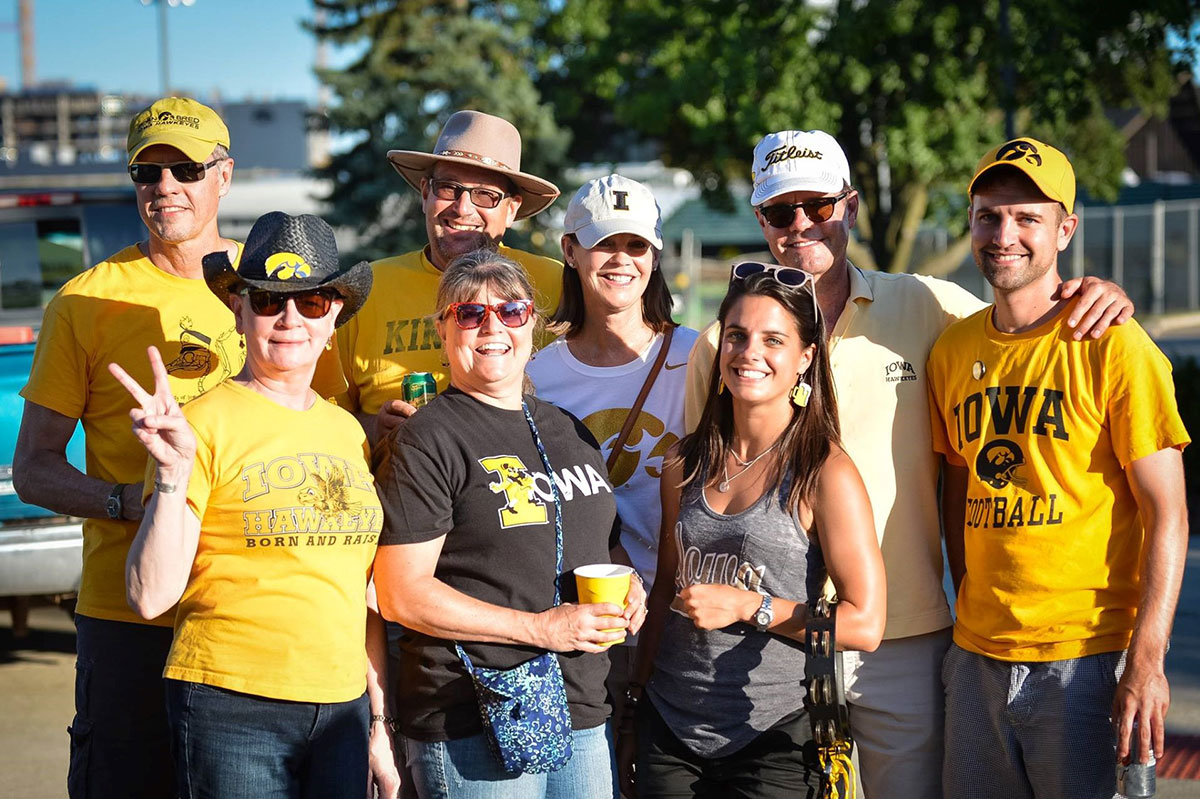 Members of the Frohwein-Parsons family at a 2015 Iowa football game. Front row, from left: LuAnn Reynolds, Cindy Parsons, and Kelli Parsons. Back row: Dave Parsons, Gary Klinefelter, Connie Parsons, Doug Parsons, and Max Parsons.
Monona, Iowa, native George Frohwein, Sr. came to the University of Iowa in 1918 to chase his academic and athletic ambitions. While he earned three letters with the UI baseball and men's basketball teams, George Sr. left Iowa one class short of graduating to pursue an Iowa City business venture that lives on today.
This young entrepreneur started what is now known as Tallgrass Business Resources, a well-known source for office furniture, design, and office supplies, with five locations in Eastern Iowa. An enduring Iowa legacy also began at the same time for George Sr. and his wife, Constance Evans Frohwein (26BA). Now, four generations of the Frohwein-Parsons family have amassed 21 Iowa degrees over the past century, and in turn, remain strongly connected to their Iowa City and UI roots.
On Saturday, Nov. 16, the Frohwein-Parsons family will be recognized as the recipients of the University of Iowa's Family Spirit Award during the Iowa-Minnesota football game. The award recognizes a Hawkeye family—spanning at least three generations—that supports the University of Iowa and personally or professionally contributes toward bettering the state of Iowa and its communities.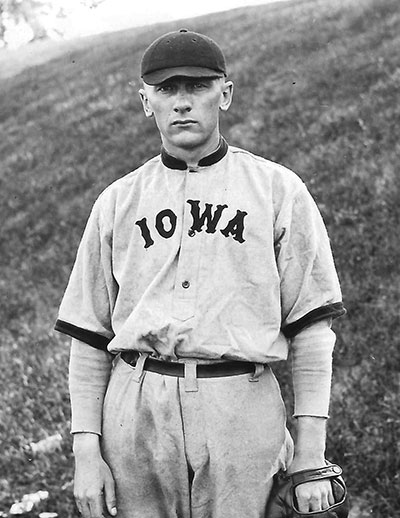 George Frohwein Sr. was a three-year letterwinner for the UI's baseball and basketball teams.
"We're proud to recognize and celebrate the Frohwein-Parsons family and their more than a century of dedication to the University of Iowa and the greater Iowa City community," says Lynette Marshall, president and CEO of the University of Iowa Center for Advancement. "The Frohwein-Parsons family epitomizes what it means to be a Hawkeye, and I'm excited for them to receive the Family Spirit Award this weekend."
As a kid in Iowa City, George Frohwein Jr. (61BA), George Sr. and Constance's son, was fascinated with electronics. His time at Iowa—which included working as a project engineer for a series of Earth magnetosphere satellites designed for NASA in the early 1960s—was shaped in the physics lab by James Van Allen (36MS, 39PhD) and Donald Gurnett (62BSEE, 63MS, 65PhD). George Jr. would go on to work his entire career in their aerospace industry.
"Iowa was one of the first places that was sending satellites to space," says George, who was also a letterwinner for the UI men's track and field team. "I just loved working in early aerospace exploration; I have a lot of great memories from my time at Iowa."
Joan Frohwein Parsons (51BA), who is George Jr.'s sister, also has a fond spot in her heart for the UI, because it's where she met her late husband, C.H. "Larry" Parsons (50BA). "Because I met Larry on a blind date in Iowa City, the University of Iowa will always mean a lot to me," says Joan. "It's practically been part of every member of our family."
All three of Joan and Larry's children—Cindy Parsons (73BS, 76JD), Dave Parsons (75BBA), and Doug Parsons (79BS, 81MA)—are Iowa graduates and have fond memories of growing up on Melrose Avenue in Iowa City.
"Because the UI Field House was across the street from our home, we were immersed in university life," says Cindy, whose husband, Gary Klinefelter (76BGS), and two daughters—Emily Klinefelter (06BBA, 06BA, 09MAc) and Katy Klinefelter (11BA, 15PharmD, 15MPH)—all have degrees from Iowa. "I remember eating at the Quadrangle cafeteria, having students live with us during the school year, and selling candy bars and apples before football games. It was such an idyllic neighborhood to grow up in."
Lasting impressions of their time in Iowa City extend to their professional connections to Iowa. Countless students, employees, and visitors have utilized the furniture Tallgrass Business Resources has installed in UI offices, hospital clinics, sports facilities, and dormitories.
While the entire Frohwein-Parsons family is incredibly civic minded as active members in community nonprofits and county elected offices—as well as serving on numerous Iowa City area boards—their 99-year-old family business has been a generous supporter of Hawkeye athletics and Hancher Auditorium.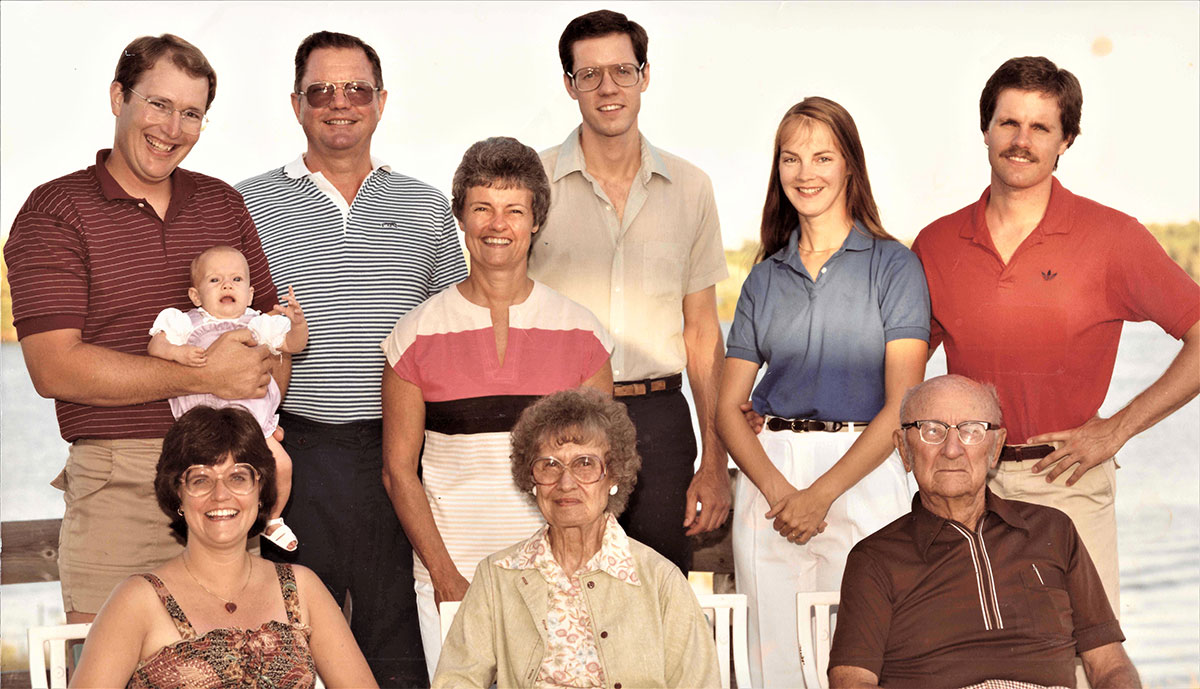 Members of the Frohwein-Parsons family at a 1984 get-together. Front row, from left: Cindy Parsons, Constance Frohwein, and George Frohwein Sr. Back row: Gary Klinefelter holding Emily Klinefelter, Larry Parsons, Joan Parsons, Dave Parsons, Connie Parsons, and Doug Parsons.
"The university gives as much to us as we give back," says Doug, who is the third-generation president and CEO of the family business and whose wife, Connie Parsons (79BS), and two children—Max Parsons (09BBA) and Kelli Parsons (11BS, 18MS)—also have degrees from Iowa. "It's a wonderful resource to have the university in town—whether it's first-rate arts, sports, health care, or music."
The entire Frohwein-Parsons family is grateful to receive this UI honor. "One thing the Family Spirit Award has done for our family is to make us stop and contemplate how important the university has been, and continues to be, in our lives," says Dave, who will be accompanied on Saturday by his partner, LuAnn Reynolds. "There are so many Hawkeye families that have credentials every bit as good as ours. The fact that we are the recipients is really special."
---
Find out how you and your family can stay connected and get involved with the University of Iowa at foriowa.org.