After a tough battle with a rare kidney disease, Kelsey Roberg passed away just one day shy of her sixth birthday. Learn more about how her family continues to honor her life through their philanthropy.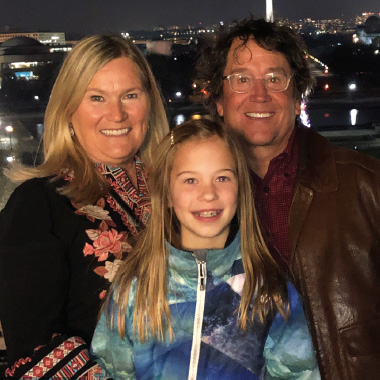 The Robergs
It was supposed to be a routine well-check for 10-month-old Kelsey Roberg, but her mother, Cindy, suspected something wasn't quite right. A few days before the appointment in the Twin Cities, Cindy noticed that Kelsey's abdomen was distended.
"It went from a well-baby check to a cancer diagnosis within 24 hours," says Kevin Roberg (73BS), Kelsey's dad.
Kelsey was diagnosed with Wilms' tumor, a rare kidney disease that primarily affects young children. Wilms' tumor most often affects just one kidney, but for Kelsey—the youngest of three children—it was found in both kidneys.
"The doctors decided to remove one kidney and tried to save the other," Kevin says.
Although not yet 1 year old, Kelsey began receiving chemotherapy. But before Kelsey turned 3, the cancer had become more aggressive and spread to her lungs. Kelsey fought cancer for five years, but died on July 30, 1990, just one day shy of her sixth birthday.
Even though Kelsey's life was cut tragically short, the Robergs learned much from her.
"Kelsey taught me to live one day at a time," says Kevin, who worked in the health care sector, and now works on various business and real estate ventures. "I was someone who was always looking for tomorrow and not appreciating today. She taught me to live each day to its fullest."
While Kelsey has been gone for nearly 30 years, her family continues to honor her life through their philanthropy.
The Robergs started a golf tournament—Kelsey's Classi—in the Twin Cities to benefit the Ronald McDonald House at Children's Hospital and Clinics of Minnesota, where Kelsey was a patient.
To date, the tournament has netted more than $2 million to help build a family resource center within the hospital.
When University of Iowa Stead Family Children's Hospital was completed a few years ago, the Robergs were so impressed with the facility, they decided to make a gift in their estate plans, also called a bequest, to Iowa's only comprehensive children's hospital.
"I love what Iowa is doing for children," says Kevin, who now splits his time between Naples, Florida, and Pine River, Minnesota. "Between their new facility and the care process that is in place, I can't think of a better children's hospital. They are clearly putting the kids first."
Kevin gives back to Iowa because of what his alma mater gave him—a successful career—and to continue to carry Kelsey's name and memory forward.
"The longer I've been away from Iowa, the more I appreciate what the university did for me," Kevin says. "My wife and I feel a responsibility to give back, and we believe that giving back to support kids and their families is so worthwhile. We're honored to help the university in any way that we can."
Learn more about creating a planned gift.