The 2019 Distinguished Alumni Awards celebrated those who have made a difference at Iowa and beyond.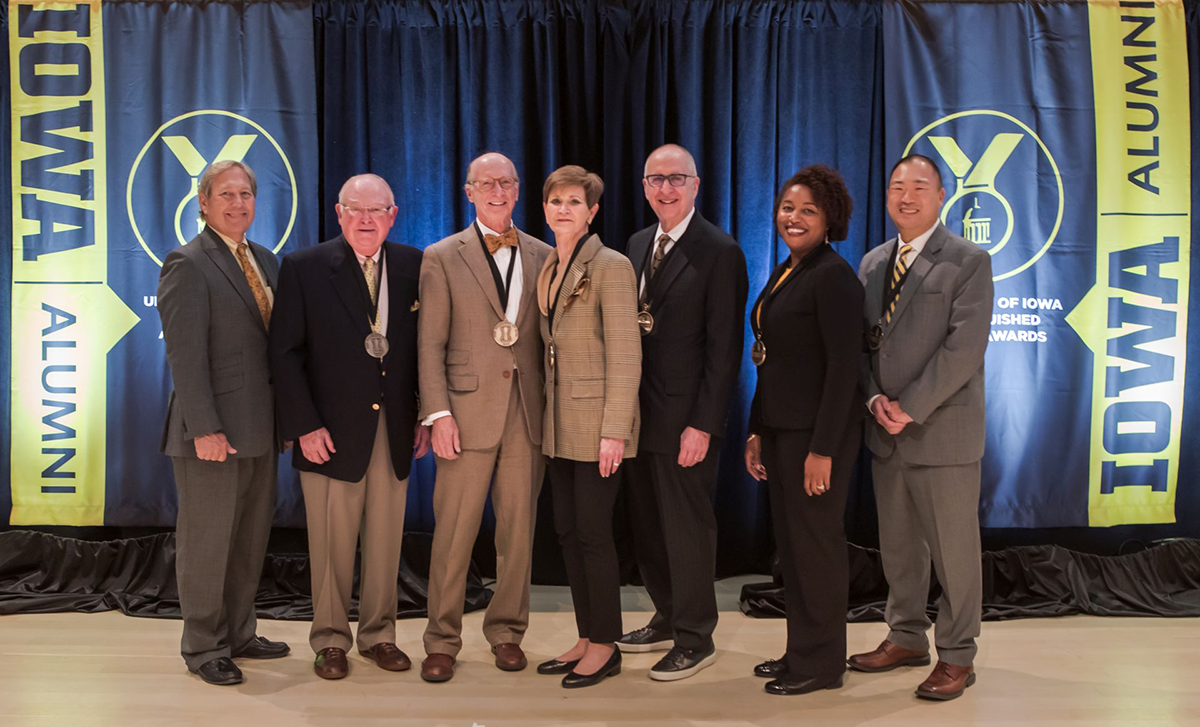 Photo: John Emigh
From left, UI President Bruce Harreld with 2019 Distinguished Alumni Award winners Howard Kerr, Craig Willis, Nancy Willis, David J. Skorton, Adaeze Enekwechi, and Jake Chung. Not pictured: Geraldene Felton. View more pictures from the event on flickr.
This past October, a diverse group of Hawkeye luminaries gathered inside Voxman Music Building's concert hall. Among them were two former White House advisors, a former UI president, and a couple that has long championed Iowa health care and the arts.

Their common bond? Their ability to "Dream Big. Dream Gold"—the spirit of our Distinguished Alumni Awards. The University of Iowa presented seven of its most accomplished alumni and friends with its top honor, continuing an annual tradition that dates back to 1963. This year's medallion recipients join past honorees such as Meredith Willson, Gene Wilder (55BA), and Hayden Fry.
Get to know this year's DAA class through their illuminating tribute videos screened at the ceremony:
---
Retired military officer, presidential aide, and CEO
Distinguished Alumni Achievement Award

---
School district superintendent
Distinguished Alumni Service Award
---
Real estate attorneys and community leaders
Distinguished Alumni Hickerson Recognition
---
CEO of the Association of American Medical Colleges
Distinguished Alumni Friend Award
---
Dean emerita of the UI College of Nursing
Distinguished Faculty/Staff Award
---
Health care executive and former White House advisor
Distinguished Recent Graduate Award
---
Interested in nominating an exceptional UI graduate or friend of the university for a Distinguished Alumni Award? We're accepting nominations for next year's awards through Jan. 31, 2020.