Hayden Fry's impact on the football field extends far and wide. His legacy beyond the gridiron looms just as large.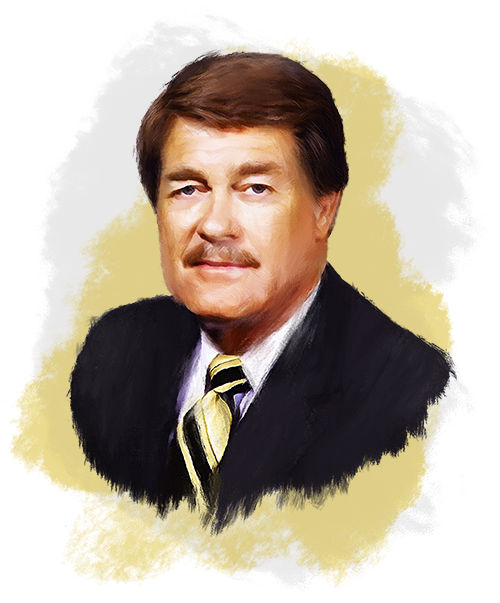 Before, during, and after his 20-year tenure as head coach of the Iowa football team, Fry—who died Dec. 17 at age 90—used his platform to help others.
As head coach at Southern Methodist University, Fry broke racial barriers in 1965 by recruiting wide receiver Jerry LeVias, the first African American scholarship athlete in the Southwest Conference. LeVias became an All-American in 1968 and opened the door for other African American athletes in the South. Fry considered it his greatest accomplishment when both he and LeVias were inducted into the College Football Hall of Fame in 2003.
Fry helped his community again after he became head coach at Iowa in 1979.
Amid the Midwest farm crisis in 1985, Fry launched the America Needs Farmers campaign—placing gold "ANF" decals on the Hawkeyes' helmets to raise awareness of their contributions. Fry, who was raised on a farm and recruited numerous players with farming backgrounds, started the campaign to let the country know that farmers need help.
On Nov. 2, 1985, that message was received by a national audience that tuned into CBS to watch top-ranked Iowa—with "ANF" stickers adorned on their helmets—face Ohio State in Columbus. The gold stickers with black lettering became a conversation starter for the rest of the season that concluded with the Hawkeyes' trip to the 1986 Rose Bowl.
The tradition continues today and extends beyond the helmet decals. Iowa hosts an annual American Needs Farmers game that allows farmers to share their experiences and knowledge with fans, and a wall of honor recognizes former UI football players who exemplify tenacity, work ethic, and character of the Iowa farmer. The "ANF" logo also appears on shirts, hats, and other apparel with the proceeds going to Iowa's food banks.
Fry said he applied lessons that he learned on the farm to coaching. Those principles proved to be effective in helping him assemble successful coaching staffs and teams in the same way that people rallied around the America Needs Farmers campaign.
"He was a master of building teams and pulling people together," says Iowa head football coach Kirk Ferentz, who worked under Fry as an assistant from 1981–1989 and became his successor at Iowa in December 1998.
Earlier that year, Fry was diagnosed with prostate cancer but didn't share it publicly until after the season as health issues forced him to step down as the Hawkeyes head coach.
As Fry's attention shifted to fighting the disease, he also spread cancer awareness.
Fry assisted with a $10 million campaign funding the J. Hayden Fry Center for Prostate Cancer Research at the University of Iowa, gave speeches at UI Hospitals and Clinics, and visited cancer patients across the country. Fry also served on the UI Holden Comprehensive Cancer Center Advocacy Board and spoke at fundraisers to further support cancer research.
Fry also served as an honorary board member for the Iowa Special Olympics and helped with raising funds for muscular dystrophy and numerous organizations, including the American Diabetes Association, the Iowa Council for Better Hearing and Speech, and the Cystic Fibrosis Foundation. In 1999, Fry earned a UI Distinguished Alumni Award (Faculty/Staff).
Throughout his 20 years at the Hawkeyes head coach and beyond, Fry changed the University of Iowa for the better—on and off the field. At his retirement press conference, Fry held back tears and said: "All of the people who gave me an opportunity to spend 20 years as a member of the Hawkeye family, I could never repay them."
From the Tigerhawk and America Needs Farmers campaign to his efforts in supporting cancer research, Fry's contributions to the University of Iowa, our state, and the country will never be forgotten.
---
Read about Hayden Fry's lasting impact on college football, including his illustrious lineage of assistant coaches who are some of sport's biggest names.