A new student commons will be named after the late Rita Frantz and her husband, David.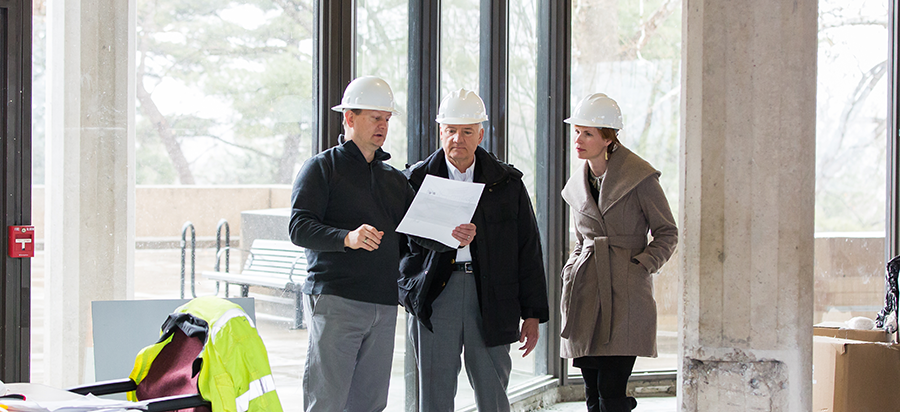 Photo: Joni Tyrrell
David Frantz (center) reviews renovation plans with architect Tom Feldmann, of BNIM, and Dayna Ballantine, director of development for the UI College of Nursing, during a tour of the new Dr. Rita and David Frantz Student Commons in the College of Nursing Building.
Rita Frantz (73MA, 78PhD) was a tireless promoter of her profession—even at the end of her life. Though the former University of Iowa College of Nursing dean was battling ovarian cancer, she continued to work from home during her treatments, finally resigning her position on Sept. 6, 2016, just one day before her death.
To memorialize his wife's deep commitment to her craft—and her college—Rita's husband, David, has continued their tradition of giving back to the place she loved so much. His most recent gift of $500,000 will create the Dr. Rita and David Frantz Student Commons in the College of Nursing Building.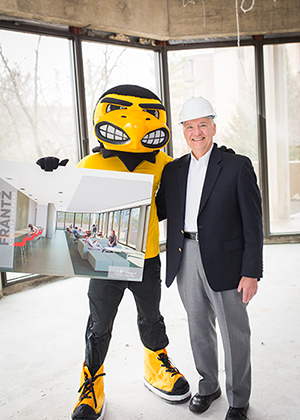 Photo: Joni Tyrrell
David Frantz and Herky pose with an architect's rendering of the new commons.
"Rita envisioned that the college was going to need this space for recruitment—and it's what the students said they needed. She listened to students; she listened to everybody," says David, who grew up near Iowa City and met Rita in Davenport, Iowa, where they both attended college. "The project manager overseeing the new commons praised her for her forward thinking about the space, and that made me so proud to have been her husband for 45 years."
This is the first leadership gift in the college's campaign to raise $2 million in private support to renovate the College of Nursing Building. In addition to the centralized student commons—which will feature collaboration rooms, individual study areas, and meeting spaces—the $10 million project will create new classroom and student spaces in the building, which opened in 1971 and has never been renovated. These updates are scheduled for completion in 2019. Although the university enacted a five-month moratorium on campus projects in April to address state funding cuts, building efforts like this one currently in the construction phase are continuing.
"Both Rita and David Frantz have made such incredible and impactful contributions to the College of Nursing throughout the years," says UI College of Nursing Dean Julie Zerwic. "Our renovation started with Dean Frantz's vision to improve the learning environment for nursing students and to elevate the teaching space to include state-of-the-art technology."
Rita Frantz grew up on a farm near Davenport and earned her bachelor's degree in nursing from Marycrest College. She received a master's degree in medical-surgical nursing from the UI in 1972 and immediately joined the faculty in the UI College of Nursing. She went on to complete a doctoral degree in educational psychology in 1977 and quickly rose through the college's ranks. She was internationally known for her research in pressure ulcers and became the holder of Kelting Deanship, an endowed position created in memory of John C. and Catherine Meeder Kelting, in 2007.
"At first, Rita was ambivalent about applying for the dean's role because she loved teaching and research," says David. "However, she turned out to be a phenomenal dean, and she really enjoyed it. She discovered that she could implement changes more quickly than she could as a faculty member."
During her time as dean, Rita was focused on keeping the college at the forefront of innovation. She also served as leader of the Iowa Action Coalition, which implemented the recommendations of the Institute of Medicine's report on nursing. Shortly after her death, David made a gift of $5.25 million to fund two endowed chairs and a professorship in the college, in tribute to her work on behalf of the college and its faculty.
"We're so grateful to David for honoring Rita's legacy with these generous gifts," says Zerwic. "His most recent donation for the commons will ensure that all students will come to know and appreciate Dean Frantz's passion and vision for our profession."