A UI film studies graduate reignites a fund to honor the late James McLaughlin.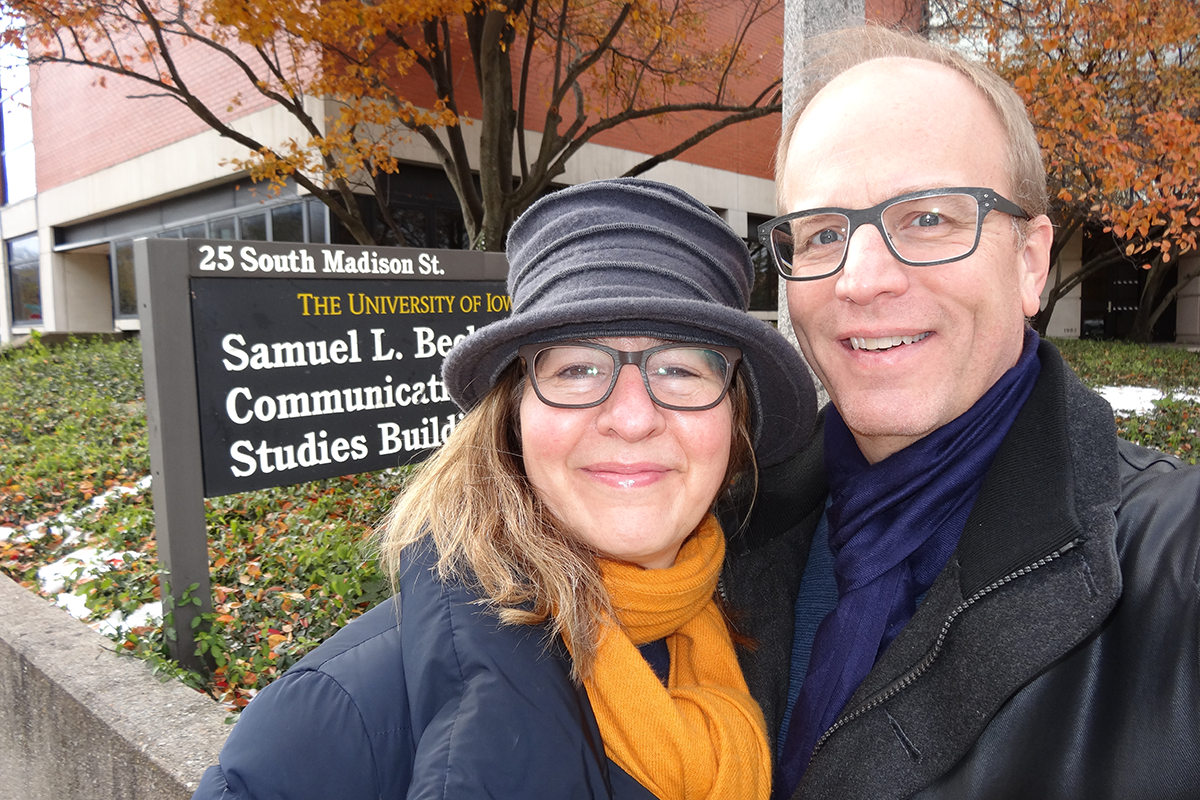 Photos courtesy of Kim Kerbis and Shari Zeck
Kim and her husband Clark Bender (a 1989 MA in film studies) visiting the UI campus in November.
Some of Kim Kerbis' (89MA) most profound family memories stem from the movie theater. She remembers learning about racism alongside her father and sister at the Billie Holiday biopic Lady Sings the Blues and experiencing the family drama depicted in The Godfather Part II while seated next to her mother and sister. Cinema also rekindles memories of one of her great friends, James McLaughlin, a fellow UI film student who affected the lives of many during his decade on campus before succumbing to an illness on March 11, 1995. The Staten Island, New York, native became well-known at Iowa for his insightful commentary, big laugh, and large Sunday bagel breakfast gatherings he hosted at his 11 North Dodge Street apartment.
McLaughlin made such an impression on Kerbis—and so many more of his UI colleagues—that she recently made a generous donation to the University of Iowa in his name. Her gift revived a memorial scholarship fund she and other classmates created after McLaughlin's death. Now, thanks to Kerbis' generosity, the James McLaughlin Memorial Fund will provide annual awards to graduate students in the UI's Department of Cinematic Arts.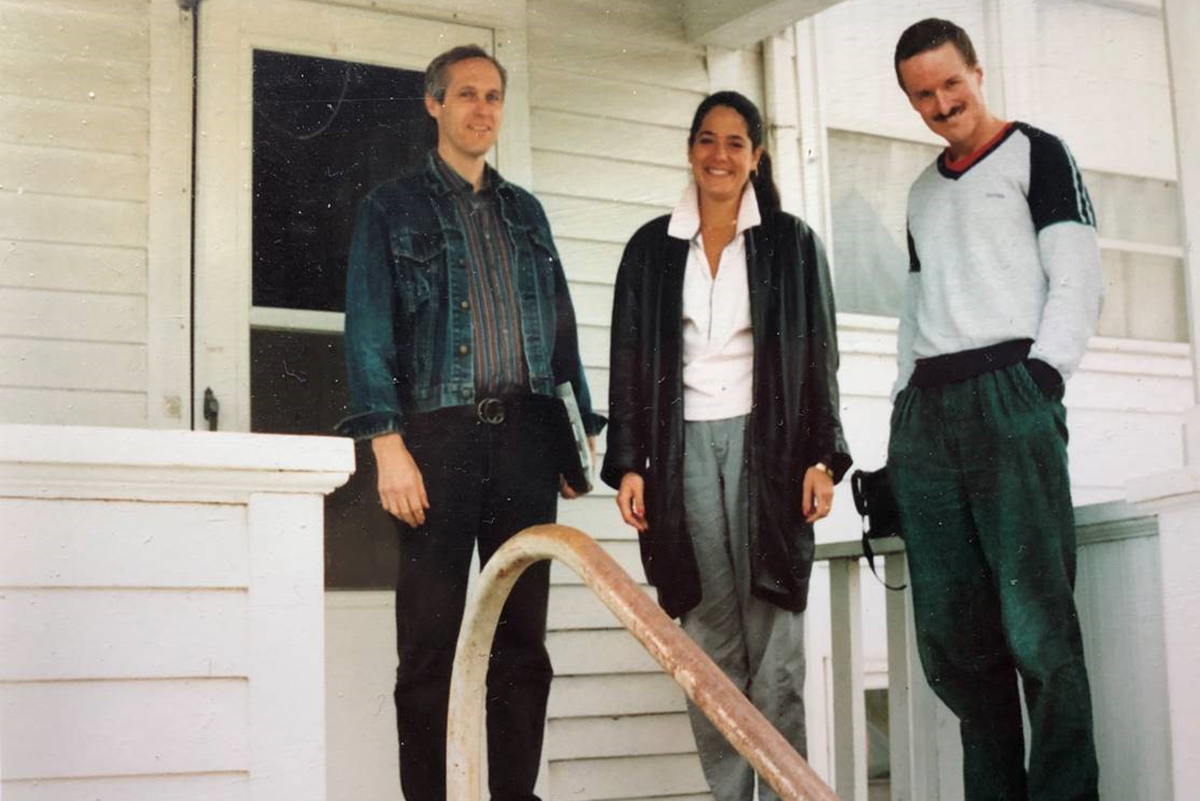 From left, Dana Benelli, Ana Lopez, and James McLaughlin at McLaughlin's 11 North Dodge Street apartment.
"Everyone knew who Jim was, even if you weren't in the film department or the communication studies building," says Kerbis. "He was an iconic member of the Iowa City community and personified a high level of academic scholarship." Kerbis jumpstarted the fund with a $100,000 contribution and will match the first $25,000 in gifts made to the fund, which will assist graduate students with professional development opportunities, such as funding for travel and seminars.
Kerbis, a Chicago native, first met McLaughlin in a small graduate seminar covering Italian cinema and chatted him up outside Prairie Lights bookstore. A Sunday edition of The New York Times tucked under McLaughlin's arm served as an icebreaker as the two connected over their big city backgrounds and love for film. "He was very smart, opinionated, and a little different from your average Iowa City bear," says Kerbis. "He kind of gave me permission to be me and not be afraid of being different."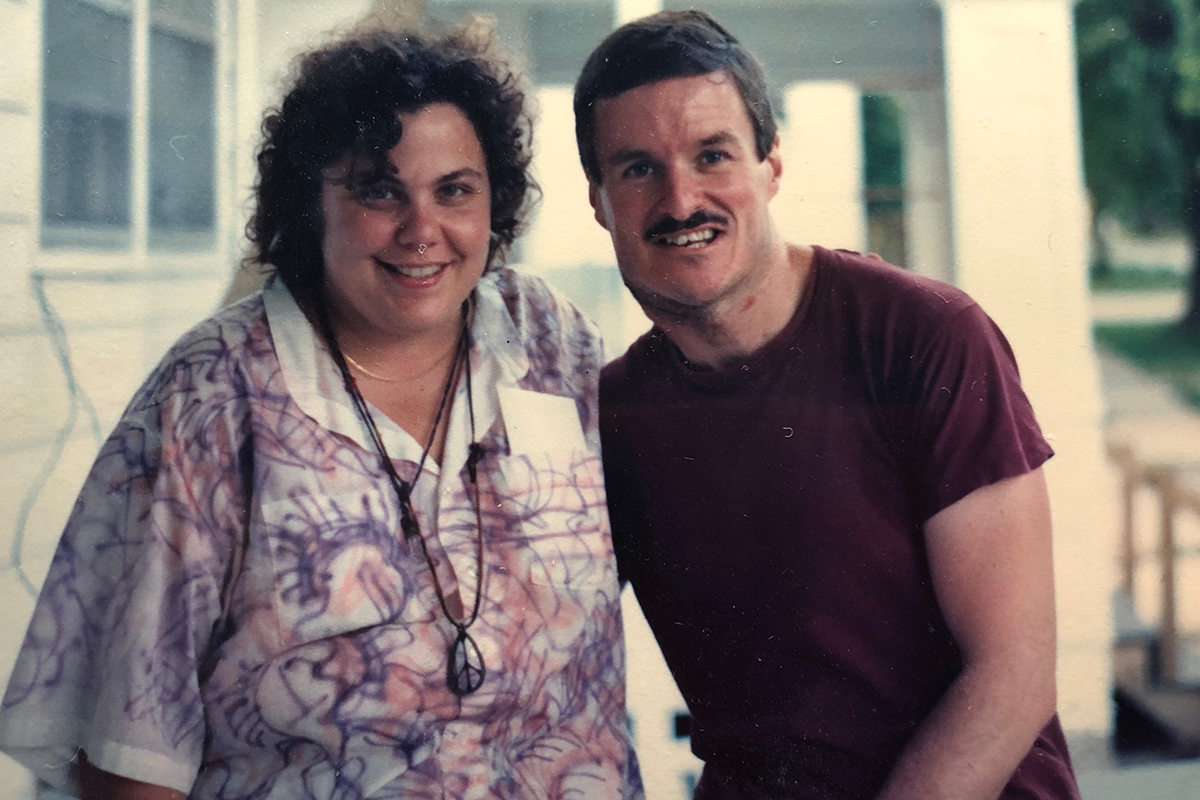 Shari Zeck with James McLaughlin
McLaughlin inspired that mindset by being himself—a unique New Yorker and true intellectual who attracted others anytime he stepped into a room. He never owned a driver's license, walked most everywhere, and would strike up a conversation with just about anyone. Pursuing a PhD in film studies, McLaughlin also taught many film courses during his time at Iowa and made an impression on various cohorts of students, including Shari Zeck (84MA, 06PhD), who became one of his best friends. "Jim cared so deeply about the serious study of culture," says Zeck. "Kim's gift to honor his memory and help others travel and further their own studies of cinema is a terrific testament to the legacy he left all of us who knew him."
---
To learn more about the James McLaughlin Memorial Fund, please contact Lindsay Hora at lindsay.hora@foriowa.org or 319-467-3801.