A panel discussion with University of Iowa physicians highlights the connections between music and the mind.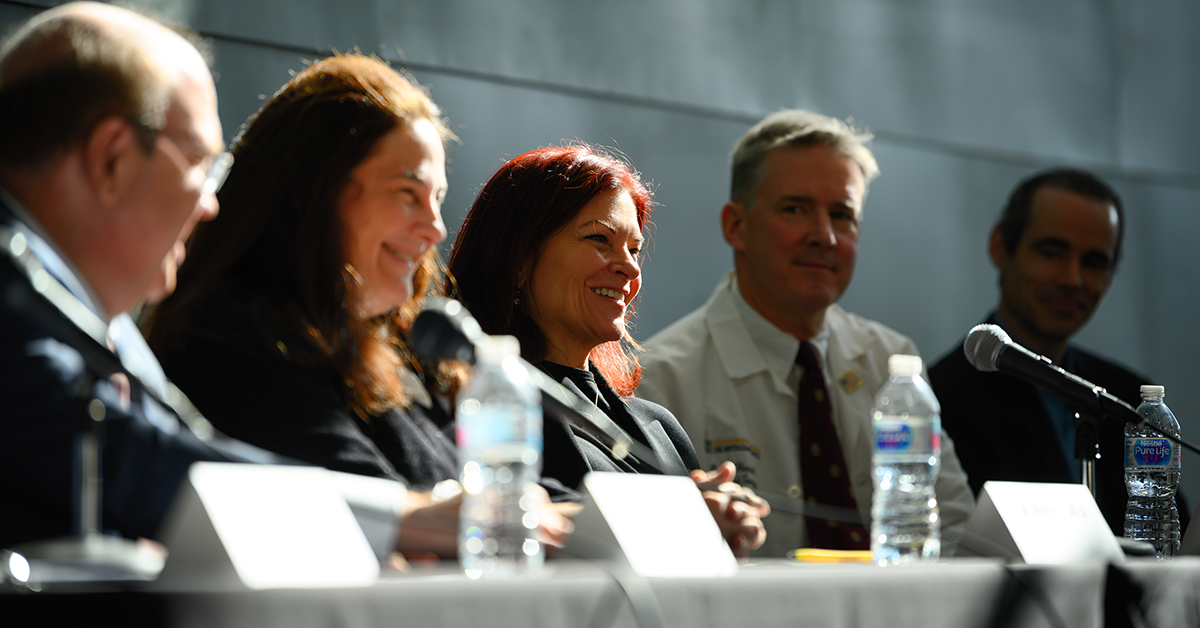 PHOTO: JUSTIN TORNER/UI OFFICE OF STRATEGIC COMMUNICATION
Singer-songwriter Rosanne Cash joins a panel of UI experts at the Medical Education and Research Facility in February 2020 for a conversation about music and the brain.
Singer-songwriter Rosanne Cash credits neurologists and neurosurgeons for saving her life. In November 2007 at age 51, the Grammy Award-winning artist underwent brain surgery for a Chiari malformation, a condition in which a small or misshapen skull forces brain tissue to extend into the spinal cord.
Cash recently opened up about the ordeal during a special visit to the University of Iowa Carver College of Medicine, where she talked with researchers and physicians about the relationship between music and the brain. In the lead-up to her Feb. 8 performance at Hancher Auditorium, she participated in a series of educational events on campus that included a panel discussion co-hosted by the performing arts center, the Carver College of Medicine's Writing and Humanities Program, and the Iowa Neuroscience Institute. The Americana artist learned about the cutting-edge neuroscience research taking place at Iowa and shared the transformative power of music and medicine in her life.
Trapped in a "haze of pain" prior to her brain surgery, Cash says she faced severe headaches, neck aches, and trouble swallowing and breathing. "My biggest fear before the surgery was that I would lose my ability to feel music," she says. "But not only did I not lose it, whatever veil of pain that I'd been living in for a decade or more—once it got lifted—my ability to experience music was even more enhanced."
About nine months into her recovery, Cash returned to performing. "I walked in on the first day of rehearsal, and all the musicians met me with this kind of love. It was like I'd been looking at the ground for a year, and I just looked up and felt embraced by the band and by the music, and that was the first moment where it was like, 'I'm going to recover,'" she says. "Music actually saved my life—as well as the surgery!"
Cash also has noticed the difference music has made in the life of her friend Kris Kristofferson, a country legend battling memory loss. "It's fairly severe, yet he gets up onstage every night and sings these songs, remembers how to play them on guitar, and even though he has a prompter for the words, they're still there," says Cash. "The neural tracks that those songs have run have remained intact in his brain, which is a miracle and mystical."
Georgina Aldridge (17R), a UI assistant professor of neurology who has used music therapy to treat stroke patients, says researchers are examining why musical abilities often stay intact when other cognitive functions fail. "Patients will come in, and they can't even speak a word; they can't even understand what we're saying. And sometimes even that first day, I can get the patient to sing," says Aldridge. "It's something that's been known for a long time and helps our understanding of where the processes are, but we don't really understand why—why a patient can sing words when they otherwise can't say anything at all."
Daniel Tranel (81MA, 82PhD), a UI professor of neurology and psychological and brain sciences, says that while language is mediated on the left side of the brain for most people, the neural systems that handle music are more distributed throughout the brain. "I think the distributed nature of the systems is probably a factor in why music tends to be very resistant to being impaired by brain disease," he says, adding that music therapy has long been known to improve outcomes for patients with cognitive diseases such as dementia and Alzheimer's. "Music has a striking effect in eliciting vivid autobiographical memories, which can cause nostalgia, reminiscence, and positive emotions in people. We also find these positive emotions can endure and persist even when people forget what caused them."
Now with relief from pain, Cash says she has more energy to focus on the creative process. "I'd say everything I've written after that is coming from a sense of freedom," she says. "If you can make it through brain surgery, you can make it through a lot."
---
Panel Participants
Rosanne Cash, four-time Grammy Award-winning singer and songwriter, author, and daughter of the late Johnny Cash
A.M. Homes (88MFA), a writer of novels and short stories, who has received a Guggenheim fellowship, a National Endowment for the Arts fellowship, and the Women's Prize for Fiction
Ted Abel, director of the Iowa Neuroscience Institute, Roy J. Carver Chair in Neuroscience, and chair and DEO of the UI Department of Neurology and Pharmacology
Georgina Aldridge (17R), UI assistant professor of neurology
Brian Dlouhy (13R, 14F), UI assistant professor of neurosurgery
Matthew Howard, chair and DEO of the UI Department of Neurosurgery
Daniel Tranel (81MA, 82PhD), F. Wendell Professor of Psychological and Brain Sciences and Neurology
Joshua Weiner, professor and associate director of the Iowa Neuroscience Institute, co-director of the UI's undergraduate neuroscience major