Hawkeyes are giving back to help with challenges stemming from the coronavirus.
Suddenly unemployed and without access to a lab, Tania Tapia wondered how she would complete her chemistry degree.
The University of Iowa senior previously worked nearly 30 hours a week between two jobs, but now she couldn't afford her apartment rent or internet—a necessity with all UI classes moving to online instruction on March 30.
Many UI students are facing a similar situation as the coronavirus has drastically altered the lives of the entire UI community. The closure of most on-campus housing and numerous area businesses has forced many UI students to relocate and look for new sources of income to pay for rent, food, and utilities, while also preparing for a completely different classroom experience.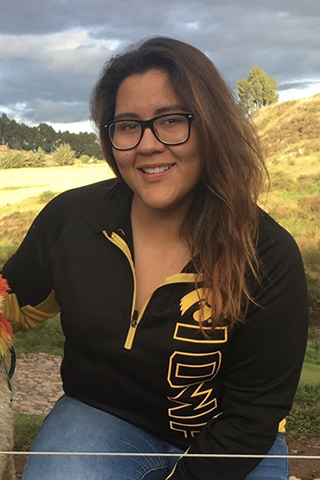 Tania Tapia
The University of Iowa is asking its alumni and friends to help these students by making a gift to the UI Student Life Emergency Fund.
The fund, which was created to assist UI students who encounter an unforeseen financial emergency or catastrophic event that negatively impacts their academic success, awards microgrants that average between $50-$350. That need is now greater than ever before.
Tapia is one of the first students who has benefited from the fund, allowing her to focus on her education.
"These microgrants make a huge difference in the lives of students," says Tapia. "It's the difference in being able to attend online lectures and not being evicted from your apartment."
Although the UI will continue to pay its student employees, many students are facing unexpected expenses and the loss of work in the community. More than 900 students have already applied for assistance from the UI Student Life Emergency Fund, which is funded by the University of Iowa Student Government, the University of Iowa Graduate and Professional Student Government, and donations from alumni and friends.
Nikki Hodous, the director of student care and assistance in the UI Office of the Dean of Stu-dents, expects hundreds more to apply for assistance as they face unanticipated challenges stemming from COVID-19.
"The student experience, both academically and socially, has completely shifted in a very short amount of time," says Hodous. "This fund will help alleviate some of the students' immediate worries to allow them to continue to focus on their academics and find options for long-term support."
Hodous also works with the UI Office of Student Financial Aid to seek additional funding options that students may qualify for.
While these microgrants may only cover a portion of a student's expenses, each award can provide a significant emotional boost during a time of uncertainty and anxiety.
"These expenses that many take for granted are the ones keeping students up at night, wondering whether or not they'll be able to keep the lights on," says Noel Mills, president of the UI Student Government. "A microgrant might not save the world, but for a struggling student it could mean the world."
As the entire UI community continues to be affected by COVID-19, Hawkeyes from across the state, nation, and world are reaching out to help one another.
"We are grateful to the many donors who are supporting our students," says Lynette Marshall, president and CEO of the UI Center for Advancement. "During this time of great uncertainty, it's no surprise that our network of alumni and friends are reaching out, in full force, to take care of their fellow Hawkeyes."
Please support the UI Student Life Emergency Fund today!