An Illinois couple's matching gift boosts UNI Dance Marathon's support of epilepsy treatment and research at UI Stead Family Children's Hospital.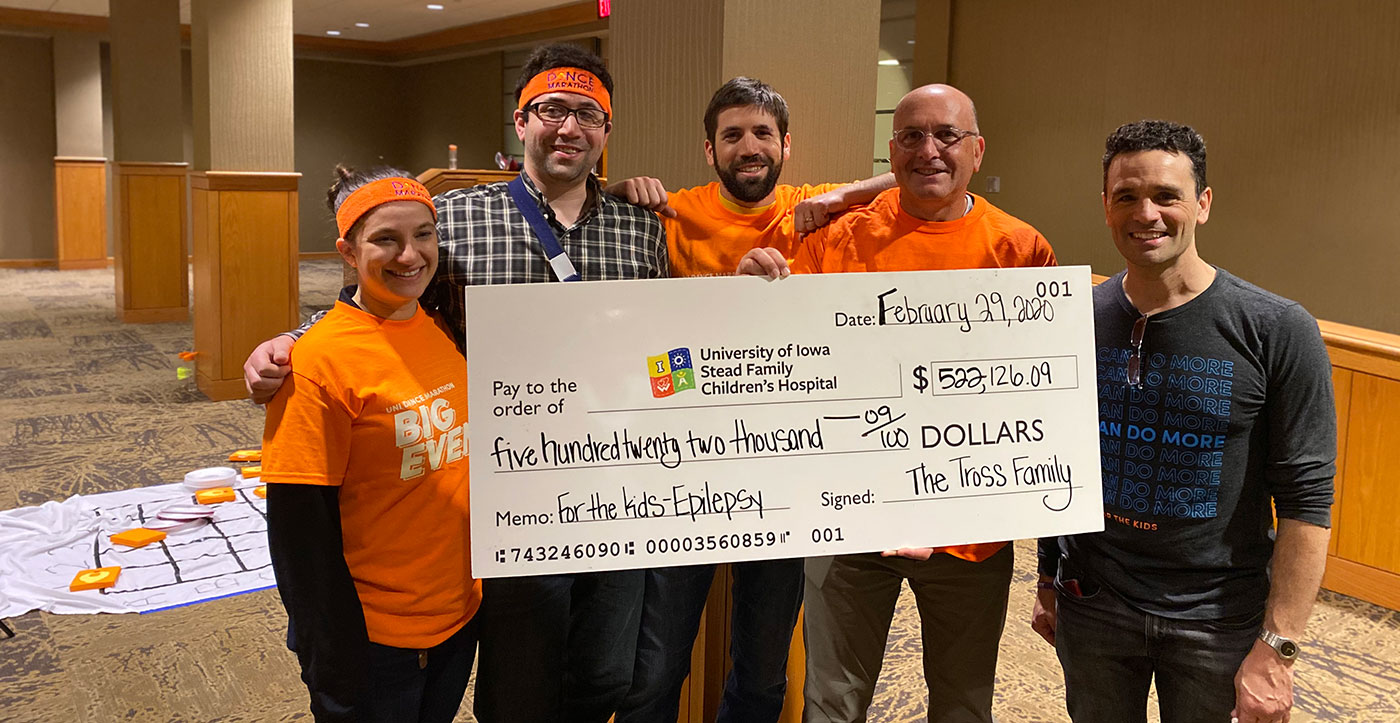 PHOTO: Meghann Litton
Nathan Tross, fourth from left, presents a matching gift to UNI Dance Marathon leaders in February in Cedar Falls.
Ean began having nightly seizures, some lasting up to 15 minutes, when he was six years old. Medications didn't help, and doctors couldn't find a cause.
Eventually, pediatric specialists at University of Iowa Stead Family Children's Hospital discovered that Ean had cortical dysplasia, an abnormality in brain development that causes epilepsy. They performed an operation to disconnect the right side of his brain in order to stop the seizures that were damaging his body. Since then, he's been seizure free.
The University of Northern Iowa (UNI) Dance Marathon organization wants to help even more pediatric epilepsy patients such as Ean. That's what motivated the student-led group—which began in 2011 and raises money for Children's Miracle Network Hospitals—to donate more than $522,000 from its most recent fundraising event in February 2020 to UI Stead Family Children's Hospital.
UNI Dance Marathon is investing in pediatric epilepsy at Iowa as part of a giving challenge from Nathan (82BA) and Beth Tross, of Highland Park, Illinois. The Trosses are doubling donations made to any UI epilepsy fund throughout the next three years, up to $1 million. This means they will match the recent UNI Dance Marathon gift to pediatric epilepsy, as well as any other epilepsy-related contributions.
The UI is a world-class leader in epilepsy treatment and research, and the Trosses hope to ensure that its top faculty always have the financial means necessary to advance Iowa's knowledge. The couple has a deep personal commitment to this cause because Beth is one of the 50 million people across the globe who have the neurological condition.
"Beth's experiences have shown us that effective treatments can control epilepsy, and we want to ensure that no avenue of discovery for improving treatments or finding a cure goes unexplored due to lack of resources," says Nathan, who is president and chief investment officer of Tennyson Capital.
According to Alexander Bassuk, MD, PhD, director of the UI Division of Pediatric Neurology, five percent of Iowa children will experience a seizure and about one percent will go on to have repeated seizures. For about one-third of these patients, existing medications don't work. "That's why there is a real need for better treatments and research for new cures for seizures and epilepsy," says Dr. Bassuk.
The joint gift from UNI Dance Marathon and the Trosses will help Dr. Bassuk's division acquire a state-of-the-art incubator and ventilator for studying seizures and epilepsy in premature babies. The support also will allow clinical and basic-science research teams to bring new medications and treatments for FDA approval faster than ever before.
Prior to their most recent matching challenge, Nathan and Beth established the Beth L. Tross Epilepsy Professorship in 2009, which allowed the university to recruit Gordon Buchanan, MD, PhD, a renowned academic physician who studies sudden unexpected death in epilepsy.
"We believe that Iowa is home to brilliant researchers and physicians who are leading the way in this field," says Nathan Tross. "With the right resources, the UI will continue to be a leader in the world of epilepsy treatment."