Malcolm Christie's football career didn't go as planned, but his struggles as a University of Iowa student-athlete didn't stop him from succeeding—and honoring his former coach.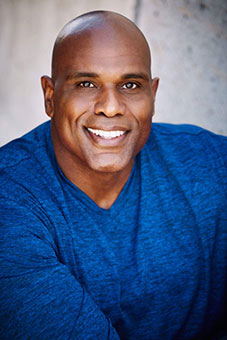 It was supposed to be the best time of Malcolm Christie's (97BA) life.
A high school All-American from Jersey City, New Jersey, Christie was a highly touted and highly recruited offensive lineman who chose Iowa over schools like Penn State, Pittsburgh, and Syracuse. His outgoing personality and proximity to New York attracted national media attention from the likes of the New York Times and legendary broadcaster Diane Sawyer.
A football scrimmage during his senior season against a rival school changed everything. "One of the players on the opposing team got so mad that he hit me in the back, causing me to fall down," says Christie. "And then I couldn't move for a second. He had dislodged one of my discs. I started to have a hard time standing up, and every time I would breathe, I had this horrible pain."
Christie continued to struggle with pain throughout his senior year of high school—all without pain medication—and by the time he arrived at the University of Iowa for freshman camp, his disc had deteriorated to the point where he could no longer lift his left foot. After having surgery on his 18th birthday, he went on to join full practices of the Hawkeye football program by Thanksgiving, but injuries weren't the only obstacle in his way. Christie was also battling post-traumatic stress disorder stemming from an unspeakable domestic violence incident witnessed at age 4 and an undiagnosed learning disability, which caused him to struggle in his classes.
On the eve of the 1987 home finale against Minnesota—three years after signing with the Hawkeyes—Christie had decided his football career was done.
"It was the loneliest feeling in the world," says Christie, whose position coach at the time was Kirk Ferentz. "I told my weightlifting partner, Bob Schmitt (87BA), [former Iowa trainer] Ed Crowley (69CER), and then the coaches. I put my stuff in my bag while everyone was at practice and took my nameplate. I was alone, and I had nobody. That was probably the darkest part of my life."
Christie, who would later be diagnosed with dyslexia, continued to struggle in the classroom and eventually flunked out of school. Instead of heading back to New Jersey, however, he remained in Iowa City and found work at a construction company and local hospital.
Christie was starting to get on his feet, but he knew something was missing: an Iowa degree. After re-enrolling, he began to take classes in the Department of Theatre Arts, which helped him cope with his dyslexia and anxiety.
"I couldn't believe how being part of an ensemble was like being part of a football team, which I missed," says Christie. "Regardless of the size of your role, you are an important part of the overall success of the production. I also found various acting exercises essential in helping with my learning disability—such as visualization and running lines—and it helped get rid of my Jersey accent."
He also sought help from Student Disability Services at Iowa. "Student Disability Services provided me with the tools, the resources, and most important, the confidence to not be ashamed of my disability," says Christie. "Their support quelled my extreme anxiety."
By 1997—nearly a decade after calling football quits—he earned a journalism degree from the School of Journalism and Mass Communication. It's a moment Christie cherishes. "I walked around campus when it was all over, and I found myself crying on the steps at the Old Capitol," says Christie. "It was a moment that was mine. I had finally finished."
Christie went on to work in corporate leadership with Wellmark Blue Cross Blue Shield, as an account executive with United Way, and most recently, development director for the United Negro College Fund (UNCF) in Southern California. But he never forgot the experiences he had at Iowa—including those under legendary Coach Hayden Fry.
"I always wanted Coach Fry and Coach Ferentz to like me, but Coach Fry told me I needed people to not just like me, but to respect me," says Christie, who today lives in Los Angeles. "Coach Fry made an impact on so many people's lives, including my own."
When the Iowa football team made headlines in June after a number of former student-athletes voiced concerns about racial disparities within the program, Christie felt a range of emotions. He's confident Ferentz will make necessary adjustments and has offered to help in any way.
"When I played, Coach Carl Jackson was the only African American coach, but you did have a head coach in Hayden Fry who was well documented as being a champion in racial issues," says Christie. "I have known Coach Kirk Ferentz since receiving a letter from him at age 16. Kirk isn't perfect—no one is—but he's a damn good person. There are systemic issues related to power, influence, and cultural awareness within the program. I believe Kirk will not only address these national issues, but he will take this whole situation as an opportunity to lead on this topic—allowing our program and state to be the benchmark of what a successful, modern program looks like in America, both on and off the field."
Before leaving UNCF, Christie decided to pay tribute to Fry and show his unwavering respect by creating the UNCF Hayden Fry Endowment, which will provide support for students of color to attend the University of North Texas, Southern Methodist University, and the University of Iowa—the three schools where Fry coached.
Christie is so grateful for his Iowa experience that he named the University of Iowa Center for Advancement as the beneficiary of his life insurance policy, as well as committed that Iowa will be prominent in his estate planning. His current gift to Iowa will support the School of Journalism and Mass Communication and the Student Disability Services in the Office of University Student Life, as well as the UNCF Hayden Fry Endowment.
"I wouldn't be who I am today without the University of Iowa," says Christie, who serves on the School of Journalism and Mass Communication Advisory Board. "All the liabilities I had became assets for me. That's why it's important for me to give back to Iowa—not just with my money, but with my time. I'm proud I was born and raised in Jersey City, but I truly grew up in Iowa."