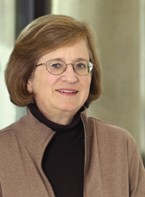 Kay Johnson Mussell
65BA, 70MA, 73PhD
Achievement 2007
---
Kay Johnson Mussell, 65BA, 70MA, 73PhD, has achieved great distinction for her multiple talents as a scholar, a teacher, and an academic administrator.
Since her graduation from the UI, Mussell has led a long and successful career at American University in Washington, DC, where she has served since 1974. Her career in higher education has earned her national respect as a talented administrator, an esteemed scholar, an author of note, and an active participant and leader in community educational activities.
As a scholar, Mussell quickly established herself as a productive and influential expert in American literature. She is the author of two books, Fantasy and Reconciliation: Contemporary Formulas of Womens Romance Fiction and Womens Gothic and Romantic Fiction: A Reference Guide, as well as dozens of book chapters, articles, and reports, and six edited or co-edited books and special journal issues. This body of work has established her as a major figure in the analysis of romance fiction and a scholar of note in the broader field of popular culture.
In the classroom, Mussell has earned the respect of students and fellow faculty members alike. Cornelius Kerwin, interim president of American University, describes her as one of the finest in her generation of this universitys faculty. Her courses are known for their intellectual rigor, creative pedagogy, and popularity among our students.
In the course of her career, Mussell has become increasingly committed to academic administration. At American University, her positions of responsibility include serving as director of the American Studies Program, director of the College Writing Program, chair of the Department of Literature, associate dean of the College of Arts and Sciences, associate dean for academic affairs, and—since 1999—dean of the College of Arts and Sciences. These roles have showcased her genius for management and her strong leadership skills.
Her work has been recognized through numerous honors and awards from American University, including a Faculty-Administrator Award from the College of Arts and Sciences in 1995 and a University Faculty Award for Outstanding Service in 1980.
Mussell has also generously shared her expertise beyond the university community. For more than 15 years, she welcomed visitors to the Washington International Center and taught courses at the Smithsonian Institution. Her many endeavors on behalf of the District of Columbia public schools include serving as fiscal agent for an enrichment grant funded by the D.C. Community Humanities Council. In all of her volunteer work, she has made significant contributions that have left a profound impact on her community.
Says Kerwin, It has been my good fortune to work with influential scholars, gifted teachers, and highly effective academic leaders. In my experience, it is quite unusual to find an individual who does two of these things at a very high level. It is indeed rare to encounter an individual who is truly distinguished in all three.
For this rare combination of qualities that have distinguished her as a leader in all aspects of academia, Kay Johnson Mussell is truly deserving of this recognition by her alma mater.
Mussell is a bronze-level member of the UI Alumni Associations Old Capitol Club.