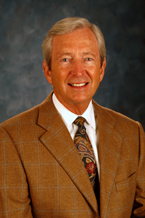 Robert P. Stearns
---
Robert P. Stearns, 60BSCE, has made invaluable contributions to the field of environmental engineering at a time when preserving and protecting our natural resources has become one of the nations and the worlds foremost issues.
Since receiving his Iowa degree, Stearns has led two parallel and complementary careers based on his UI engineering education. A widely respected environmental engineer with expertise in the field of solid waste management, he is also a co-founder and chairman of SCS Engineers, an international environmental engineering consulting and contracting firm that has grown from three people in 1970 to more than 550 staff today. In 2006, the company earned revenues exceeding $100 million.
Stearns and SCS Engineers are widely recognized for applying engineering principles in designing facilities that protect the environment, safeguard worker health and safety, and minimize costs. Stearns has helped pioneer techniques and procedures that are now firmly established around the world, including automated refuse collection equipment and bioreactor landfills. His groundbreaking work also formed the basis for many standard industry practices for investigating and controlling sanitary landfill gas emissions, forecasting landfill gas generation rates, designing gas extraction systems, and constructing gas utilization facilities.
In addition to leading SCS Engineers to become one of the most highly regarded companies in his field, Stearns is known for his open and fair approach to business management. In 1986, he led in establishing an employee stock ownership plan for SCS Engineers; today, 100 percent of SCS stock is owned by its employees.
In recognition of Stearns important contributions to the field of environmental engineering, in 2003 he was inducted into the Environmental Industry Associations prestigious Hall of Fame. He is a diplomate of the American Academy of Environmental Engineers, past chairman and board member of the Environmental Research and Education Foundation (EREF), and a former board member of the Solid Waste Association of North America. In 2005, the UI College of Engineering honored Stearns as one of its Distinguished Engineering Alumni.
This proud UI graduate has maintained a strong interest in Iowa students through his generous support of the UI College of Engineering Student Leadership Institute, a bi-annual weekend retreat that exposes students to real-world leadership challenges, immerses them in hypothetical situations, and introduces them to successful leaders including distinguished UI alumni.
Stearns also believes in giving back to the community in other ways. He has been a strong supporter of the emerging participation by women in track and field sports competitions. He also participates in and contributes to educational and cultural foundations and associations in the Southern California area that he now calls home. In addition, through EREF, the Robert P. Stearns/SCS Engineers scholarship fund was established to provide support for college-level environmental engineers and scientists in the solid waste management field.
Through his reputation for excellence, his dynamic and creative approach to protecting the environment, the positive example he sets through his management style, and his significant contributions to his profession, the UI, and his community, Robert P. Stearns has demonstrated that he is one of the University of Iowas most distinguished alumni.
Stearns is a member of the UI Alumni Associations Directors Club Honor Circle.