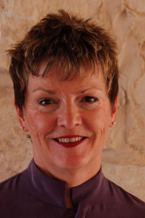 Pamela J. Haylock
71BSN, 77MA
Achievement 2008
---
Pamela J. Haylock, 71BSN, 77MA, is a nationally renowned oncology nurse and consultant who has dedicated her career to improving the lives of millions of people with cancer.
A Maquoketa native, Haylock pursued B.S.N. and M.A. degrees in the University of Iowa's College of Nursing. Ever since she was a graduate student, Haylock has been at the forefront of both the art and science of cancer care. In fact, her master's thesis on cancer-related fatigue—just recently recognized as the most common side effect of radiation therapy—was one of the first ever written on this important subject.
After completing her M.A. degree in 1977, Haylock occupied several nursing positions in San Francisco before expanding her career in 1989 to become a national oncology consultant, serving multiple healthcare and community organizations throughout the U.S. She's worked with the National Cancer Institute, the National Coalition for Cancer Survivorship, and the Lance Armstrong Foundation, and is an active member of the nation's nursing and oncology-related organizations. Among her duties, Haylock is executive secretary of the International Campaign for the Establishment and Development of Oncology Centers with a mission to foster cancer care excellence in developing countries.
Haylock has held leadership positions with the Oncology Nursing Society (ONS) since 1985, serving as president from 1997 to 1998. She believes deeply in the essential role that oncology nursing plays in cancer survivorship and in helping people with cancer learn to live healthy lives after diagnosis. A valued national and international presenter, Haylock has given numerous lectures on topics ranging from staff development issues to cancer care in rural communities.
Haylock is a staunch advocate of the mind-body-spirit approach to cancer care and survivorship, and with the best interests of cancer patients and their caregivers in mind, she played a key role in helping develop the award-winning audio program, The Cancer Survival Toolbox". To date, almost half a million people around the globe have used the Toolbox to assist them with every aspect of living with cancer. Another national program that Haylock helped develop, Life Beyond Cancer: A Retreat for Women Cancer Survivors, draws cancer survivors and oncology nurses from across the U.S. for an annual getaway that focuses on holistic approaches to living in the aftermath of cancer.
As an educator—and as an author—Haylock has a gift for reaching lay audiences as well as scholars. She has written or edited four trade books on cancer, nine book chapters, 13 manuscripts, and numerous articles. Her book titled Men's Cancers: How to Prevent Them, How to Treat Them, How to Beat Them won the Book of the Year Award in Public Interest from the American Journal of Nursing.
Today, as she continues in her role as a highly esteemed and much sought-after oncology consultant, Haylock is pursuing a doctoral degree in the Graduate School of Biomedical Sciences at the University of Texas Medical Branch at Galveston, so that her future contributions can include research and other scholarly activities.
Considered by her peers as one of the top five oncology nurses in the country, Pamela Haylock is a role model who is truly living the Iowa nursing tradition of accomplishment and compassion.
Haylock is a life member of the UI Alumni Association.