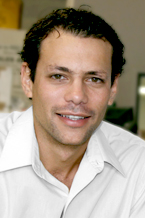 Ori J. Sivan
---
Ori J. Sivan, 04BSE, became one of the Midwest's most revered—and youngest—leaders in environmental sustainability by co-founding the Greenmaker Supply Company, Chicago's only major provider of "green" building supplies.
Long before Greenmaker's official debut, the seeds of Sivan's business were sown early in his civil and environmental engineering studies at the UI. As a student, he gained experience in this emerging field as an undergraduate researcher at the internationally renowned UI Center for Global and Regional Environmental Research, and he co-created the UI's International Engineering Service Program as well as the Engineers for a Sustainable World group. He also cultivated critical knowledge and experience through several internships, including one in the Iowa Department of Natural Resources Pollution Prevention Program, where he helped a GE manufacturing facility save millions of dollars annually while reducing its environmental impact. In addition, as a student delegate for the Iowa United Nations Association, Sivan presented a paper on environmental economics at the 2002 UN World Summit on Sustainable Development in Johannesburg, South Africa.
After graduation from the UI with an engineering degree, Sivan moved to Chicago to pursue an M.S. degree at Northwestern and soon established his company. In its first year, the fledgling enterprise boasted revenue of $1.2 million and won a 2006 Innovate Illinois prize, awarded to the state's most innovative small businesses. Greenmaker Supply has also been featured in the Chicago Tribune and Wall Street Journal.
One of Sivan's professors and mentors, College of Engineering Professor Jerald Schnoor, describes him as a top student who contributed boundless ideas, energy, and enthusiasm during his time at the UI. One of Sivan's major accomplishments was bringing Hunter Lovins—a famous author in the environmental field—to campus for a talk after meeting her at the World Summit. Says Schnoor: "Hunter Lovins was so impressed with Ori that she waived her normal speaking fee to come to Iowa for only expenses."
While at the World Summit, Sivan participated in sessions with young business leaders from around the globe focused on helping industry become more sustainable. When Sivan returned to Iowa, he presented lectures on campus about his experience, and his infectious enthusiasm drew more students into the UI environmental engineering program.
Sivan has remained in close contact with UI faculty, staff, and fellow alumni—and he takes time to lend his counsel and energy to current and future students. He recently became one of 11 charter members of the newly organized College of Engineering Young Alumni Advisory Board, whose mission is to share perspectives, knowledge, and experiences in the workplace; to support UIAA and engineering school goals to engage more students and young alumni; and to develop a network of mutually beneficial relationships among alumni, students, and faculty.
Another of Sivan's UI engineering mentors, Professor Keri Hornbuckle, describes him as "a remarkable leader who is well on his way to making a major contribution to our world. Ori was one of the most outstanding student leaders we have had in our college."
For his early accomplishments and the passion he's displayed in making our environment a healthier place for generations to come, Ori Sivan brings pride and distinction to his alma mater.