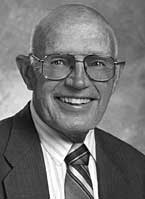 Donald E. Bently
49 BSEE, 50MS
Achievement 2004
---
Donald E. Bently, 49BSEE, 50MS, possesses the mind of a scientist and the spirit of an entrepreneur, which is why this Muscatine, Iowa, native has been able to craft a lifetime of accomplishments as an inventor, scholar, engineer, business owner, and environmental advocate. The University of Iowa graduate not only started a company in his garage that eventually transformed the world of industrial machinery, but also has championed the cause of environmentally sustainable agriculture and renewable resources.
Bently launched this career not in a classroom, but on a battleship in the Pacific, where he served with the U.S. Navy during World War II and took University of Iowa extension courses at the same time. After earning five battle stars, the serviceman returned home to complete his engineering studies and then worked briefly at the family bowling alley after graduation.
Once he tired of setting pins, Bently took a job as the lead azide and mercury fulminate assembly line engineer at the Iowa Ordnance Plant in Burlington, Iowa, going on to a stint as an engineer with North American Aviation/Rocketdyne in California. Throughout these years, Bently brainstormed ideas and tinkered with gadgets. By 1955, he had created the Bently Scientific Company and was selling instruments from his garage via mail order. One particularly hot seller was his own invention: an eddy current proximity transducer that measured vibrations and other parameters in rotating machinery.
This device revolutionized the industry of protecting and diagnosing machinery and also led to safer machinery operation. In addition, it helped launch the Bently Nevada Corporation, which has grown to 1,700 employees—with more than 100 offices in 43 countries and nearly $300 million in annual sales. Though Bently sold this company to General Electric in 2002, he is the owner, chairman, and chief executive officer of Bently Pressurized Bearing Company and also runs Bently Agrowdynamics, which focuses on using renewable resources and efficient practices to protect the scarce water resources in Nevadas Carson Valley.
Despite his business commitments, Bently still has found time to conduct research and publish his findings. The globally recognized authority on rotor dynamics and vibration monitoring and diagnostics has authored or co-authored more than 140 papers, is the holder of two patents, and recently published a book, Fundamentals of Rotating Machinery Diagnostics.
Such achievements have brought Bently numerous awards and distinctions. He is a foreign member of the Saint Petersburg Academy of Engineering in Russia and a fellow of the American Society of Mechanical Engineers. In addition, Bently is one of only 43 Iowa engineering alumni in the colleges Distinguished Engineering Alumni Academy. This is not the loyal graduates only connection to his alma mater, where he is a member of the UI Foundations Presidents Club. He continues to mentor UI engineering students and faculty and also has provided visionary private support for the college.
Thanks to his Iowa-bred work ethic—and his unflagging commitment to innovation and inspiration—Donald E. Bently has earned his place among the universitys most eminent alumni as someone who cares not just about the life of the mind, but also about the quality of life for others.