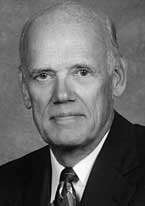 Ronald W. Roskens
---
Ronald W. Roskens, 58PhD, has gone from his boyhood on an Iowa farm to the national and global arenas of higher education and international relations. This accomplished University of Iowa graduate finished his doctoral degree and went on to a lifetime of exceptional achievements that have allowed him to share his UI experiences with the world.
After completing an undergraduate and masters degree at the University of Northern Iowa and a doctoral degree at the UI, the Spencer, Iowa, native began his professional career in 1959 as a professor at Kent State University, where he eventually was named executive vice president. This role became the springboard for a lengthy and distinguished tenure in higher education, including a position as chancellor of the University of Nebraska at Omaha and as president of the four campuses of the University of Nebraska system. During this period, he also served as chairman of the board of the American Council on Education.
Roskens has been an indefatigable educational leader who has brought an international perspective to his lifes work. He developed faculty exchange programs for the University of Nebraska system that encompassed partnerships with Kabul University in Afghanistan and with higher education and medical institutions in the Soviet Union and China.
Such global vision earned the UI graduate the recognition of former President George H. Bush in 1990, when he appointed Roskens as the administrator of the U.S. Agency for International Development. In this role, Roskens served as chief executive officer of an $8.1 billion annual program offering economic and humanitarian assistance to more than 100 countries throughout the developing world.
In 1993, Roskens became president and chief executive officer of Action International, a think tank comprised of 35 former heads of state and other policy leaders. Just two years later, the Omaha, Nebraska, resident was named honorary consul general of Japan and was elected to the board of the Friends of the World Food Programme, a United Nations agency headquartered in Rome, Italy.
This kind of work in the international community helped Roskens begin a business consulting firm—Global Communications—in Omaha in 1997. While continuing as president of Global Communications, Roskens also has served as director of ConAgra Foods, the Russian Farm Community Project, and the Capitol Federal Foundation of Topeka, Kansas.
Despite his international focus, Roskens still makes time for causes closer to home. He served as interim executive officer of the Omaha Public Library from 1996 to 1998 and has served since 1997 as chairman of the Omaha/Douglas County Building Commission. In addition, he has served on numerous national boards and committees—including the U.S. Department of Educations National Advisory Committee on Institutional Eligibility—and currently is a member of the University of Iowas National Campaign Steering Committee. He is a member of the UI Foundations Presidents Club, as well as a life member of the UI Alumni Association. Roskens credits his wife, Lois, as an invaluable partner throughout his successful career.
Ronald W. Roskens has made diverse and significant contributions to the field of higher education and policy. Though his work has taken him from an Iowa farm to a much broader global arena, he has stayed true to his most important UI values and has used them to shape a career of international significance.