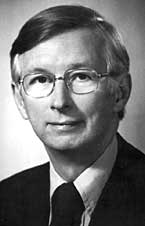 James A. Clifton
---
James A. Clifton, 51R, possesses the vision to see both the small details and the big picture. Thats what made this Midwestern transplant such an adept physician and accomplished administrator. Its also what allowed the former UI resident, faculty member, and leader to help implement extraordinary changes on Iowas health-sciences campus.
Though he was born in Fayetteville, North Carolina, and educated in Nashville, Tennessee—where he received both his bachelors and medical degrees from Vanderbilt University—this Southerner eventually became an Iowan at heart. After completing his internal medicine residency at the University of Iowa in 1951, Clifton returned to a faculty position at Vanderbilt; it wasnt long, however, before Iowa called him back.
At the urging of William Bean, a well-known UI physician and student mentor, Clifton returned to the university in 1953 and immediately became involved in a pivotal expansion and reorganization of its health sciences. This transformation helped establish Iowa as the world-class center for biomedical research, education, and health care that it is today.
While these changes were taking place, Clifton was hard at work, serving as chief of the Division of Gastroenterology from 1955 to 1971 and then as head of the UI Department of Internal Medicine. During these years, he also demonstrated national leadership skills. Clifton led committees at the National Institutes of Health and the American Gastroenterological Association, an organization of which he was president from 1970 to 1971. In addition, this distinguished UI leader was president of the American College of Physicians in 1977 and was a member of the American Board of Internal Medicine from 1972 to 1981, serving as chairman from 1980 to 1981.
Later in his Iowa career, Clifton also spearheaded the creation of the innovative UI Center for Digestive Diseases, which coordinated the clinical activities of several departments within the College of Medicine. The center was named after him in 1991.
Despite these varied commitments, Clifton still found time to communicate effectively with everyone from patients and residents to university staff and administrators. He was a gifted clinician and professor who, like Bean, also served as a student mentor. In 2002, Clifton received the College of Medicines first Distinguished Mentoring Award.
It was such leadership skills that prompted UI President Hunter Rawlings to ask Clifton to return from a short retirement in 1990 to serve as interim dean of what is now the Roy J. and Lucille A. Carver College of Medicine. Clifton held this position for two years, guiding the college through a significant reorganization.
Though he began his second official retirement in 1993, Clifton remains a tireless UI supporter as a member of the UI Foundations Presidents Club and the UI Alumni Associations Old Capitol Club. He helped form a group of retired faculty, the UI Emeritus Faculty Council, and was its first president. He and his wife, Kathy Rathe Clifton, 49BA, have been generous contributors to the UI Foundation for 39 years.
From the beginning, this dedicated physician knew what UI health care could achieve. By paying attention to both the small details and the big picture, James A. Clifton has helped transform Iowas health-sciences community.